News
In white-hot spotlight, Bryson DeChambeau looks at criticism as 'compliments'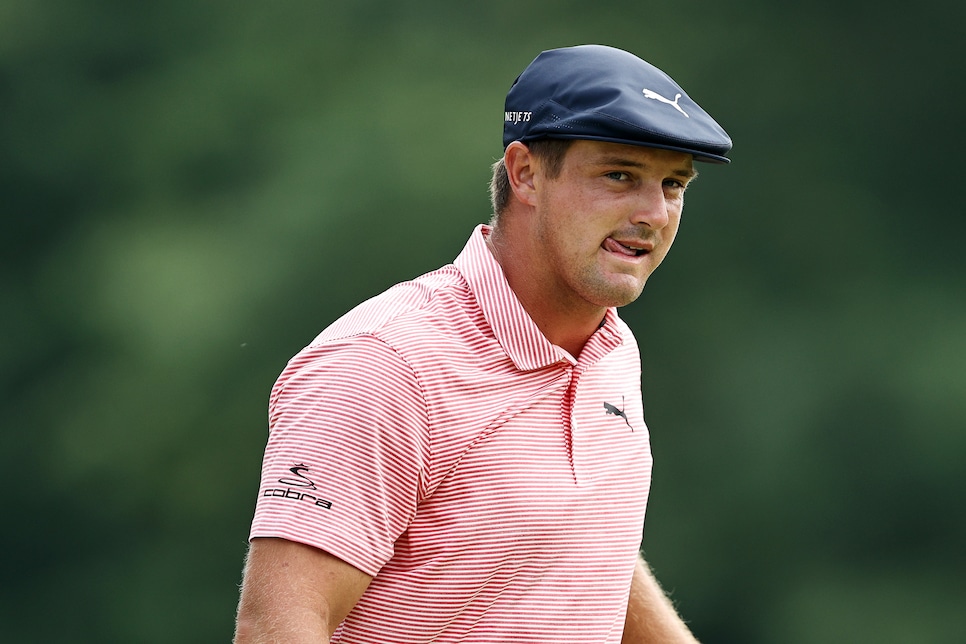 DUBLIN, Ohio — Things are going extremely well, and Bryson DeChambeau is a little surprised. When you put on 40 pounds and fundamentally change the way you play golf, there's supposed to be some lag time. Some time to adjust to your new body, your new swing.
Even Tiger Woods dealt with these barren mid-transformation periods. When switching instructors from Butch Harmon to Hank Haney, Woods went more than a full year without a stroke-play victory in the heart of his physical prime.
DeChambeau isn't having that issue. He's taking to this behemoth thing really, really quickly. Since the PGA Tour restarted from a three-month COVID-19 break, DeChambeau's results are as follows: T-3 at the Charles Schwab Challenge; T-8 at the RBC Heritage; T-6 at the Travelers Championship; and a victory two weeks ago at the Rocket Mortgage Classic, where he beat a classic Donald Ross design into submission by averaging more than 350 yards off the tee.
He enters this week's Memorial Tournament as the seventh ranked player in the world, but if such a thing as Power Rankings or an AP poll existed in golf, he'd be No. 1. Vegas knows this. In a field featuring nine of world's top 10 players—the tour's strongest-ever field for a non-major tournament—he's the betting favorite, ahead of Rory McIlroy, Dustin Johnson, Brooks Koepka, Collin Morikawa, Tiger Woods and everybody else.
"I am surprised," DeChambeau said. "I didn't think it was going to make this big of an impact this quick. I feel like it's come pretty quick compared to what I was thinking."
"I figured if I worked out this hard and I keep going, it was going to take me a year."
He's the talk of the town, every week. Virtually every press conference features the question: What are your thoughts about what Bryson is doing? Woods was asked. His response was a bit surprising—he spoke about how straight DeChambeau is hitting it.
"He's hitting it further, but let's look at the fact that he's hitting it as straight as he is," Woods said Tuesday. "That's the most difficult thing to do. The further you hit it, the more the tangent goes more crooked, more along this line.
"So the fact that he's figured that out and has been able to rein in the foul balls to me has been equally as impressive as his gains off the tee distance-wise."
It's one of the oldest axioms in golf: If you want to hit it straight, don't swing out of your shoes. When you go at it that hard, it shouldn't go that straight. Watch a long-drive contest and you'll see two foul balls for every bomb that goes anywhere near straight.
Which makes what DeChambeau said downright frightening for those competing with him:
"I've found some methods in the golf swing that allowed me to hit it a little bit straighter than I thought I was going to be able to. Consequently, I just feel like the harder I swing, sometimes the straighter it goes, and that's been a tremendous benefit.
"Whenever I get a little uncomfortable I just swing it harder, and luckily the way my golf swing is, the forces lined up a lot better for me. But no, I didn't think it was going to come this quick."
His sudden success has brought increased scrutiny. And, often times, increased criticism. He was hammered in the media for arguing with a cameraman at the Rocket Mortgage, and then saying he didn't think the cameraman's actions were correct because the tour should "protect the brand" of its players.
"From my perspective, anything negative that comes my way now, I try and look at it in a positive light," he said. "I try and view it as a compliment, in a sense. When Tiger was doing his stuff and dominating, I'm sure there were times when people were criticizing him on certain things. I just have to look at it from the light that it's a compliment that I'm being talked about, and I'm not going to think anything more than that."