News
In the race to faster greens, caution signs abound
Major championship venues are defined by lightning greens, but at your local course, they're a recipe for trouble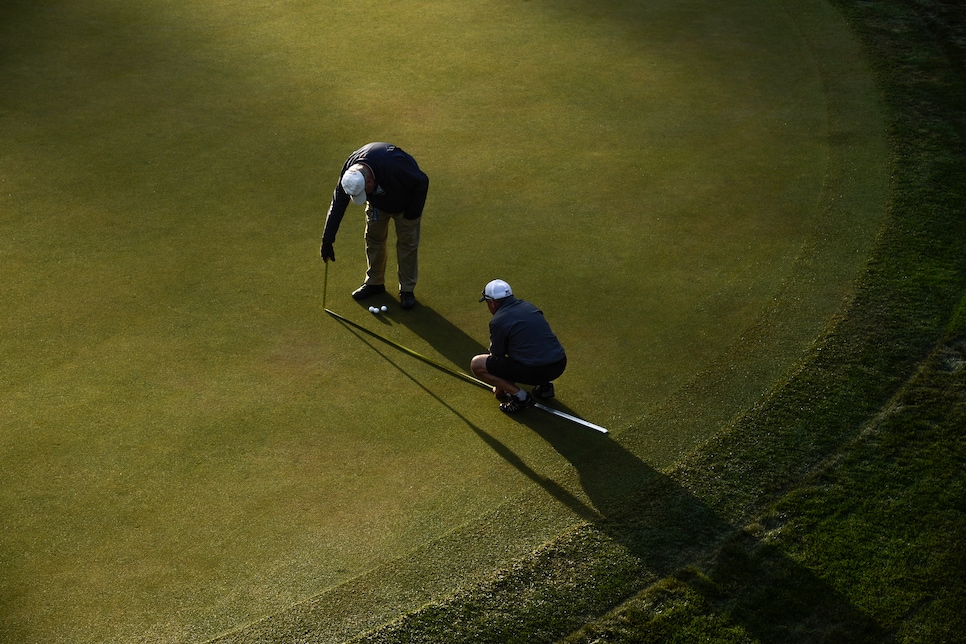 There is some measure of irony that the very device that was designed to control green speeds has largely been responsible for making them seem a lot closer to pool tables than putting surfaces.
The Stimpmeter, invented in the 1930s but not made standard practice by the USGA until the 1970s, is a yardstick-like trough that releases a ball on a green through gravity to measure greenspeed in feet of roll. When it was initially devised by noted Massachusetts amateur Edward V. Stimpson more than 80 years ago, his concern was that greens, particularly at 1935 U.S. Open-venue Oakmont, had simply become too fast. While Stimpson never measured Oakmont back in the day, experts believe those slippery surfaces would have likely been "stimping" at about a 5. Last year, the greens at Oakmont on Sunday of the U.S. Open were close to triple that speed.
Now, every level of the game—from players to superintendents and turf scientists to golf course architects and rule makers—lies seduced by the Stimpmeter as some measure of excellence rather than a regulating guide. That unintended distortion seems almost a kind of battle between progress and panic, as it gets easier and easier to make greens faster and faster, and harder and harder to say enough is enough.
Even the head of the USGA is urging all of golf to slow down while at the same time talking about how important it is for the greens at the U.S. Open to be an unrelenting challenge built on speed.
"When you get the greens to a certain speed they almost come alive architecturally to where if you miss a green, you may have to play a contour," Davis said when referring to the plan at Erin Hills, where the greens will be set up to roll at what he called "average U.S. Open speed, maybe even a little faster than typical U.S. Open speed." Over the last 20 years, U.S. Open speed has gone from speeds in the mid-10s to the high 14s last year. To be fair, green speeds vary with the course. They were 14 at Bethpage Black in 2009, but only 11.5 at Pebble Beach the next year. Still, as an example, in the three U.S. Opens played at Pinehurst No. 2, the projected speed went from 10.5-11 in 1999 to 11-11.5 in 2005 to 12.5 in 2014.
"Speed is addictive," Hurdzan said. "The old story is that today's luxury is tomorrow's necessity."
Yet despite that trend, Davis wanted to be clear that golf in general, to put it crudely, needs to do as I say not as I do. Specifically pointing to everything from the cost to the enjoyment of the game to the pace of play that have been negatively affected by faster greens, Davis was almost pleading when he said, "Taking our U.S. Open hats off for a second, this arms race to get fast greens is not a good thing for the game of golf.
"It's just that I think we hope that the game starts to move back the other way, and that courses are more reasonable and golfers are more reasonable about the speed."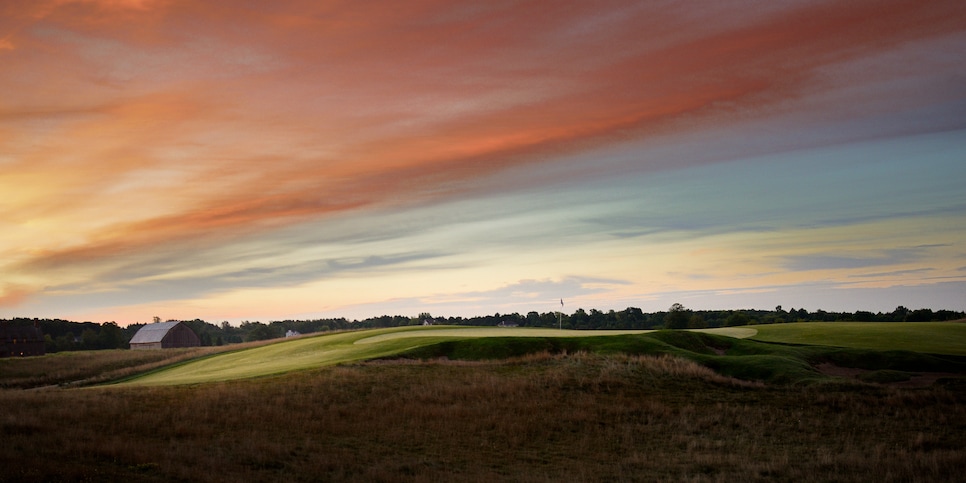 Michael Hurdzan, one of the golf course architects for Erin Hills who also happens to have a Ph.D. in environmental plant physiology, fashioned the greens at this year's U.S. Open site with large features and reasonable slopes given the current state of agronomy and golf course maintenance practices. He likes to say that if the speed is right, a ball just nudged from the top of a particular slope should only roll out about 18 inches or so past the hole location. He calls it "the finite linkage between speed and slope" and how today's green speeds necessitate that the slope grade get no greater than about 2 percent, half of what they were when the Stimpmeter was introduced in the 1970s. The greens at Erin Hills reflect the changing times.
"Erin Hills is a good example of greens where we have a lot of pitch in them," he said. "To set a hole any further up the slope would be just making a game out of it. If you want putting to be a precision art or skill, then you have to give them a playing field that allows them to do it."
But Hurdzan also knows that the green speeds at marquee events like this week's U.S. Open have become dangerously seductive.
"Speed is addictive," he said. "The old story is that today's luxury is tomorrow's necessity."
When the USGA introduced the Stimpmeter in 1978, it had just completed a year-long test of 581 courses. It found the average green speed to be about 6.5. Less than 2 percent of the 2,116 measurements recorded were higher than 9.
Today, at a typical PGA Tour event, green speeds are probably two-to-three feet faster than most of the fastest speeds recorded in that 1977 study, although data shows they've held steady in the 12-foot range over the last three years. But it's not just at the elite level. A 2016 Metropolitan Golf Association survey found the average green speeds in the region to be 11, or more than a foot faster than they were in 2008. It might even be conservative to say average green speeds across the country have increased by more that 50 percent since that 1977 study that introduced the Stimpmeter.
Perhaps no one on earth has studied the ways green speeds can now be maintained as much as Thomas Nikolai. Known as the Dr. of Green Speed, Nikolai is a Ph.D. and turfgrass academic specialist at Michigan State, and has spoken around the world on the topic. He thinks focusing on increasing Stimpmeter numbers has become overly important (instead of using the device as a gauge of greens consistency). At the end of the day, he thinks as far as average golfers are concerned, the Stimpmeter should be practically irrelevant.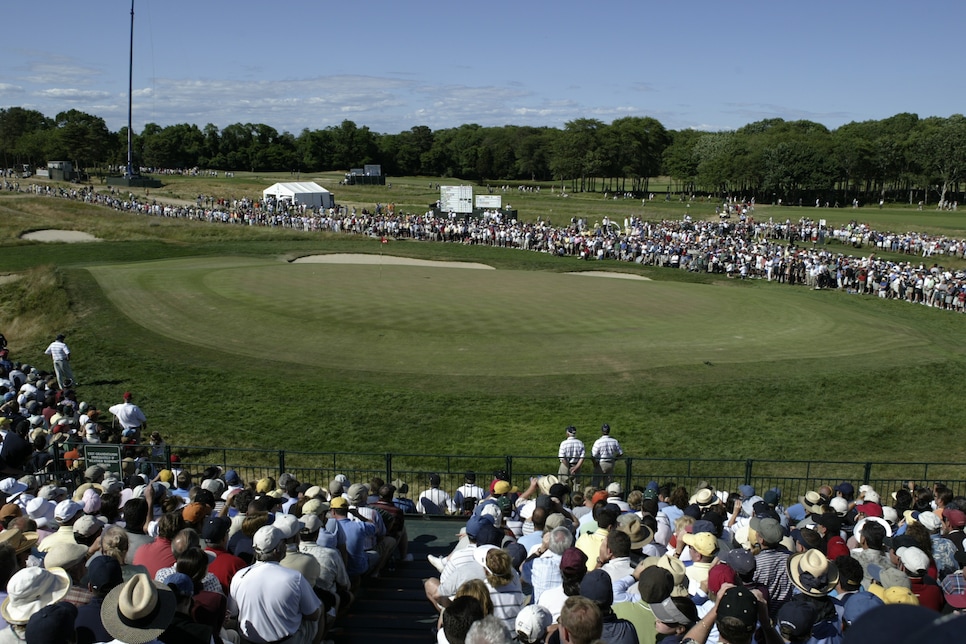 "Green speeds should have never been used for course comparisons because speed is never inseparable from undulation," he said. "Every golf course should be shooting for its own number."
What's most telling is how much has changed in the 40 years since the Stimpmeter has been actively used, says Nikolai. He says that 6.5 average from a generation ago isn't merely slower than the current standard, "it's hard to make a green that slow today and still have it look like a green."
What's changed is a paradigm shift in the maintenance practices and in some cases the grass varieties that are being used today. In many cases, modern greens grasses aren't meant to produce anything but fast surfaces. According to Golf Digest architecture editor Ron Whitten, their relatively high concentration of grass blades per square foot means if they're not cut very low, it "causes the tops of the blades to spread [much like a phone book placed on its spine, so that the greens become 'puffy' or 'grainy.'
"If a club has invested in returfing their greens and goes with a new modern strain, they're pretty much forced to mow at a lower height and have faster greens than even the superintendent and architect would desire," Whitten said.
As well, it is common not only for elite events and top-rated clubs but even for nine-hole courses in small towns that will never hold a state golf event let alone a major tournament to use those motorized greens rollers that zip across the surface like mini-high-speed Zambonis. Nikolai's research has shown that rolling greens actually allows greens to gain speed even if the mowing heights aren't lowered or if the greens aren't cut every day.
The larger point is given prudent maintenance practices, it's become easier to groom faster putting surfaces—within reason and for a specific time period, says Bill Maynard, president of the Golf Course Superintendents Association of America and the director of golf course maintenance operations at St. Albans (Mo.) Country Club.
"All of us at facilities big and small know where that edge is," he said. "It's all about water management. We get it there, and then we back it back.
"It's kind of like you're showing off a little bit. The car's in tune, and you've got the girl in the seat, and we're going out for a drive. But then we back off because you can't go 100 miles an hour on the interstate. Something bad is going to happen. Something you can't see coming."
Certainly the USGA has seen bad things happen with green speeds that may have been pushed too far. Near catastrophes in 1998 at The Olympic Club and in 2004 at Shinnecock Hills perhaps spurred maintenance changes and even architectural alterations, but they didn't do much to slow greens. And, of course, last year at Oakmont, the case of Dustin Johnson's ball moving on the green, at the very least, was an indirect result of putting surfaces slippery enough for a Pittsburgh Penguins morning skate.
Nikolai thinks speed in and of itself isn't the danger to turf health it may have once been. "Firmness is going to kill a green faster than speed, because firmness is going to rely on withholding water," he said.
Getting championships to slow down, whether they be at the national or club level, seems especially hard to do, in part, because superintendents are as proud of their skills as tour players are of theirs.
"But I also think superintendents get it," Maynard said. "They know where that speed is that's going to affect the movement of the ball, and nobody wants that. It's about making those greens perform their best that week, knowing that it's not going further than eight days. They have that throttle in their hand and know how to use it."
It's telling, and perhaps even a little troubling, that tour players grumble when they arrive for the Open Championship, where green speeds can be nearly a third slower than when they played the U.S. Open a month earlier. The R&A, in part because of the effect of the wind on the exposed greens found on seaside links, keeps its Stimpmeter goal in the 9.5-10.5 range.
"We are hopefully past the race for pace because if our sole focus is on speed, generally speaking we're in trouble when it comes to turf health," said Steve Isaac, director of sustainability at the R&A.
But Hurdzan is concerned the speeds have already changed golf course architecture for the worse by causing green slopes to be softened. "Many of us think we've taken away our ability to define hole locations or target areas within greens because of this mania for fast greens," he said. There is also a belief that overly fast greens is another indication of the golf ball going too far, as insanely demanding putting surfaces is one last defense against 350-yard tee balls.
Hurdzan wonders if a slower green might actually end up challenging the best players even more. "Think of it this way: Does it take more skill to take the putter back a few inches for a 30-foot putt on a fast green, or to take it farther back on that same 30-foot putt on a slightly slower green?"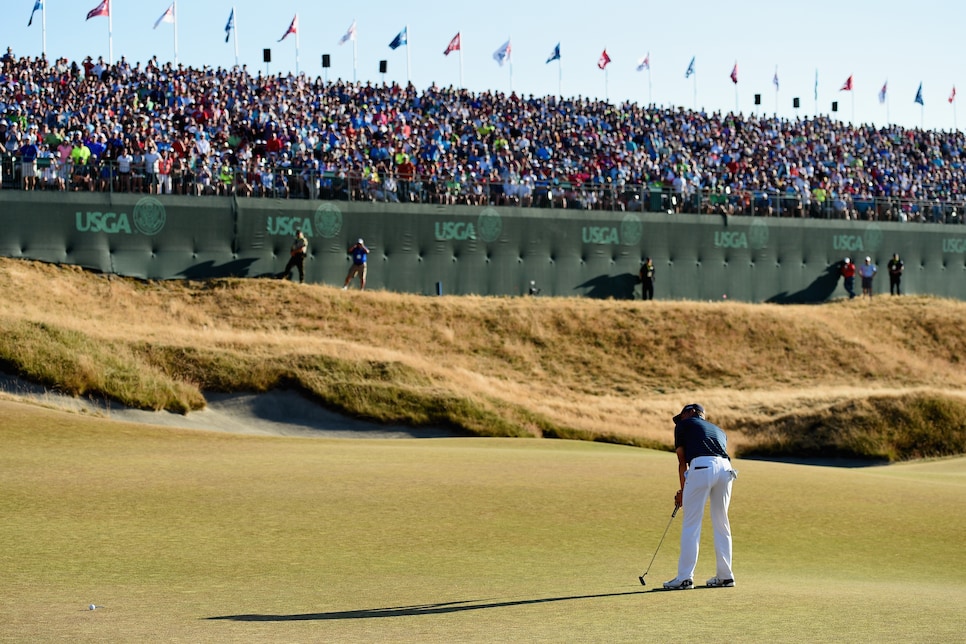 It's an interesting logic, but green speed ever since the introduction of the Stimpmeter hasn't always been governed by logic. "It's a little bit crazy where we are," Hurdzan said. "But we've got to be close to maxing out."
There needs to be a more practical dividing line when it comes to championship greens, says Maynard.
"It's important that we continue to group the Oakmonts and the Augusta Nationals and the major sites in one group and then separate them from membership play," he said. "That difference is in terms of green speeds. You adjust your throttle to the caliber of player.
"If it's member play, it's down to wherever they like. If it's 10, that's awesome. If it's 11, well, I'm sorry to hear that."
Nikolai says it's hard but doable to get greens to stimp at those tossed around U.S. Open green speeds of 14, although he's never gotten a test plot higher than 13 himself. He's even measured the stimp on a pool table (it's between 15 and 16), which is either ridiculous or within reach. But be careful what you wish for.
"If the question is, 'Is a pool table fast?', the answer is, 'Well, no, it's a pool table,' " Nikolai said. "But if you've ever played pool on a slightly crooked pool table, then suddenly that slope is immense. And you can't even see it."