The Loop
In the early going at Hazeltine, already a decidedly different vibe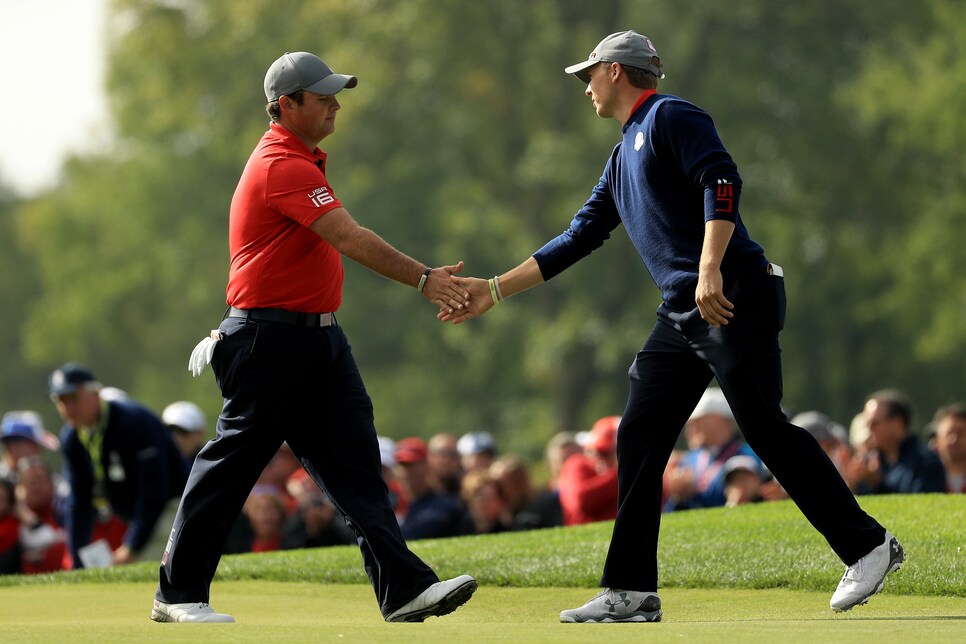 PGA of America via Getty Images
CHASKA, Minn.—The last time the United States would lose on Friday morning came at the first tee, in the hour before the players arrived. Thousands of American fans occupied the stadium seats, but the truth is—for better and worse, but mostly better—we don't take sports fandom as seriously as our European counterparts. We still feel too self-conscious to sing, we have very few chants and, on a happier note, we have far less violence and nothing approaching a "hooligan culture." But when it came to amping up the excitement before Jordan Spieth and Patrick Reed led off the 2016 Ryder Cup against Henrik Stenson and Justin Rose, thousands of American brains couldn't muster much more than the U-S-A! chant, with an occasional detour into the increasingly stale "I believe that we will win!"
Meanwhile, the European faithful clustered together in much smaller numbers, but showed superior coordination. A group of men in yellow flat caps and blue European vested suits had written individualized songs for every European player, and most of the captains as well. They were so good that even the journalists standing below them gave appreciative nods, although the American fans, insecure about being outdone on their own soil, often drowned out their hard work with another monotonous U-S-A! chant. It was like a war of attrition—the Americans understood that the Euros had come prepared, and in the absence of wit, they tried to break their will with sheer volume.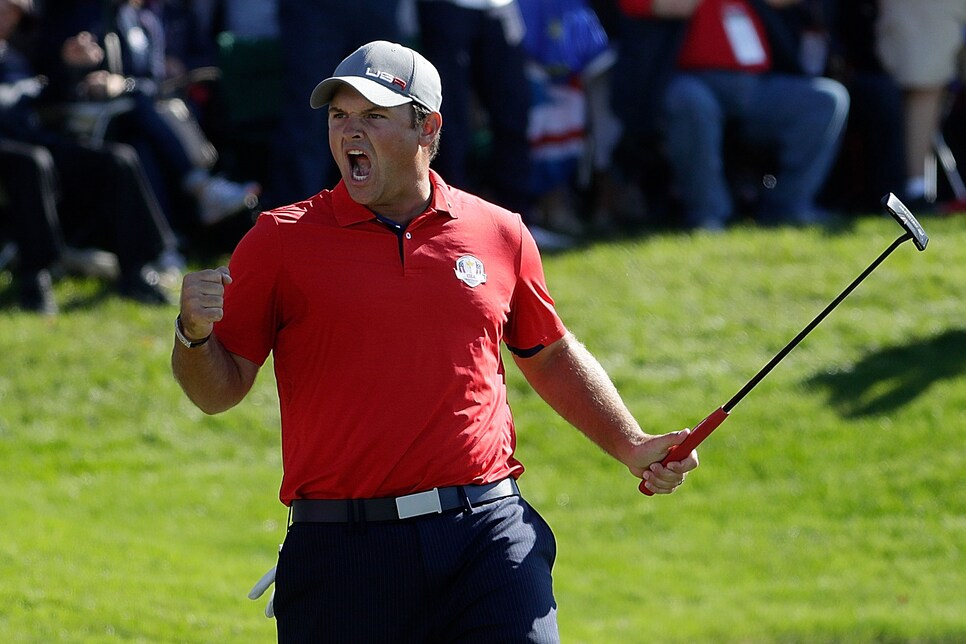 As he prepared to tee off at 7:35 am CT on a chilly, foggy morning, Patrick Reed had already removed his blue sweater, revealing the power red beneath. He was the only one of the foursome to do so, but watching him, I didn't worry that he'd be cold—there was clearly enough warmth emanating from that body to heat several of the smaller European nations. He raised a fist to the fans lining the fairway, who roared back. They stood rows deep, throughout Hazeltine, wearing on their heads Uncle Sam and Abe Lincoln stovepipes and American-themed wigs and viking helmets and tricorn Colonial hats and a surprising amount of fake mullets, and holding in their hands American flags and cell phones and binoculars and cigars and coffee cups and Michelob Ultras and Bud Lights and Bloody Marys—not too early, not by a longshot.
By the fourth hole, 2 up courtesy of his two terrific approaches, Reed began joking with Rose. Finding less humor in the situation, Rose nodded politely, smiled his thin smile and stepped away. The mist was stubborn, hovering among the burnt orange leaves of Hazeltine's oaks. On the fifth hole, a group of U.S. fans dressed as cowboys begged Roger Maltbie to yell out "yee-haw!" When he responded that it was too early, one of them yelled something about his cigarette.
Maltbie looked at the smoke. "If it was anything different, I would be yee-hawing."
"Great decision!" an American yelled at Patrick Reed, as he exchanged a wedge for a different wedge on the fifth green.
"No pressure!" an American fan yelled as Rose lined up a birdie putt to win the hole, after Reed's excellent chip.
"He's just kidding," shouted another. "There's a lot of pressure. A lot of pressure."
Rose missed the putt—four words which served as a minor refrain for the match.
On the sixth tee, a marshal's radio began crackling loudly as the Europeans teed off, and he looked flustered as he listened to the message, realizing he was about to become a distraction. Then, in front of me, a hand reached out to the volume knob, twisting it until the words became softer. The marshal didn't even notice, but I followed the hand and found myself staring into the smiling face of Vice Captain Bubba Watson.
"You like that?" he asked. When he walked away, I noticed his USA high-tops.
On the beautiful seventh hole, bordered by the swaying reeds growing along the shores of Lake Hazeltine, I walked behind a slim figure wearing a blue European sweater, his frosted tips hidden beneath a mesh hat. As the fans behind the ropes yelled at him to kneel down, very few of them realized that they were talking to Niall Horan of One Direction. "He hasn't taken a shot yet!" Horan protested, but the fans kept yelling until he was forced to kneel beneath the branches of a pine tree.
On the green, with the Chaska water tower barely visible in the mist across the lake, Reed sank another birdie putt to give the Americans a 3-up lead. The matches behind had begun to take shape, with the Europeans leading in the middle games, and Dustin Johnson and Matt Kuchar already storming out to a big lead in a match they'd win in a 5-and-4 blowout.
The sun started to cut through the fog on the eighth hole, and Rose and Stenson found themselves in a brutal situation—losing, on enemy turf, by such a margin that any mistake could effectively put the match out of reach. It's the kind of mental weight that can turn bad into worse, but Rose and Stenson were Europe's best team in 2014, and they rallied to win the ninth hole with par after an American fan attempted to distract Rose with a "na-na-na-na-na," one of the day's many Caddyshack references.
I saw Sam Torrance radio to Padraig Harrington, asking in an irritated tone for what I'm almost positive was "sandwiches."
The people in the front row of the gallery hate the TV cameramen, who rush onto the scene after the poor fans have staked out their spots and waited patiently for, in some cases, hours, and who are utterly immune to cries of "sit down!" in a way that print journalists are not. *
Darren Clarke and Davis Love III both joined the first match on the 12th hole, which was split with bogeys, even after Reed's caddie and brother-in-law, Kessler Karain, lowered himself horizontally to the ground to read a short par putt. When Reed missed, it was the first real mistake for the best player in the match, and there wouldn't be many more—clutch par putts on 13 and 14 kept the margin at two-up, while the Americans started to turn the middle matches, threatening to turn the entire leaderboard red.
One man was dressed in a bald-eagle costume with a fish in his beak, and he was photographed by at least half of the journalists who passed him on the fairway.
It's difficult to get angry at the U.S. fans who cheer when Europe hits a bad shot, or misses a putt that would have halved the hole—that's a natural reaction in team sports, even if it feels foreign in golf and is frowned upon by those who put the sport on a pedestal. The Europeans do it too, and it's not a problem when it's a collective reaction. The problem starts with the lone idiot, like the one on 16 who wouldn't stop yelling at Rose that the ball broke to the water, and was so relentless that eventually Spieth had to tell him to shut up (which hopefully ruined his Ryder Cup experience). Rose missed anyway, and the stage was set for Reed, who absolutely loves moments like this one, and who buried his long putt to win the match. It was a spectacular moment—by taking down the best Europe had to offer, Reed and Spieth became the most exciting and best U.S. team in at least a decade, and possibly two.
As they were being interviewed behind the green—Spieth got annoyed with Maltbie for asking him about a short putt they refused to concede on the ninth hole, saying "You really made me look bad there, Rog"—Phil Mickelson dropped a wedge mere feet from the hole, setting off the fans again. Fowler capitalized on the birdie to square that match, and Sullivan hit his tee shot on the next hole into the water. "You gotta club up, baby!" yelled a fan, his face red with what looked like an odd kind of rage.
In the third match, Zach Johnson and Jimmy Walker blitzkrieged Garcia and Kaymer on the back nine, and the only chance for Europe to salvage a half point came with Rory McIlroy's birdie putt on 18. The shouts cascaded down as he read the putt.
He missed—all of Europe missed—and it turns out 2016 is a brand new year.