The Loop
In search of major breakthrough, Westwood takes up with Stocktons
AKRON, Ohio -- The back-to-back major championships won by Rory McIlroy and Darren Clarke have Lee Westwood following his friends' blueprint for success. The world's No. 2-ranked player arrived early for the WGC-Bridgestone Invitational and has already spent time with putting gurus Dave Stockton and his son Dave Stockton, Jr., along with sports psychologist Bob Rotella.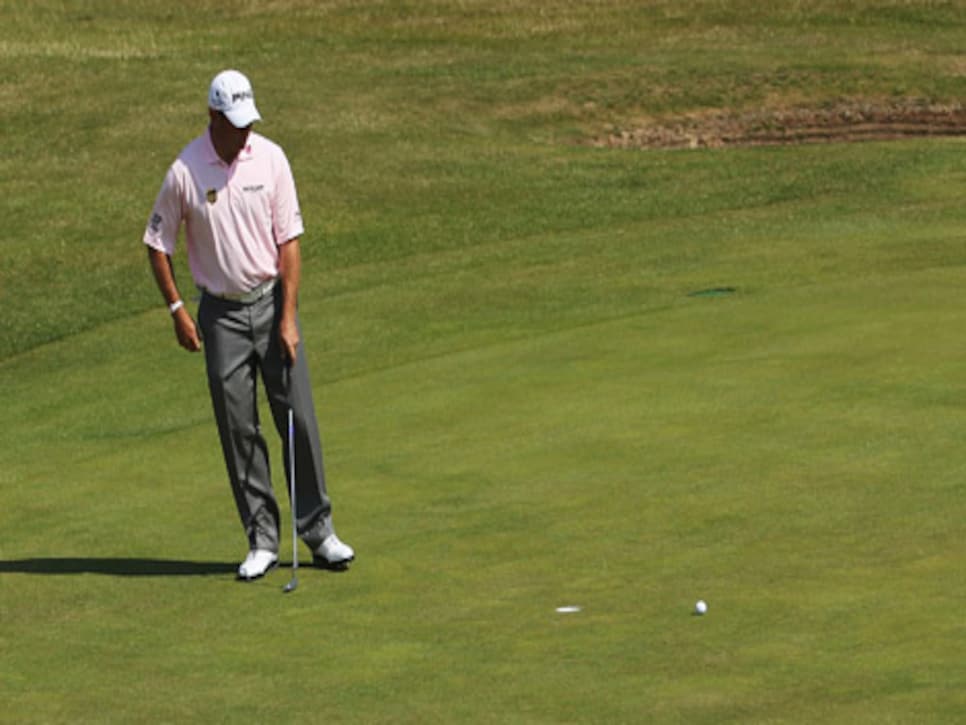 *Coming off a missed cut in the Open Championship, Westwood has sought help from Dave Stockton.
McIlroy took a series of putting lessons from the Stocktons a month before his record-setting win in the U.S. Open at Congressional. Clarke reunited with Rotella days before the start of the British Open, and their work together went on to play an integral role in the Ulsterman's win at Royal St. George's.
"He tended to be very mechanical," Stockton said of Westwood. "And so seeing Rotella tied into what David and I were telling him, to let it go and not be thinking. He clenches his teeth and hardly breathes."
Rotella worked with Westwood before arriving in Ohio. They spent a couple hours together 11 years ago, but have not followed up. Their meeting follows Westwood missing the cut at St. George's and indicates the Englishman wants to make the most of his chances at the last major of the year, next week's PGA Championship. He had solid showings at the Masters (T-11) and the U.S. Open (T-3), but never seriously contended in either.
To start their session, the Stocktons had Westwood write his signature. They saw a relaxed hand and flowing handwriting. "You have to make up your mind that you're going to putt like you write your signature," said Dave Sr., a two-time major champion. "He just laughed. He had a wonderful attitude. He was great to work with.
The Stocktons will remain busy. McIlroy may not arrive in Akron until Wednesday, but he has a session scheduled as does Phil Mickelson, who is coming off a missed cut at the Greenbrier Classic where he averaged 30.5 putts.
"I had my best texting with Phil the Saturday night before the last round (of the British Open)," Stockton said. "He said, 'The game feels like it's close.' I texted back saying, 'You've got to be kidding me. You're a multiple major champion. Quit trying to figure it out. Just get out there and play.'"