The Loop
In missing cut at Valhalla, Tiger Woods heads into an uncertain offseason
LOUISVILLE, Ky. -- Tiger Woods' reward for attempting to compete in the year's final major championship was an inglorious amalgamation of pain, frustration and a future filled with doubt. Five days after withdrawing from the WGC-Bridgestone Invitational with back spasms -- but just three removed from declaring himself pain-free -- Woods bowed out unceremoniously from the 96th PGA Championship after carding a second straight three-over 74 at Valhalla Golf Club under appropriately cloudy skies Friday afternoon. At six-over 148, the four-time PGA winner missed the cut by five strokes at the site where in 2000 he set the championship's 72-hole scoring record of 18 under par. "I tried as hard as I could. That's about all I've got," Woods, 38, said after missing the cut for just the fourth time in a major and for the second time in four years in the PGA. What he had didn't remotely resemble the player who just a year ago won five times, reclaimed the No. 1 spot in the world ranking and was the PGA Tour Player of the Year.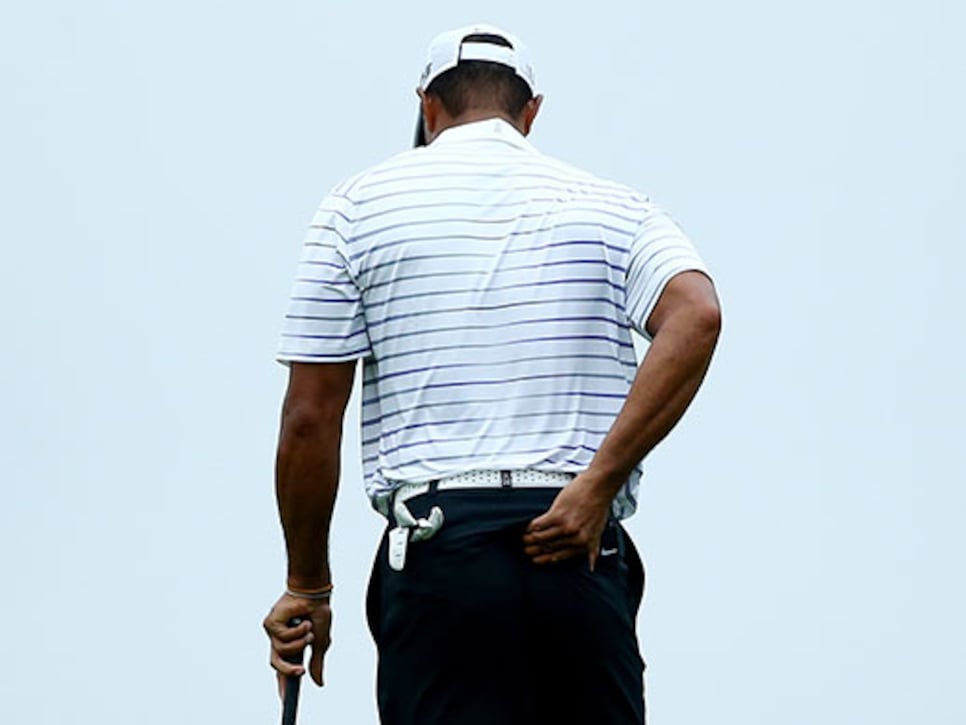 *Woods said he doesn't know when he'll play again. Photo by Getty Images
Woods said he re-aggravated the back injury that caused his early departure last Sunday in Akron, Ohio, when he was warming up for Friday's second round, and although he did not appear in the same distress this time, his game was sending out day-long SOS signals. He found nine fairways but only eight greens in regulation, which resulted in three bogeys and a double bogey against just two birdies. That's one more birdie than he scored on Thursday. "I couldn't make a backswing," Woods said. "I can't get the club back. Coming through is fine [but] … it throws everything off. I can't get anywhere near the positions that I'm accustomed to getting to." He was referring to positions in his golf swing, but the 14-time major winner just as easily could have been referring to the positions he's accustomed to on the leader board. As he changed his shoes by his courtesy car and drove off, Woods was 15 strokes behind leader Rory McIlroy. At this stage in 2000 at Valhalla, Woods stood 11-under 133 and out in front of the pack. "I don't know. I don't know," Woods replied to a question about when he might try to play again. He will not play in next week's final regular season PGA Tour event, the Wyndham Championship, which means he will not qualify for the playoffs and his season is complete. Given his uncertain health and uneven form, a captain's pick from Tom Watson for this fall's Ryder Cup seems highly unlikely, meaning Woods would miss a team competition for the U.S. for just the second time in his pro career.
He finishes with one top 25 among seven starts with two withdrawals and two missed cuts. Before departing, he was asked if he was feeling old. He'll be 39 in December and will begin 2015 having not won a major in six full seasons. "I've felt old for a long time," he replied.