The Loop
In midst of ho-hum year, Mickelson hints at a turnaround
SANDWICH, England -- Sometimes it's better to just let a man talk than to try and figure out what he's trying to say. So we yield the floor to Phil Mickelson, the four-time major champion, who opened the 140th Open Championship at Royal St. George's Thursday with an even-par 70.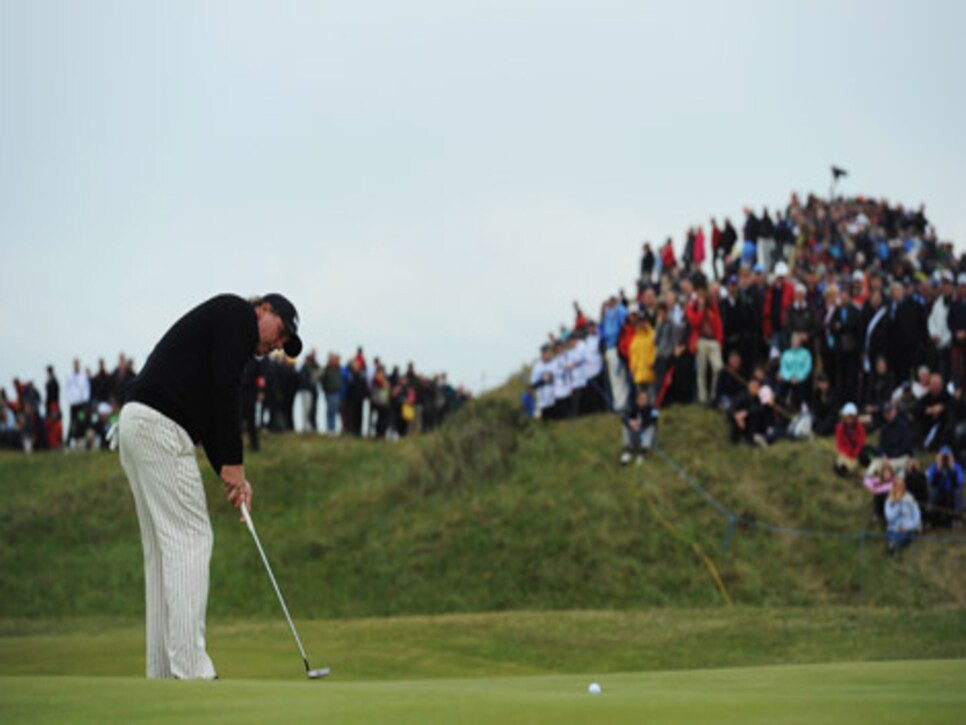 Given his indifferent record in the Open, Mickelson's first-round 70 was an encouraging start. Photo by Getty Images
Mickelson was asked to assess his late-afternoon round, when the wind abated and birdies abounded. The left-hander didn't take advantage of the weather break, but neither did he shoot himself out of the championship. His 70, with two birdies and two bogeys, was his third-lowest opening round in this championship and only the fourth time he's shot par or better to start. His assessment of the day began thusly:
"I've had an interesting couple of years," he said. "And after the U.S. Open, I started to kind of change my way of thinking, and it's going to take me a little bit of a process to get back to where I was as a player and so forth. I feel like I'm on my way back. It could take a while. It could be a week, but unlikely. It will probably be a month or few months or whatever, but I feel like I'm back on my way or in the right direction to get back to where I was as a player. When I ultimately get there, I feel like I'll be even better because I feel the work that I've done in the interim the last few years will pay off. But right now I'm trying to get back on the road to where I was, and it's going to take some time."
Mickelson, 41, who won his 39th PGA Tour title earlier this year at the Shell Houston Open and captured his third Masters in 2010, didn't want to venture further down the path on which he embarked voluntarily, however. But, clearly, something stirred him to a deep rethink after finishing T-27 and T-54 at this year's Masters and U.S. Open, respectively.
"I don't want to get into details," Mickelson said. "I just haven't played the way I'm used to playing. I haven't thought as clearly on the golf course. And the way I articulate it is that I'm just not getting the score out of my round but I feel like I have a good game plan to slowly get me back and this was a good start. I don't know how [Friday] will go or the rest of the week or after that, but I feel pretty good about where I'm headed and the direction I'm headed.
"I don't want to go into why. As a player you have to be able to separate what happens on the course and what happens off it. And I maybe haven't done it as great as I should. But I feel this was a good day, a good start. I've developed a game plan."
Mickelson certainly has had to contend with serious considerations away from the golf course. His wife, Amy, and his mother, Mary, both are battling breast cancer. And last year at the U.S. Open, Mickelson revealed that he was diagnosed with psoriatic arthritis, resulting in weakness and achy joints. He has not used any of those issues as excuses for any shortcomings on the golf course. In fact, he rather hinted that perhaps his attitude about golf has been his real shortcoming.
He pointed to his up-and-down for par at the 18th as an example of his altered state of mind. Mickelson drove poorly, then pulled his second shot short and right of the green, bouncing his approach off a marshal's rear end.
"That's going to happen when you don't watch. You should know by now that when I'm playing, you should keep your eyes out," Mickelson said wryly.
His pitch shot wasn't easy, having to clear a deep bunker, but he managed to get up and down.
"Yeah, 18 ... that didn't look like a par at any point, really, and I was able to salvage a par. This is probably a good example of what I was talking about," said Mickelson, who is a combined 85 over par in 63 Open rounds. "When I hit it off to the right, I had a hard shot over there, and instead of being disappointed at having a hard shot, I kind of liked the challenge of the shot. I knew I could hit it, and I liked the challenge of hitting it over the bunker on the downslope.
"I haven't been positive on the golf course, and I haven't really embraced the challenges out there like I should," he added. "Every shot poses a certain challenge, and I just haven't embraced it. That's kind of the difference, I would say, and I'm really enjoying it. ... I'm trying to enjoy myself more out there.
"It was a good round. I think there's room for improvement. But it was a good start."
In more ways than one, apparently.