The Loop
In Justin Rose, a golden generation finally delivers on its promise
ARDMORE, Pa. -- It was supposed to have happened before now.
This "golden generation" of English golfers -- Lee Westwood, Paul Casey, Luke Donald, Ian Poulter and Justin Rose -- was long ago hailed as the second coming of Europe's "Big Five" -- Nick Faldo, Seve Ballesteros, Ian Woosnam, Bernhard Langer and Sandy Lyle -- and, like their illustrious predecessors, expected to win majors aplenty. But none of them did. Not for a long time. Yes, they came close on numerous occasions -- most notably Westwood -- but none were able to get it done when it mattered most. Before Sunday, in fact, the last Englishman to win a major championship was Faldo at the 1996 Masters and the most recent victory by a player from Great Britain was Scotsman Paul Lawrie's British Open at Carnoustie in 1999. But at last, England's 17-year wait is over. In Rose (South African-born of English parents), the land of Shakespeare, Churchill and Queen Elizabeth has its first Grand Slam title-holder of the 21st century. With a ball-striking performance worthy of much acclaim amidst seemingly endless carnage all around him, the 32-year old Florida resident from Hampshire south of London emerged as the champion at the 113th U.S. Open.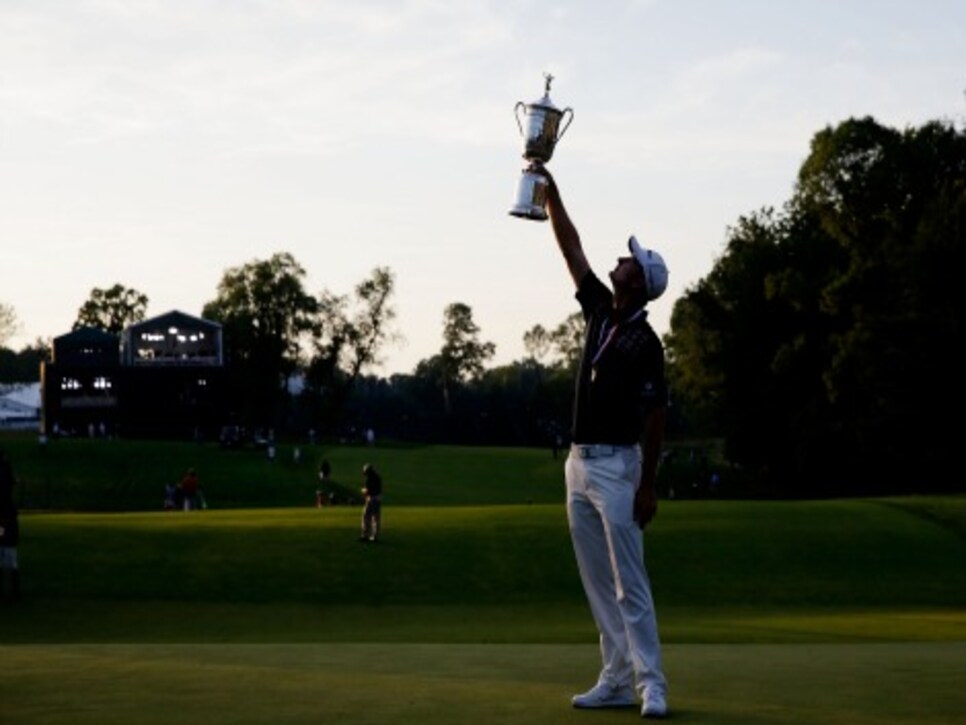 "This is a childhood dream come true," said the new champion after completing a closing round of 70 that was two shots better than joint runners-up, Phil Mickelson and Jason Day. "I've worked my whole life for this and holed the winning putt hundreds of thousands of times. And it is especially nice to win at a club so steeped in history. As Lee Trevino said, 'I fell in love with a girl called Merion, even though I didn't know her second name.' "This was an appropriate place for me to win, given the way my game has gone over the last couple of years. Last year I topped the greens in regulation category on the PGA Tour and this year I'm leading in total driving. I love it when a plan comes together."
He saw it coming, too. "If we're really honest, I think it has now reached the point where it's down to the fact if we (the English) can handle the pressure we will win a major and if we can't, we won't," Rose told the Daily Mail on the eve of the championship. "Given all we've achieved, there's nothing to be gained from denying that fact. Speaking for myself, I look at my record over the last three years, my wins in America and what happened at the Ryder Cup, and I think I've shown I can deal with the pressure. So I've got to remain patient." That attribute, of course, has long been part of Rose's amiable character.
After turning pro in a blaze of glory immediately following his T4 at the 1998 British Open as a 17-year old, not much came easy for him. It wasn't until his 22nd event that he cashed a check. It's a safe bet that no other major champion has ever missed 21 halfway cuts in succession, an ignominious run that, understandably, scarred his fragile teenage psyche.
Related: It has been a decade of highs and lows for Justin Rose "I honestly don't think it was until I started winning in America in 2010 that it was truly out of my system," he confessed then. "But that has been the game over the past 15 years. It has been about putting building blocks painstakingly in place. Now I'm at the point where it's a case of letting the next eight years unfold. Sure, there will be days when you can't see the game clearly but that's why you put the blocks in place, so you don't panic." There were certainly few signs of stress in England's Rose as he marched inexorably along Merion's narrow strips of fairway and through a field that one-by-one fell away. By the 18th -- a hole where the new champion struck a peerless long-iron approach that missed the flagstick by inches -- only Phil Mickelson was left. But when the 43-year-old birthday boy failed to make birdie, the famous old trophy was headed across the pond for the third time in the last four years, following the Northern Irish victories of Graeme McDowell and Rory McIlroy. Appropriately on Father's Day, Rose's first thoughts were for his own, Ken, who died of cancer in 2002. Immediately after holing out for what proved to be a clinching par on the 72nd green, he gazed skyward.
Related: What's inside U.S. Open champion Justin Rose's bag "That look was for my Dad," he confirmed. "Today was about him. He was an inspiration the whole day. A lot of us came from great men and it was important for me to carry myself and do myself proud on this day. I saw the Hogan plaque and said to myself 'This is my time.' I've seen that famous picture of Hogan a million times and I wanted to hit a shot like that myself." This isn't the first time Rose has broken "Lefty's" heart, of course. Last year at the Ryder Cup, the Englishman holed an outrageous 50-foot putt across the 17th green to square their crucial singles match, then made a decisive birdie on the 18th. "The Ryder Cup was eight months ago but during last month's BMW PGA Championship at Wentworth a lot of people came up wanting to say thank you, and that was really nice," he revealed. "They showed what it meant to them and it's really humbling to think you can make a difference in their lives. From a recognition standpoint, Poults [Poulter] and myself have done really well out of our perceived leading roles at Medinah." That's done with now though. Instead of "thank you," Rose can surely look forward to a few thousand renditions of "jolly well done old boy."