The Loop
In grabbing a piece of history, Dufner now has a chance at more
ROCHESTER, NY -- Jason Dufner's precision had him on more than a few dark-horse favorite lists coming into the PGA Championship, but nobody predicted how explosively the famously deadpan two-time Tour winner would live up to that billing. Dufner was off and running almost from the opening bell, holing his approach shot from 105 yards on the 401-yard second for eagle and coasting to a course-record 63. The only drama came on the last hole, when he had 20 feet to break the major championship scoring record and left the putt two feet short.
He nervously tapped it in the side door for a bogey-free round that made him the 24th player to shoot 63 in a major championship, and erased Ben Hogan (1942), Curtis Strange (1989) and Webb Simpson (two hours earlier) from the Oak Hill record book. It also left Dufner two shots clear of three players -- and in control of a major championship for the first time since he had a five-shot lead on the 15th tee Sunday at the 2011 PGA.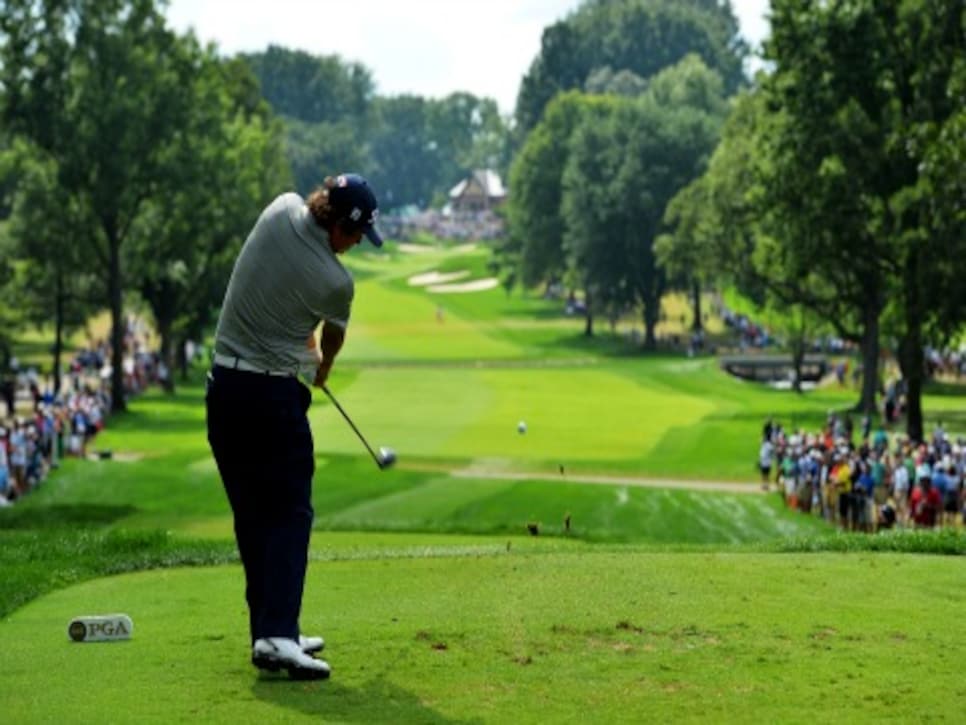 Related: Day 2 at the PGA Championship, as told by GIFs Dufner missed six out of 14 fairways, but hit 15 greens and took just 26 putts to break the scoring record first set by Ben Hogan at the 1942 Times-Union Open. Taking Hogan's place holds special significance for Dufner, who works with veteran Texas instructor Chuck Cook. Through Cook, Dufner patterned his downswing after Hogan's, and he has a deep appreciation for the workmanlike way Hogan built his swing.
"I've been a great follower of Mr. Hogan and everything he's done. I was so excited to play at Merion for the first time this year," said Dufner, who even pays tribute to Hogan in his Twitter avatar. "And then to come to a great course like Oak Hill, where he holds the course record and has played so many rounds -- to knock his course record off is a kind of tip of my cap to him." With so many birdies available for everybody, Dufner's record binge didn't create much space. Fourteen players sit within five of the lead, including two of the season's three major champions -- Justin Rose and Adam Scott, who are in the group two back with Jim Furyk. "I'm sure guys will be gunning for whoever might be leading," Dufner said.
"I'm still trying to learn from the mistakes I made in prior majors," said Dufner, who was also tied for the lead after two rounds at the 2012 Masters. "I'm excited I'm in the lead, and looking forward to a good weekend and maybe closing one of these out."