The Loop
In going 'unconscious,' Clarke realizes his dream
SANDWICH, England -- Eight days before he became Northern Ireland's third major champion in only 13 months, Darren Clarke was on the range at Castle Stuart, preparing for what would be the third and final round of the rain-affected Barclays Scottish Open. A journalist stood and watched for half an hour or so as the 42-year old perennial underachiever -- his own words -- put on what amounted to a ball-striking clinic.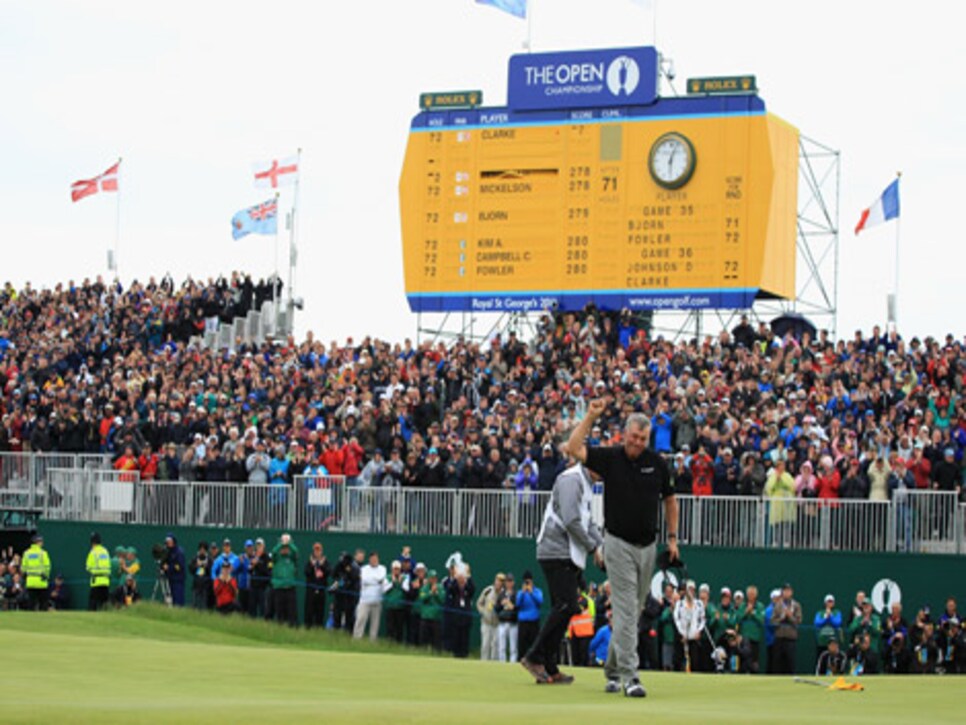 *(Clarke's win at the Open came in his 20th attempt. Photo by Getty Images)
Almost every shot came right out of the middle of the bat, the familiar swing perfectly balanced and, significantly for an individual who tends towards the impatient, beautifully rhythmic. Then came a few fades, all of them spot on. Then draws. Again, all were close to 100 percent in their execution. It was, thought the lone spectator, an exhibition only a very few players would be capable of, even in these forgiving days of modern equipment.
"Do you need me?" asked Clarke when he was finished.
"No," was my reply, "I just came to watch. And I'm glad I did."
"Yes," said Clarke. "For ages now I've been working on technique; technique, technique, technique. Now I've decided just to hit the bloody ball and let it happen. And it seems to be working."
Just how well would become apparent to a wider audience a few hundred miles to the south, the finishing touches to Clarke's sometimes-fragile, sometimes-volatile temperament coming from renowned sports psychologist, Dr. Bob Rotella.
__*[(Related: Dr. Bob Rotella's 10 rules on mental fitness)
](http://www.golfdigest.com/magazine/2009-06/bobrotella_10rules)*__
"Go 'unconscious' was the message I gave to Darren," said Rotella in the immediate aftermath of Clarke's maiden major championship victory. "He needed to get all the technical thoughts out of his head. So no more, 'hold the angle,' for example. It's funny, but as soon as he stopped consciously trying to do just that, he began doing it perfectly. It may have felt funny to him but, as he admitted himself, the ball was flying out of the middle of the clubface."
That was certainly the case during the course of a third-round 69 in which Clarke barely put a foot wrong tee-to-green. Only four missed putts from inside five feet or so prevented him from opening a more significant gap than the slim one-shot edge with which he began the final day.
The last day wasn't quite as stellar, but it was plenty good enough, the combination of pure ball-striking and the odd piece of fine fortune here and there enough to see off any and all challengers. In particular, Clarke's low, thinned approach off a steep downhill lie left of the 9th fairway making its way onto the green -- neatly hopping a bunker en route -- was a sure sign that lady luck was standing by his side.
"I got a couple of good breaks out there," he admitted, the claret jug beside him shining almost as much as his wide smile. "Yesterday I played as good as I could play tee-to-green and really didn't get anything out of it. Today I played OK and things went my way. So it sort of balanced out."
Such modesty does, however, disguise how that closing round of 70, level par, was compiled and the commanding air of confidence that encircled Clarke at Royal St. George's. And nowhere was that more obvious than in the way he holed three very "missable" putts on each of the first three greens. Immediately, his round was headed in a positive direction.
Thereafter, it was Clarke -- despite that opening half of 30 from Phil Mickelson -- who was exerting rather then feeling pressure. Soon enough his pursuers started pressing and, inevitably, making mistakes. The most noticeable feature of the last six holes was the retreat of every challenger, to the extent that Clarke could finish with a brace of bogeys of his own and still win comfortably.
"When I saw Darren wasn't going to make a mistake and was playing such great golf, I had to start making birdies," said Mickelson, summing up the feelings of the rest. "And that's when I started making bogeys."
So it came to pass that, a mere four weeks after Rory McIlroy's U.S. Open win, "wee, small" Ulster has a fourth major champion, one whom, it seemed, was destined to look back on a distinguished career with a tinge of disappointment. No more though. Clarke deserves his moment, one he will assuredly enjoy with a few drops of the black stuff before he makes his next competitive appearance at -- where else? --  the Irish Open.
The final words, however, must go to the wise Rotella, who ironically spent the week staying with another client, another Irishman and another major champion in Padraig Harrington.
"All week I filled Darren's head with two quotes," said the man from Virginia. "One came from Vince Lombardi: 'Fatigue makes cowards of us all,' which was my way to get him to limit his practice. Too often, he has worked himself too hard on the range and not had enough energy left for the tournament.
"The other quote was one of my own: 'You're unstoppable when you're unflappable.'"
And it worked. This week at least, Clarke was both.