The Loop
In every meaningful way, Adam Scott proves he gets it
AUGUSTA, Ga. --  It's one thing to be a champion, quite another to behave like one. In that respect the last 12 months have been kind to Adam Scott. Two days before his defense of the famous green jacket here at Augusta National begins, the 33-year old Australian showed himself to be a more than worthy successor to past winners of the stature of Jack Nicklaus, Arnold Palmer, Tom Watson and Seve Ballesteros. During a 35-minute press conference, his responses to a variety of questions represented something of a "Masters" class in dignity, humor and thoughtfulness.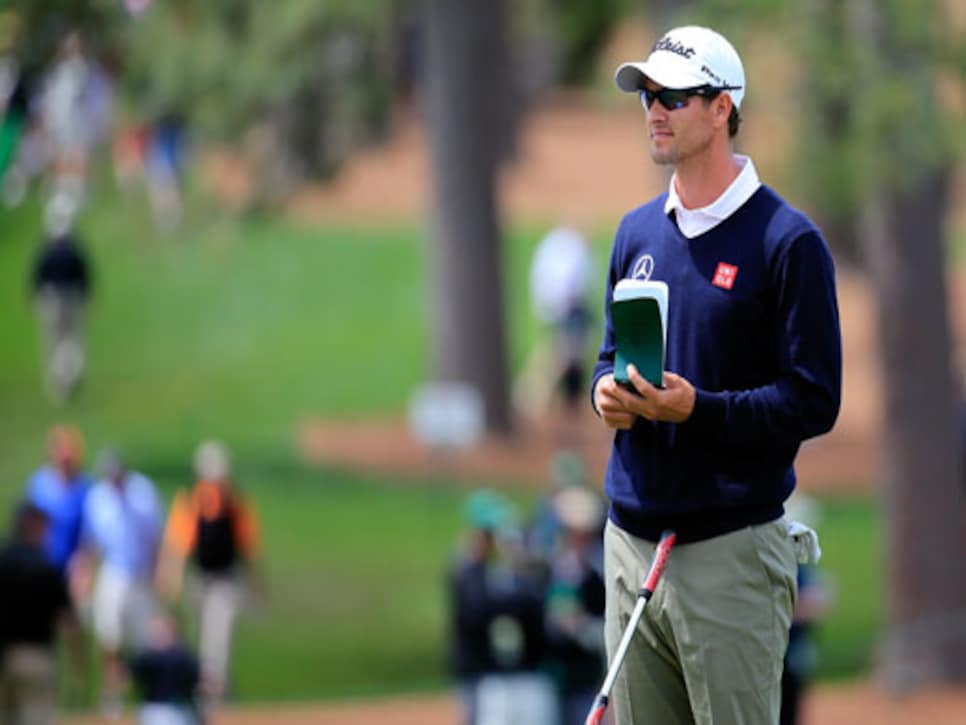 Asked about playing the iconic course with his Dad on the weekend just past, Adam spoke affectionately of how excited Phil Scott had been at the prospect of standing "in the middle of the fairway rather than out on the edge." That was nice, but there was time for a little zinger, too: "And he also developed a pretty good appreciation for how good some of the guys are out here, chipping and putting around these greens."
Speaking of his debut in the champion's locker room, Scott indulged in some mock indignation at the lack of room his locker-mate, Gary Player, had afforded him. "Gary gets a lot of mail," he said with a smile. "My stuff is kind of scattered around a bit on the floor."
There was time, too, to reflect on the recent influx of Australians into the year's first major. And his prospects of becoming the sort of pre-eminent player many feel golf needs in this post-Tiger Woods era. As ever, Scott's replies were an endearing mixture of generous, modest and eloquent.
"To see Matt Jones and Bowdo (Steven Bowditch) win -- guys I grew up with -- was a great feeling for me," he continued. "They finally got the belief that they are that good, which is what I said to Matt. He is a great ball-striker and he's finally cracked it. He should carry on now and use that momentum.
"For my own experience, I'm at the highest level I've ever been at and I'm not dominant at all compared to where Tiger was for so long. To get to that level is remarkable. We all strive for it, but it's not that easy to do. Watching Tiger play the way he's played through his career is quite unbelievable."
Last up, inevitably, was talk of the culinary menu Scott has prepared for this evening's Champion's Dinner. True to his roots, the surf-loving Queenslander has opted for the sort of fare he himself prefers -- "off the barbie."
"I haven't picked anything too exotic," he explained. "I didn't think the other guys would appreciate that. So there's no kangaroo or crocodile or anything like that. But I would love to have served some meat pies (an Aussie tradition) at the cocktail hour."
Still, while neither roos or crocs made it onto the menu, the past Masters champions will be treated to a seafood dish whose name may well discourage even the briefest of tastes: Moreton Bay Bugs. Like Scott, the bugs -- and his mum's pavlova -- are "the real thing."
"They are legitimate bugs," he reiterated with a laugh. "The real deal. I'm not going top serve up anything second-rate. I've got to go all out to impress these guys." Too late. As he has consistently shown throughout his green-jacketed reign, Adam Scott is already a young man of some consequence. And everyone knows it.