The Loop
In case you hadn't noticed, Kenny Perry is trying to make history this week at the Senior PGA
BENTON HARBOR, Mich. -- In an event with a long history, there is a chance for a significant chapter to be written this week. There isn't anyone at the 75th Senior PGA Championship with more on the line than Kenny Perry, nor anyone with more motivation.
The 53-year-old Kentuckian has a trio of reasons to be the man holding the gigantic Alfred S. Bourne Trophy come Sunday evening.
Having won the last three senior major championships that he has played in -- the 2013 Constellation Senior Players and U.S. Senior Open and last week's Regions Tradition -- a victory at Harbor Shores would allow Perry to become the first golfer to win four straight senior-major starts, passing Gary Player, who won three majors in a row in 1987-88.
"Call it the 'K.P. Slam' or whatever you want to call it," said Perry, who did not play in the 2013 Senior British Open, "it would be something people would remember me for."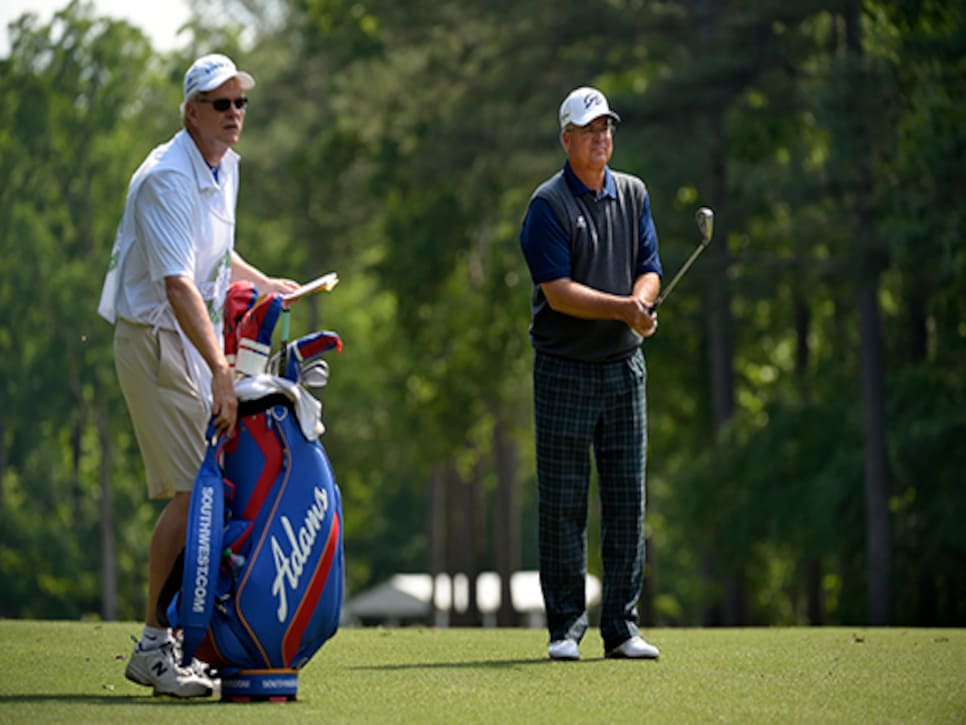 Beyond the trophy and self-satisfaction, though, would be potentially Perry's most valuable potential payoff: an automatic exemption into the 2014 PGA Championship at Valhalla GC.
"I told everybody this is my 'one-spotter' this week because I've got a lot of history at Valhalla in my home state of Kentucky back in Louisville," Perry said. "To me, if I can get back there, it would be a great way to say bye to everybody. I've given 30 years of my life to the PGA Tour, and it would be a great way to kind of end my chapter on the PGA Tour there."
Perry lost a playoff to Mark Brooks in the 1996 PGA Championship at Valhalla and was a member of the winning United States team when the Ryder Cup was held there in 2008. Even without a victory this week, Perry would be a logical special exemption from the PGA of America given his strong ties to the state and the strong state of his game. He has lobbied for the opportunity.
"I politicked pretty hard for it," Perry said, "I really have. I talked to a lot of people. I had them send letters to Ted [Bishop, PGA president]. I really want to get back there pretty bad."
Given that Perry shot a championship-record 62 in the final round of the 2012 Senior PGA at Harbor Shores, the salesmanship might not be necessary. "I just feel confident, I feel it is my time," Perry said. "I feel like I'm ready to excel at this deal and take on the challenge."
A man who knows a few things about majors thinks history is possible.
"I would like to have a little bit of his length and his height is what I would like," said Tom Watson. "He rolls the egg beautifully. He gets that ball in play, [his approaches] can come in soft to these tight pin positions. So this course sets up very well for Kenny Perry."