The Loop
In Bradley's first major, plenty of new ground broken
JOHNS CREEK, Ga. -- This was a day of firsts, some unique, others not, for the new PGA champion, Keegan Bradley. In no particular order, the 25-year old Vermont native is the first-ever major winner with an Auntie Pat in the World Golf Hall of Fame. He is the first "Keegan" to join golf's most elite club. He is surely the first man to win one of golf's four most important events after chipping not so deftly into a lake three holes from the end of the final round.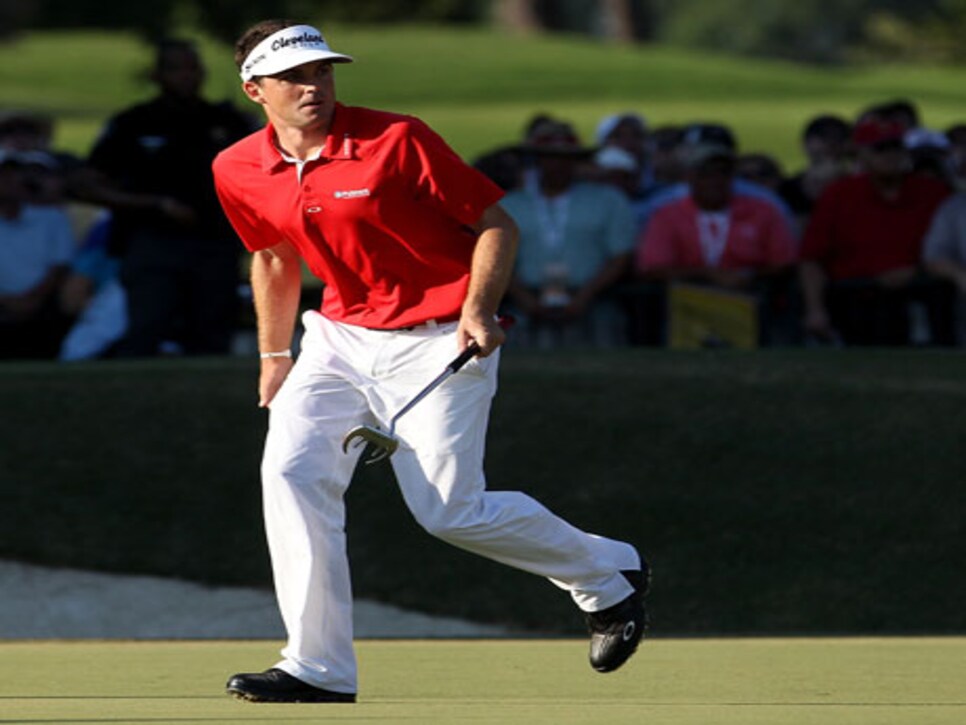 (Photo by Andrew Redington/Getty Images)
And -- sorry to introduce a depressing note -- he is the first man to achieve all of the above wielding a so-called "belly" putter, an implement many purists (see Tom Watson and Ernie Els before he needed one himself) feel allows an unfair and improper advantage on the greens.
Perhaps most impressively and memorably, Bradley became the seventh consecutive first-time major champion by first overcoming a five-shot deficit with three holes to play in regulation, then claiming the three-hole play-off by one stroke from the gallant if rather stern Jason Dufner, who at this time has no known relatives in any Hall of Fame. All in all then, this was quite a performance from a PGA Tour rookie with only a paltry 23 events -- none of them majors -- under his trendy white belt.
[*__(Related: Player Profile of Keegan Bradley)
](http://www.golfdigest.com/golf-tours-news/2011-09/keegan-bradley-kaspriske) Still, for all that this week represented in his first appearance in a Grand Slam event (he is only the third man in history, after Francis Ouimet and Ben Curtis, to win on his debut), Bradley, the son of Michael, a class-A PGA professional in Jackson Hole, Wyoming, came to Atlanta not without pedigree on courses where par is a good score. Three months ago he won the HP Byron Nelson Classic with a score of three under on the card -- a major test indeed. But, then again, it is safe to say that, for long enough, no one was looking at the former all-state skier as a potential champion here at the Atlanta Athletic Club. Not when he arrived. Not when he opened with a 71. Not even after a nifty 64 on day two. And certainly not when, after missing the notorious 15th green on the last day, he thinned -- from a nasty little downhill-lie admittedly -- the resulting chip over the putting surface and into the drink.
"My tee-shot on 15 was actually a really good one," he claimed. "It hit the green and bounced forward and I had the worst lie in the rough. I don't know how I would play that shot differently. It was just a terrible lie. And I remember walking off that green thinking the last four holes are so tough here that somebody could have a five shot lead and it wouldn't matter.
"I just kept telling myself, don't let that hole define this whole tournament. I had played so well and I gutted out rounds and I just didn't want to be remembered as the guy who tripled that hole. I just kept telling myself to pretend like nothing happened and go on and hit the next fairway. And it was the best shot I hit all week.  I absolutely striped it right down the middle."
Similarly clear thinking under pressure carried Bradley through the next 90 minutes or so of his young life. As Dufner struggled in the group behind, the soon-to-be champion made birdies at both the 16th and 17th, the latter courtesy of a remarkable 35-foot putt, to make life difficult for the longtime and seemingly comfortable leader.
"The putt on 17 is one that I'll never forget the rest of my life," he continued. "I had scared the hole twice from long range earlier in the day, and I hit that putt and I kind of moved over and got in good position and that thing went in dead center. It was unbelievable."
As always when someone emerges as a winner, there are people to thank and Bradley was quick to pay tribute to, amongst others, psychologist Bob Rotella, "my idol" Phil Mickelson and, of course, his Auntie Pat.
"I grew up going to Pat's tournaments and totally idolizing her and wanting to be like her out there," he recalled. "I remember watching her. I remember as a kid going to her tournaments and literally staring her in the face. I'm her nephew and she was so into it she would not even recognize me. I thought that was cool.  I always wanted to be like her.
"It's unbelievable to think that two and a half years ago I was playing on the Hooters Tour grinding for survival to keep playing. It's amazing what comes with winning a PGA Tour event. I have no idea with what comes with winning a major right now. But it's an amazing feeling."
He has a sense of humor, too, especially that of the self-deprecating variety. The first thing Bradley did in his post-victory press conference was to take a photograph of the Wanamaker Trophy on his cell phone. In that same media center two days earlier, after a second round of 64 vaulted him to five-under par and into contention, Bradley was quizzed on the level of recognition he provoked from the watching galleries.
"The worst is when you sign an autograph and the kid looks at you and asks what your name is," he said with a grin. "That's the worst and I've gotten a bunch of times this week. But I'd be lying if I said it wasn't a surprise me being up here. But I work very hard and this is what I've been looking forward to my whole life. So I'm as comfortable as I can be."
Nice guy. Gutsy competitor. Major champion. Not a bad combination. With guys like this at the forefront of the game, the post-Tiger era may not be quite as daunting as we once thought.