The Loop
Bradley embodies Ryder Cup passion
MEDINAH, Ill. -- It's always fun to be present at the birth of a star. So come to the 13th tee the first morning of this Ryder Cup.  There, on the 245-yard hole, Keegan Bradley struck a 4-wood tee shot.  It left Phil Mickelson a 15-foot putt for birdie.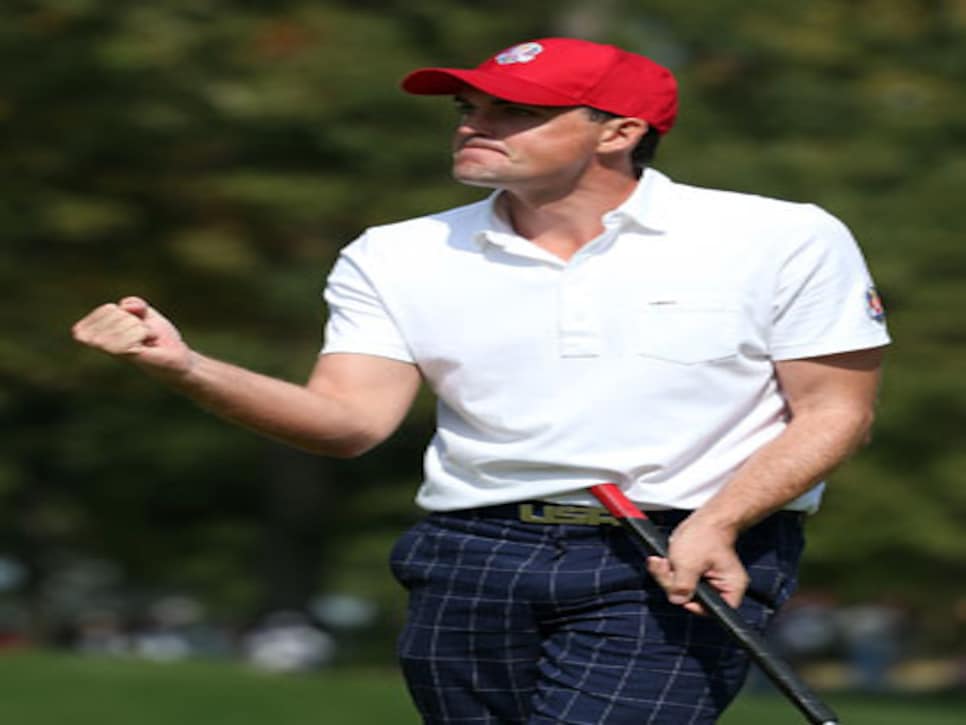 Bradley is a Ryder Cup rookie, 26 years old. He was proud of what he'd done. He handed the club to his caddie and took his place at the back of the tee. He stood there admiring the work.
Next to him was Mickelson. One of the game's best ever, 42 years old, the Ryder Cup veteran stole a sideways glance at the kid, a kid who'd won big things, who has said he learned to win in early-week money games with Mickelson, once his mentor, now his friend and partner.
Then Mickelson did a little thing that makes the Ryder Cup what it is.
He reached over and patted the kid on the butt.
You know what Bradley did?
Nothing.  He kept looking at the distant green, chin up, eyes alight, unblinking. Tell you what, Bradley Keegan was INTO that moment.
Yes, yes, the Ryder Cup is the whole patriotic deal, red, white, blue, USA USA USA.  It's the United States' best 12 players against Europe's 12.  All that patriotic balderdash, you can have it if you need it.  But what makes the Ryder Cup worth seeing are moments when the best players in the world reveal themselves to be something other than money-grabbing robots.
[Related: Keegan Bradley Swing Sequence
](http://www.golfdigest.com/golf-instruction/swing-sequences/2012-06/photos-keegan-bradley)
It's not so much that we see them suffer with poor shots born of frazzled nerves, though we saw that quickly. The day's first tee shot, by Graeme McDowell, went way left. The second tee shot, by Jim Furyk, went left of that, and Tiger Woods's first drive went left of the left that we thought was way left. All morning, in the alternate-shot foursome competition, Steve Stricker peered from behind trees, left in jail by Tiger's errant missiles; as they came off the seventh green, so miserable was Woods, Stricker reached out to encourage the poor guy with a pat on his butt. (Who'd have ever thunk?)
Still, we see nerves in every U.S. Open. The difference here is that we also see what we never see in an Open or a Masters. We see the players as jocks. We see the wonderful Jason Dufner, famously stoic. We see him leave a putt on the right edge of the 9th hole, maybe close enough that a whisper would move it over the cliff's edge. We see Dufner tighten those already tightened lips. And he takes a step toward the hole. Will the ball fall in? He takes another.  "And, to be honest with you," he said later, "I almost felt like the roar of the crowd ... actually willed that ball into the hole because it felt like the crowd's cheer came from the right and the ball kind of fell into the hole." Here, Dufner smiled. Really. Smiled.  And bumped fists with his partner, Zach Johnson, and they birdied the 10th, too. They defeated Lee Westwood and Francesco Molinari, 3 and 2, and, if U.S. captain Davis Love III had done the imaginative, bold thing, he'd have sent Dufner/Johnson out for the afternoon four-ball instead of Woods/Stricker.
We saw the Dufner fist-bump. Then we saw Mickelson slap Keegan's ass and we loved it all because we've seen a zillion sweaty, dirty baseball players do it out of habit but here, in golf, where everything is manicured, it's the last thing we expect to see. Would Hogan slap Snead's ass? Nicklaus Watson's? Woods Mickelson's?
Then, on the 13th green, Mickelson knocked in the birdie putt.
Know what Keegan did this time? He sprinted toward the old man, leaped into a chest-bump, hugged him, knocked his cap sideways, and generally left Mickelson happier than he'd been since the Ryder Cup gala when his wife, Amy, eagled the runway in a gown spun from gold (looked that way).
The 13th was the second of four straight holes that Mickelson and Bradley won. Once 1-down, they went on that streak to beat Luke Donald and Sergio Garcia, 4 and 3. For Donald and Garcia, it was their first defeat in 16 Ryder Cup foursomes matches. For Mickelson and Bradley, it was the beginning of a partnership that Love liked so much that he sent the pair out again in the afternoon.
Mickelson was all but giddy after the morning round. "We were just so ready to get on the first tee," he said. Of Bradley, he said, "He played some of the best golf and to be his partner was an awesome experience. I love -- love playing with this man. He's just so much fun, loves the game, and plays with such excitement. And, man, can he roll the rock."
Bradley made four putts for winning birdies. He said, "I feel so comfortable out here with Phil because I know, wherever I hit it, he's going to be able to get it up-and-down, or close for me."
Comfortable they were, even thrilled. At the 13th, where Bradley had put it close and Mickelson had knocked it in, they left the green trading hand-slaps done with such enthusiasm that the sound must have frightened small animals for miles around.  The hand-slaps evolved into another embrace that -- forgive me this excess if excess it be -- that seemed to be a transfer of energy from the kid to the old man. (Yes, excess. But there you go.)
Energized, they were, this twosome, and they did a fabulous encore in the afternoon four-ball, winning 2-and-1 over the Euro's best, McIlroy and McDowell. Bradley, on fire, contributed six birdies the first 16 holes -- and then became Mickelson's lead cheerleader on the par-3 17th, a 193-yarder over a pond.
McIlroy had put his tee shot to within 15 feet, seeming to give his side some hope of escaping with a half-point. But Mickelson did what Mickelson can do -- he dropped a high floater two feet from the cup. "Just hit a solid, penetrating iron shot," he said, "and that baby was all over the stick."
The partners embraced coming off the tee, arms around each other's shoulders, and Keegan said later, "That last shot showed why Phil Mickelson is a Hall of Famer."
After the morning round, the game's newest star called it "one of the most memorable days of my life ... so far."
And at day's end, asked if he had any energy left, Bradley Keegan said, "Oh, baby. I wish I could go 36 more."