The Loop
In Azinger's view, less is more
SAN FRANCISCO -- On the 14th hole of a practice round on Tuesday, a cell phone went off just as Tiger Woods made impact with his ball.
Paul Azinger couldn't resist channeling his inner hole marshal.
"No cell phones, please!" the 2008 U.S. Ryder Cup captain called out.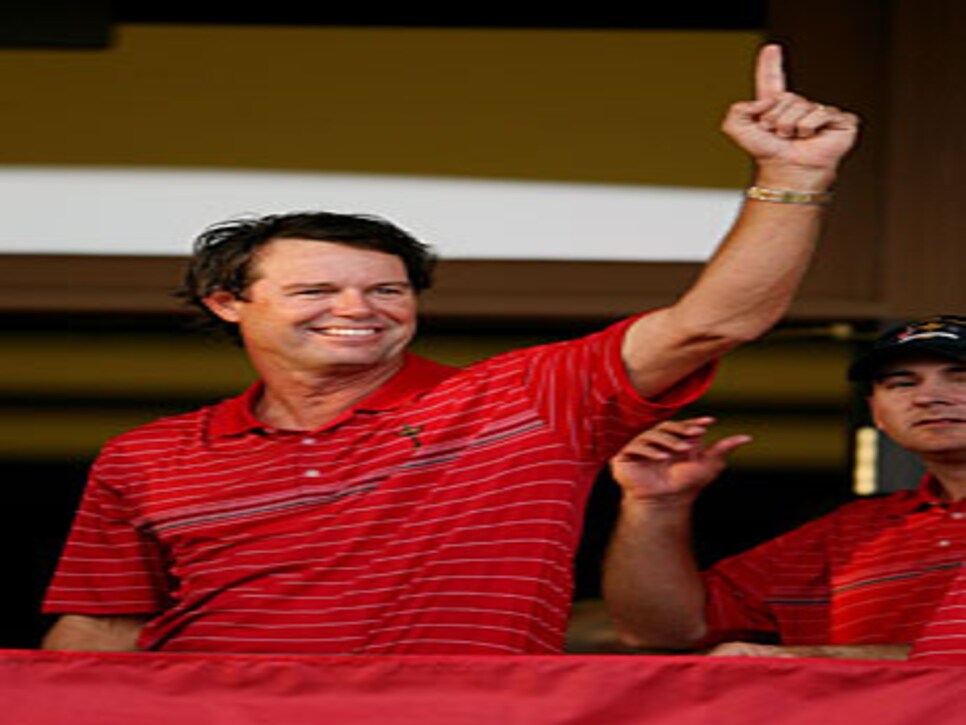 A year removed from his triumphant captaincy  at Valhalla, this was about the extent of Azinger's contribution to the U.S. effort at Harding Park. Back behind the mic this week broadcasting for the Golf Channel, Azinger acknowledged he's had conversations with Fred Couples about his experiences as captain. But he was also quick to downplay the significance of his advice.
"Fred and I talked a little bit, but you know Freddie, all cool and smooth," Azinger said. "He's surrounded himself with people who can help him. And I think in the end it wouldn't have mattered what I told him. Freddie's personality is different than mine. The captains have a responsibility to create the best environment for the players, so what Freddie's perspective is or Corey Pavin's perspective is going to be different than what mine may be."
Perhaps. But let's not forget that Azinger had managed something only one other American Ryder Cup captain had done in the six previous competitions. Was his the philosophy that his successors should emulate?
"You mean like a template?" he said. "I can't say that. Honestly, I just think I had great players and they played great. I believe that with all my heart. All I tried to do was to create the best environment for them to be successful and stay the hell out of their way."
Which is not to say Azinger just handed out the uniforms and made sure the team room was stocked with beer. Much has already been made of some of Azinger's bold strokes as captain -- starting with the overhauling of the selection process and continuing with his creation of his "pod" system of players. But almost as important may have been the things he didn't do, a lesson he learned from his predecessors' failures.
"I didn't overmessage. I didn't talk about winning or losing," he said. "I didn't have motivational videos about the flag or the president, or great athletes wishing us luck. It wasn't about winning or losing. It was about preparation."
*(Photo by Andy Lyons/Getty Images)