The Loop
In a season of collapses, remembering one of the worst of all
KIAWAH ISLAND, S.C. -- During a season of lost opportunity, with the 94th PGA Championship being played on a dangerous course where a lead could have the permanence of a sand castle, it is worth remembering something that happened a long time ago.
Adam Scott, meet Al Watrous.
It is the 80th anniversary of one of the oddest matches ever contested at the PGA Championship, which went mano a mano from its inception in 1916 through 1957. This tussle, a scheduled 36-hole, first-round match at Keller GC in St. Paul, Minn., was epic.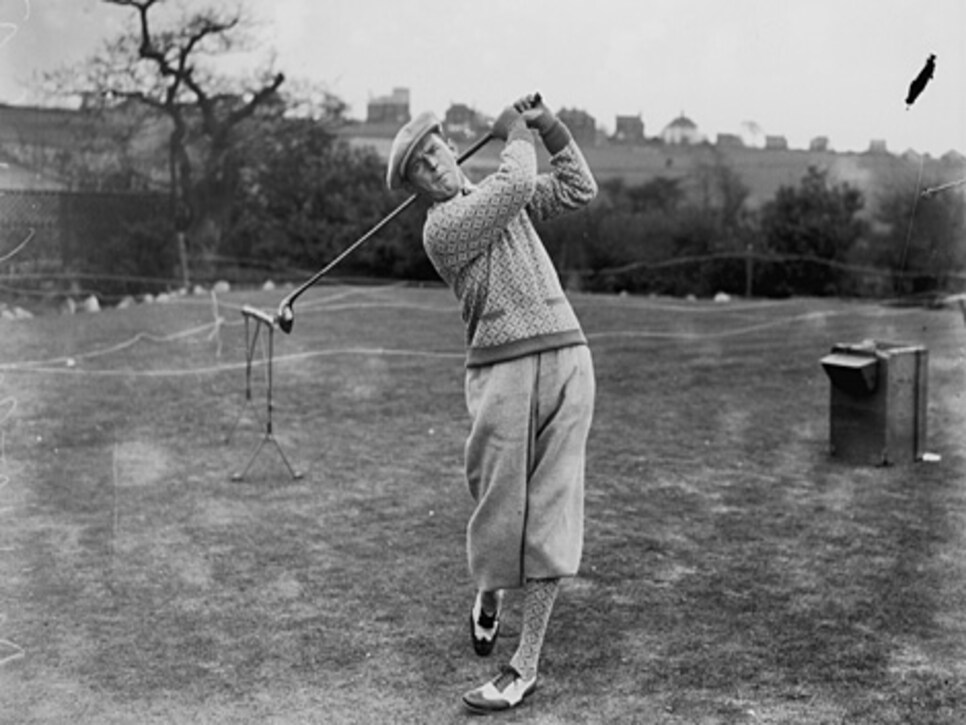 Photo of Al Watrous by Getty Images
Watrous was 9 up with 12 holes to play against Bobby Cruickshank. That would seem to be an insurmountable advantage.
Rather, the match turned into perhaps golf's ultimate tale of collapse and comeback.
"There is nothing more wearing to a leader who is playing well than the knowledge that his enemy is refusing to crack," wrote Bernard Darwin. "If by hanging on we can drive that knowledge into him, we may make him crack instead and that crack will be a bad one when it comes."
Darwin could have been talking about what happened that late-summer day in Minnesota.
Cruickshank hung on. Watrous cracked. It wasn't pretty.
Watrous was 33, a dominant player in Michigan, where he moved from New York when he was very young. (He would be the head professional at Oakland Hills for 37 years and capture nine Michigan PGA and six Michigan Open titles.) He won the 1922 Canadian Open and was on the first two U.S. Ryder Cup teams. Watrous was a pro's pro. As Walter Hagen wrote, "He's a great golfer . . . one of our real stylists."
"No one taught me the swing," Watrous told a Florida reporter in 1977. "I developed it from observation, you might say. I saw Bobby Jones when he was very young and Walter Hagen. I saw Harry Vardon. He was my idol. I was told I had a lot of Vardon's swing concepts."
Vardon, in fact, had been there to console Watrous after the 1926 British Open at Royal Lytham & St. Annes. Two ahead of Bobby Jones with five holes to play, Watrous was in control and poised to win. But he three-putted three times down that closing stretch. When Jones pulled off a miraculous approach from a difficult lie on the 17th hole, it was enough to defeat his faltering foe.
Cruickshank, too, had been a major victim of Jones, losing out to him at the 1923 U.S. Open -- one of nine top-six finishes the 5-foot-4 Scot had without claiming a major title. Given what Cruickshank had endured as a young man, however, his golf career was gravy.
During World War I Cruickshank saw the worst of battle, wounded in 1917 during a German barrage that claimed his younger brother, John, and 77 others in a company of 110 men. "There had been thousands of shells and everything was covered up," Cruickshank told Golf magazine in 1974. "I never found my brother, and yet he had been as close to me as from here to that door."
After convalescing, Cruickshank returned to duty and was taken prisoner in France. He escaped the following year and immigrated to the United States in 1921.
The ups and downs of golf competition weren't hard for "Wee Bobby" to keep in perspective. "We played everywhere and would have played for nothing," he said in 1974, "just to promote the game."
What looked like certain defeat for Cruickshank against Watrous in 1932 took a slight turn on the sixth hole of their second 18. As the duo approached the green, which Cruickshank had missed and Watrous hit, the Scot told Watrous it was the first time he would be 10 down in a match. The comment struck a chord with Watrous, who conceded his opponent a tricky six-footer.
"I felt a little sorry for him getting beaten so badly and didn't want it to be any worse than it had to be," Watrous wrote in a 1979 account of the match in Golf magazine.
"Not that Bob was ungrateful, but something aroused his genius immediately thereafter," The American Golfer reported in 1932. Cruickshank won the seventh hole, nonchalantly holing a 20-footer for birdie while Watrous missed an eight-footer for a halve. Cruickshank won the eighth, ninth, 10th (with an eagle) and 11th (chip-in birdie) holes.
Still, Watrous led 2-up with two to play. But he missed a two-footer on the 17th, and when Cruickshank birdied the par-5 18th -- he was seven under for the last 11 holes -- the match went to extra holes.
Watrous appeared to have salvaged victory on the 40th hole. With Cruickshank having bogeyed the par 3, Watrous faced a two-foot birdie putt following a beautiful 7-iron. "... he started to make a gesture to concede my putt and call it a match," Watrous wrote in Golf. "But at the last second he decided not to, although he hit his bogey putt very fast, one-handed I believe, as if to say that's it."
But Watrous missed his downhill birdie attempt and also the one nearly as long coming back. Incredibly, Watrous missed another two-footer on the 41st hole, ending what was only the second-longest match that day. Hagen lost in 43 holes to John Golden, part of what the Associated Press called an "orgy of overtime matches."
It was certainly a day when no lead was safe.