News
In a new Bob Toski biography, the 'Mouse' roars again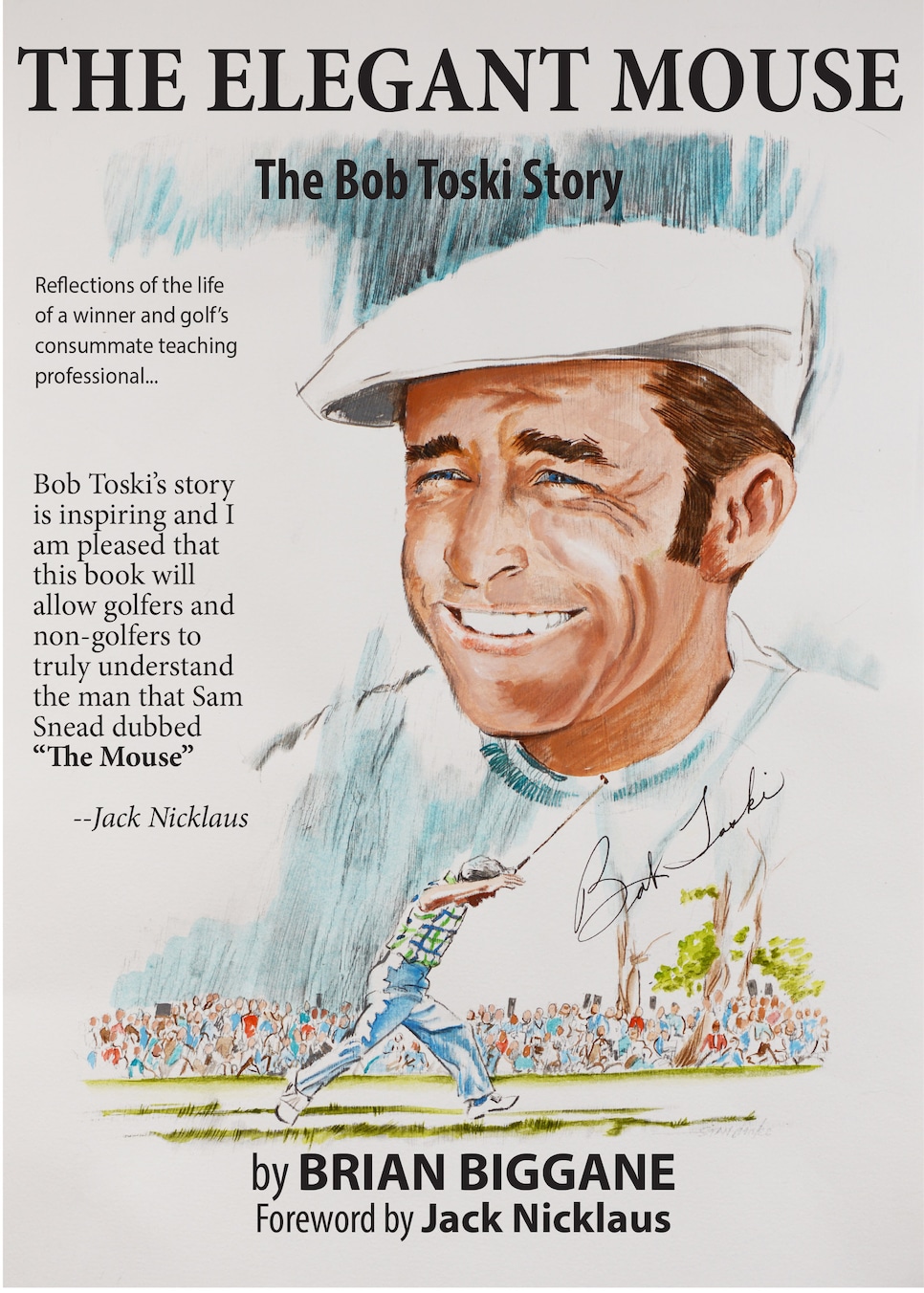 GolfDigest.com will regularly highlight a book that it finds of interest to readers.
The Elegant Mouse: The Bob Toski Story, By Brian Biggane, Coastal Star Books/bobtoskibooks.com, $19.95, hardback, 78 pages
You should have been at Bob Toski's surprise 90th birthday party in West Palm Beach, Fla., last September. He entered a Marriott ballroom to thundering acclaim, 200 friends, colleagues and family members whistling and cheering for so long and loud that it eventually brought tears to Toski's face. After the room settled down a bit, the man they call "Mouse" did what came naturally—take over the room. After thanking the attendees, including tour players Ken Duke and Bruce Fleisher, along with A-list lineup of instructors who traveled good distances to be there, Toski boomed out a powerful rendition of Frank Sinatra's "My Way," with a recording of the Nelson Riddle Orchestra and Sinatra's voice accompanying his own. Then came the tributes. If you'd heard the stories they told and the messages of the ways Toski had touched their lives, you'd have thought what I thought: Somebody ought to do a book about this man.
Someone just did. In The Elegant Mouse: The Bob Toski Story, veteran sports writer Brian Biggane recounts the incredible story of one of the greatest teachers, showmen and characters in all of golf history. Toski was and is a brilliant and independent thinker whose teaching precepts crept into the methods of every teacher who followed. If there were a trickle-down pyramid of post-Hogan-era instructors, Toski would be the capstone. His perception of the golf swing—a rhythmic move, accompanied by a simple turn and weight shift—contained so much rudimentary truth that every teacher, knowing or unknowingly, wound up borrowing liberally.
But Toski was much more than that. As Biggane explains in his mostly chronological telling, Toski was for a brief period in the 1950s one of the top players on the PGA Tour, not excepting Sam Snead, Hogan and Cary Middlecoff. Narrow-shouldered and weighing only 118 pounds, he was one of the longest hitters of his day and straight, too. It's not spoiling the story to remind that, although Toski won only five times in brief career, in 1954 he won the World Championship of Golf, which brought with it a staggering first prize of $50,000 in cash and another $50,000 through a series of exhibitions to be given over the next year. First-place checks in those days were in the neighborhood of $5,000, and the windfall changed Toski's life completely. At age 28, with a young family at home, Toski found his motivation to play the tour wane. He hung around for a few more seasons, but by 1960 his playing career was pretty much finished.
That he succeeded at all makes for a remarkable story. One of nine children born to Polish immigrants, Toski—his given surname actually was Algustoski—lost his mother when he was 5 and was raised in near-poverty. The story of how he got to the tour and indeed, his entire playing career, consumes only the first 23 pages of the book. Certainly more could have been devoted. But what came after he left the competitive scene was possibly even more significant.
Subsequently, Toski became the primary source of instruction content for Golf Digest, at the time the game's leading magazine, but not the publishing locomotive it later became. As the instructional face of the magazine, he helped in 1971 found the Golf Digest Instruction Schools, which commercialized instruction, conveyed a consistent message and established inroads into sport psychology and video as a teaching tool.
Biggane explains the history of the venture with detail and verve, interviewing participants such as former editor Cal Brown, teacher Peter Kostis and sport psychologist Dr. Bob Rotella. A harrowing, make-or-break foray to one of the first schools—in the Bahamas, of all places—is alone worth the price of admission.
Toski went on to become a huge star in Japan, a fact not widely known but told well here. He established a successful line of golf clubs; I once owned a set of their irons and can vouch for their quality. He taught players of every stripe, from Judy Rankin and the aforementioned Duke to 20-handicappers. It was the 20-handicappers who intrigued Toski more. He was never ambitious in the sense of wanting to have superstars attached to his name, hence his not having the same type of appeal of, say, Butch Harmon or David Leadbetter.
The Elegant Mouse is an unusual book, executed differently than traditional biographies. Toski has an active voice in much of it and even writes a preface. He obviously contributed the many photographs, which drip with nostalgia and enrich the accompanying text. Yet, Biggane is given freedom to cover a dark incident in Toski's career and makes an effort to take stock of the whole man. The Mouse is a man in full, and Biggane takes the whole measure of him.
Biggane's work is a short, friendly volume that, like some golf courses, plays longer than it appears. The pages are dense, the storytelling concise but rich. It's one you'll come back to you when you want a dose of inspiration, a history fix and assurance that the American dream is always within reach.