Birdie*zzz* and Bogey*zzz*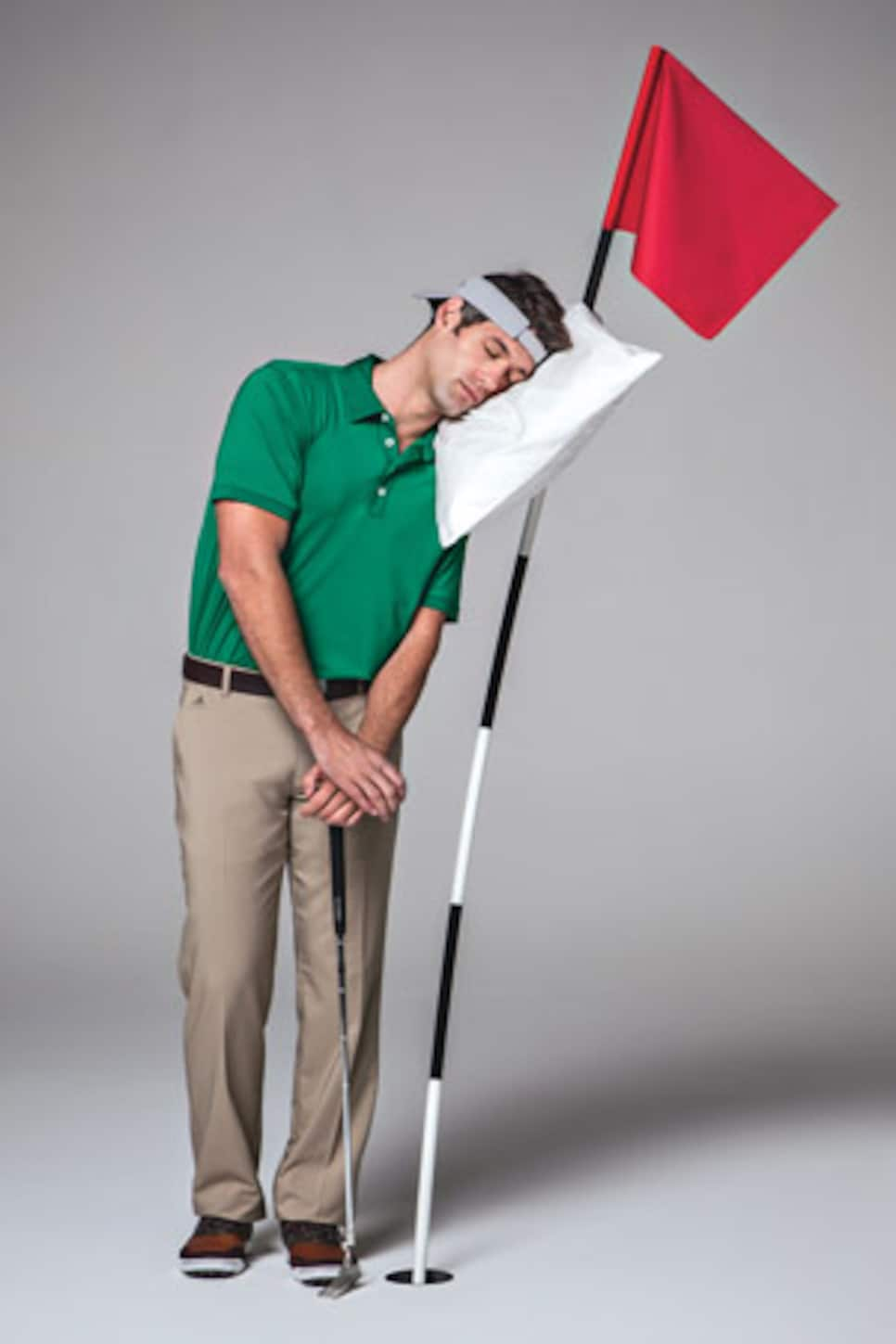 You would think that it's enough to know that sleeping roughly eight hours each night will greatly reduce your chance of having a heart attack or stroke, getting into a car crash, being obese, developing high blood pressure or diabetes, suffering a work-related injury, and, oh, yeah, dying. But you have to wonder who's taking those facts seriously.
There are about 70 million Americans who are suffering from sleep problems, according to the National Center on Sleep Disorders Research. That's more than one out of every five people who live in this country. Even more alarming, 60 million of those people have a chronic disorder. According to a Gallup poll in late 2013, the average hours an American sleeps each night is 6.8, which is down more than an hour from what Americans got in 1942—and that was during World War II. Tell an American to get more sleep these days and you're likely to get smacked with a pillow.
But what if we told you that by not getting enough sleep each night, you're not only inviting health problems, you're hurting your golf game. Now we've got your attention. That's what a study by Dr. Marc L. Benton and Neil Friedman, sleep-medicine specialists in Morristown, N.J., concluded. They monitored the golf games of players who were being treated for obstructive sleep-apnea syndrome (a repetitive blockage of the upper airway that makes breathing and uninterrupted sleep difficult). The study compared them to a control group of golfers who didn't have sleep apnea.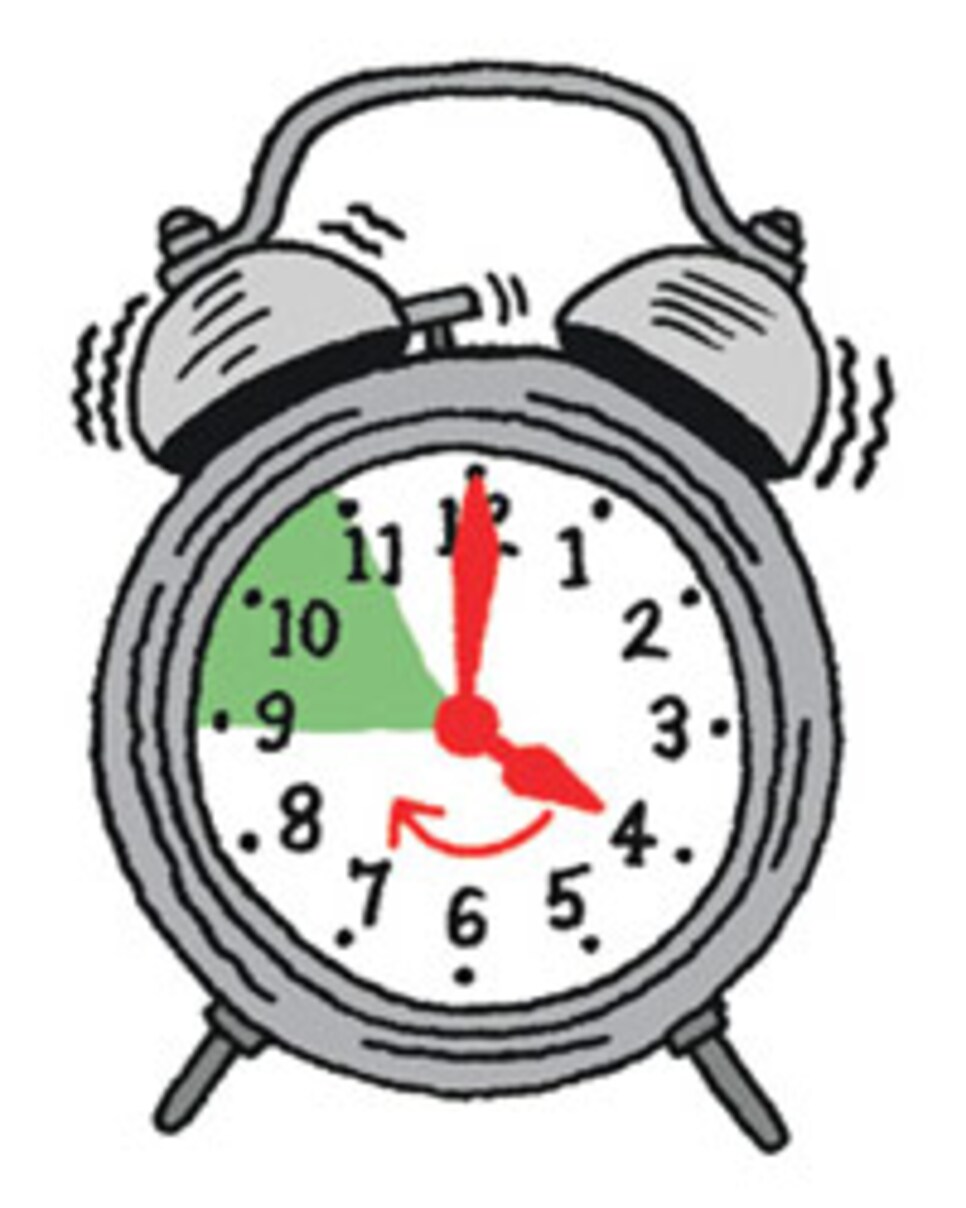 off are between 9 a.m. and
11 a.m., or after 4 p.m. That's
— *Darrel Drobnich, National
After posting 20 rounds during a six-month period, the golfers in the control group saw no significant change to their Handicap Indexes. But the Indexes of golfers who were treated for sleep apnea dropped by an average of 11.3 percent. Among that group, the golfers who started the program with an Index lower than 12 saw their numbers drop by an average of 31.5 percent. According to Dean Knuth, who was the USGA's Senior Director of Handicapping for 16 years, only 3 percent of all golfers with registered Indexes improve by three shots or more over a year's time.
"It was a novel study, and an important one if it gets more people to get treated for disorders such as sleep apnea," says Dr. Nathaniel Watson, co-director of the University of Washington's Sleep Center (and an avid golfer). "The biggest impact is mental," he says. "Course management, reading greens, controlling emotion—sleep impairment hurts cognitive function."
The PGA Tour's Jonas Blixt can attest. After winning the 2012 Frys.com Open, he says he barely slept in the ensuing days. When he played in the McGladrey Classic the next week, Blixt says he "nearly passed out on the 17th green during the first round. My rhythm was off. I couldn't concentrate. I was spent."
People often think of being fit as exercising and eating right, but sleep is the third part of the formula, says Dr. Timothy Morgenthaler, president-elect of the American Academy of Sleep Medicine. "You can't be fit if you're sleep-deprived," he says. "And if you're getting up before dawn to go play golf on only a few hours' rest, you're going to be sleep-deprived. It's going to haunt you the rest of the day."
Here's more info on what goes on when the lights go off.
The body needs it for restoration, production of growth hormone and to keep the immune system strong. The brain needs it to improve memory and learning skills.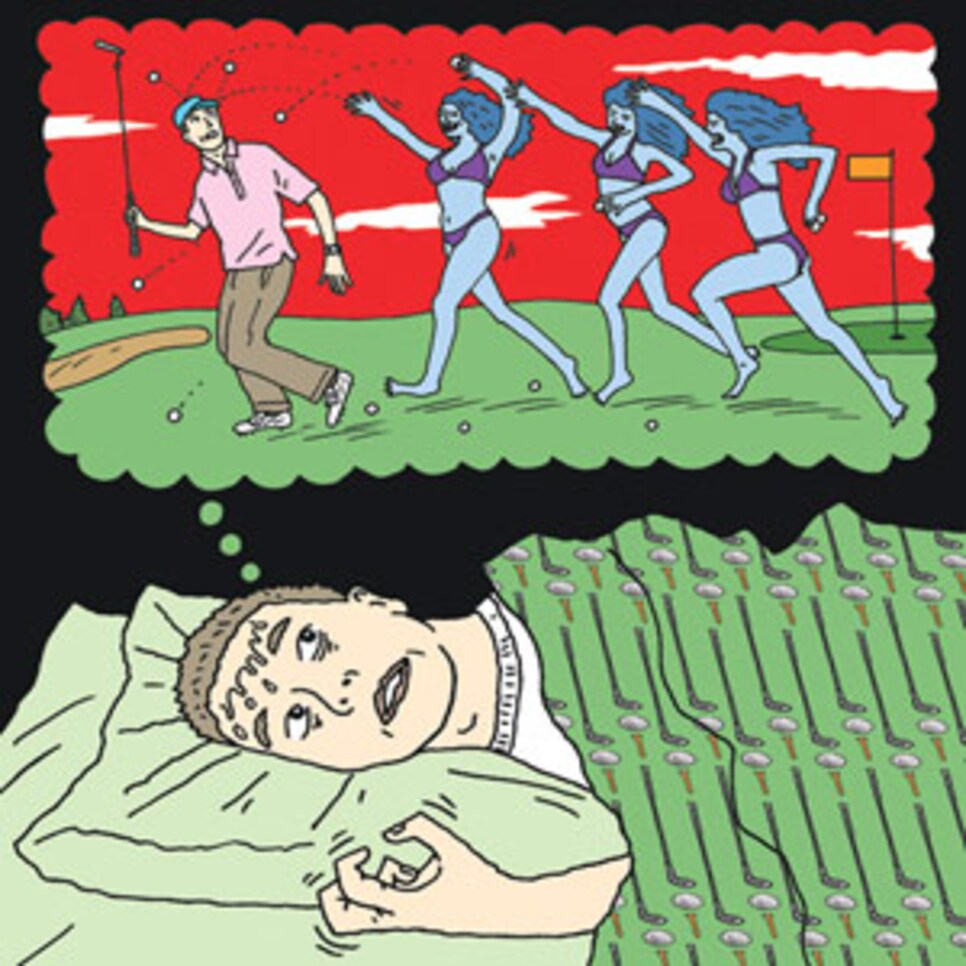 WHAT HAPPENS WHEN WE FALL ASLEEP?
The body continuously cycles through various stages of sleep. The first three are non-REM (rapid eye movement) and put you in a progressively deeper type of rest. During stage one, you're easily awakened, but by stage three, you're tough to arouse. The final stage is REM sleep. That's the stage where you have dreams—and nightmares. Scientists think your brain uses this time to exercise. Interestingly, your limbs are temporarily paralyzed during REM sleep, which might explain why you can never run away from that pack of beverage-cart girls in bikinis. Too personal?
HOW MUCH SLEEP IS ADEQUATE EACH DAY?
Seven to nine hours is ideal for adults. Teenagers and younger children need more. This does not include watching that Medicus infomercial in bed.
IS IT BEST TO GET MOST OF YOUR SLEEP OVERNIGHT?
Yes. It helps to cycle through all the sleep stages, which is critical to staying healthy. If you don't get enough sleep in each stage, you'll build a "sleep debt." This might cause you to sleep longer than normal or doze off while waiting for that group on 15 to putt out.
Yes, but keep them to 45 minutes or less or you could be sluggish for the rest of the day and struggle to sleep at night.
WHAT'S THE BEST POSITION FOR QUALITY SLEEP?
Sleep on your side as a way to prevent a collapse of the upper airway. It's this collapse that leads to snoring and a punch in the arm from your spouse. It's also a major symptom of sleep apnea. If you struggle to breathe through your nose, the best position might be on your back, which helps drain the nasal passages. Gross, but it works.
IT ALWAYS TAKES ME A LONG TIME TO FALL ASLEEP. IS THAT NORMAL?
Unless you left a three-footer short on 18 earlier that day, you should be asleep within 30 minutes of hitting the pillow. If this doesn't happen, several factors are likely at play (noise, light, caffeine, stress). This might seem contradictory, but exercising within a few hours of bedtime can keep you up.
IF EXERCISE CAN KEEP ME AWAKE, WHAT ABOUT SEX?
No one knows for sure, but certain hormones are released during orgasms that make you feel more relaxed, says behavioral scientist Dr. Wendy Troxel. Our advice? Do your own in-depth study and see what happens. Maybe bring a friend.
WHY DO I WAKE UP MULTIPLE TIMES DURING THE NIGHT?
It starts with that beer you chugged at last call, but it also is a normal part of the sleep cycles, especially as you get older, says Dr. Morgenthaler. Studies show that in stage one of non-REM sleep, people are still somewhat cognizant. And many adults wake up five times an hour only to fall back quickly. It's nature's way of keeping you alert in case of emergencies. You might have a problem if you can't get back to sleep easily almost every night.
I WAS IN BED FOR MORE THAN EIGHT HOURS, SO WHY AM I GROGGY?
This is most likely caused by waking up directly from a deeper-sleep cycle. Ideally, you want to wake up while in stage one of non-REM sleep. The best way to do that is to give yourself more than a second to climb out of bed. You're not 10 minutes late for a tee time at Augusta. Let your body slowly move into lighter sleep, where you feel partially alert. Then get up.
WHY DO I ALWAYS FEEL TIRED AFTER LUNCH?
It has little to do with that bacon cheeseburger you had at the turn. You have a built-in clock that controls the circadian rhythms of your body. These rhythms determine sleep patterns, and one of the times when we are naturally sleepy is from 1 to 4 in the afternoon.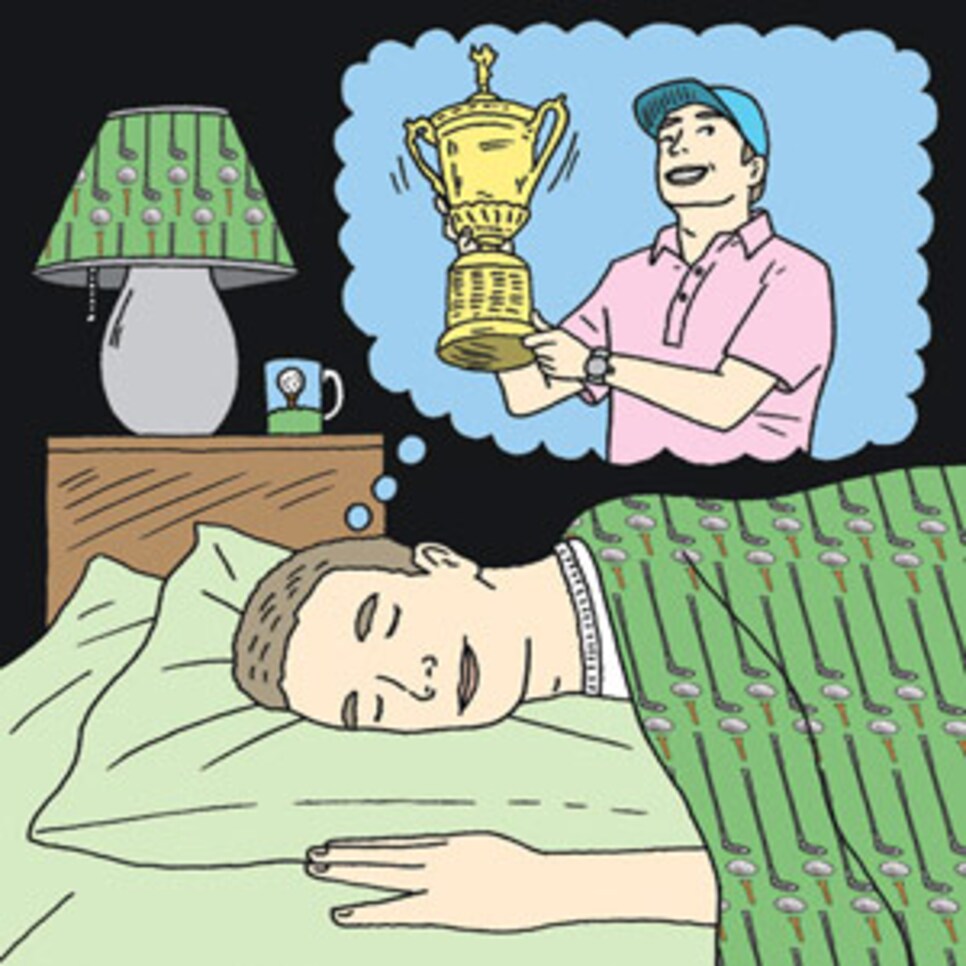 I WORK OVERNIGHT. HOW CAN I GET GOOD SLEEP?
Mowing a tee box at 4 a.m. is more than just a stinky part of the job. You're messing with human nature. Your body wants to sleep when it's dark. (Even light from a computer tells your brain it's time to be awake, so stay away from late-night Facebook updates.) The U.S. Department of Health and Human Services recommends these steps: 1. Increase your sleep, including naps. 2. Sleep in a dark, quiet environment. 3. Stay on your normal sleep schedule even when you're not working.
WHAT ARE THE MOSTCOMMON SLEEP DISORDERS?
Sleep deprivation, insomnia and apnea are the top three, Dr. Watson says. "People with deprivation won't sleep, and people with insomnia can't sleep," he says. Sleep apnea is potentially the most dangerous. The National Center on Sleep Disorders Research estimates 12 million to 18 million people in the United States have sleep apnea, and more than half of those are undiagnosed. Those people triple their risk of death.
I SNORE. DOES THAT MEAN I HAVE A SLEEP DISORDER?
Sometimes snoring is the result of allergies or sinus problems. Sometimes alcohol or sedatives are the culprits. Being overweight doesn't help. But if you consistently snore loudly, there's a good chance you have apnea.
WHAT CAN BE DONE TO CORRECT MY PROBLEM?
Sleep deprivation and insomnia are treated with better sleep habits, exercise, improved thought habits and, when needed, medications. Apnea is most effectively treated with something called "continuous positive airway pressure." A machine keeps your upper airway unblocked through the use of a breathing apparatus. You look like Chuck Yeager trying to break the sound barrier with the mask on, but the treatments work. Even better, studies show the treatments improve sexual function in men.