The Loop
I'm not afraid to admit it: I miss Tiger
Maybe it's the Open, this Open, this one I thought he'd do so well at. Maybe it's the fact that during every tournament I've watched this spring the thought has occurred, at one point or another, 'I wonder how he's playing…oh, wait, he's NOT playing.' Maybe it was all of those replays of the "Better than most!" putt at the Players, or watching Stanford at the NCAAs. Maybe it's the promos that still include his big old undercut fist pump. Maybe it's just the thought of two solid weeks of golf coverage -- and at Pinehurst! -- without The Man. I'm feeling like I bought tickets to Lyndon and Bryan Cranston took the night off. I miss Tiger. There, I said it. I'm suffering from low T. I'm not a diehard Tiger fan, admit to sometimes rooting for the underdog against him, but he's well, the Yankees. What would we do without the Yankees? Hate the Toronto Blue Jays? I don't think so.
He's also our Lionel Messi, Kim Kardashian and Severus Snape -- all wrapped into a red polo. Zach Johnson's great hole-out at this year's Northwestern Mutual World Classic was cool, but the fact that it came against Tiger on his home turf made it magical.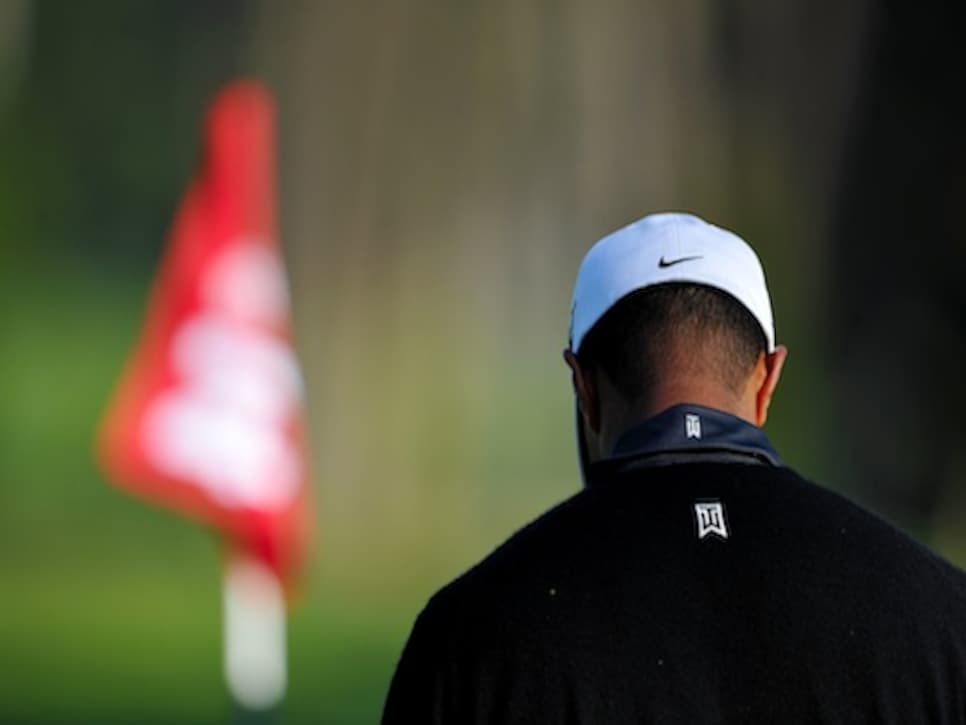 I even miss the entourage, Steiny and Lindsay, the spinning, the complaining, and the inevitable: "Sorry, that's not something Tiger would be interested in doing." Now comes word that Elin and Tiger are getting along fine, parenting as a team, everything but the yada yada yada. Happy Father's Day. And what do we get in return for all that Tiger gossip? Rory cancels his wedding. What kind of a world is this? An industry friend said, "I don't want to call it boring. That's too strong. But you sure feel something's missing." The fact is, Tiger Woods, flaws and all, especially flaws, carried our sorry storylines for two decades and now we're finding out what the world of golf is like without him. It's Yang without Yin. It's the movies without Jolie. It's just a sport.  These Guys Are Good. Too good, too nice.  I feel for Brandel Chamblee. He must be on Cymbalta. What I really fear is that Tiger will get used to this state of tranquility. No press conferences. No gotchas. No 6 a.m. practice rounds. Time with the kids. Maybe a little travel without the clubs. A bit of course design. I'm worried that Tiger will come to the conclusion that he's proved everything he has to prove. That he never thought much of the War with Jack's Record anyway, and that, like Jack, he's realized that family really is the center of the universe. I'm worried that he'll discover that Privacy is not a yacht but a world without us.   I guess this stretch of Woodless terrain has shown me, far more than his scandal hiatus, what the professional game will look like without him. Golf will go on, sure, but not like it was; Bobby Abreu ain't Babe Ruth. So I'm hoping he'll be as good as Tommy John after Tommy John surgery. I'm hoping he'll break that majors record, because that would mean he was playing. I'm dreaming of a round when the networks will be cutting away from the leader every three shots to see what the greatest player in history is doing….
Please send him a get-well card.