The Loop
Illinois' Langley wins NCAA individual title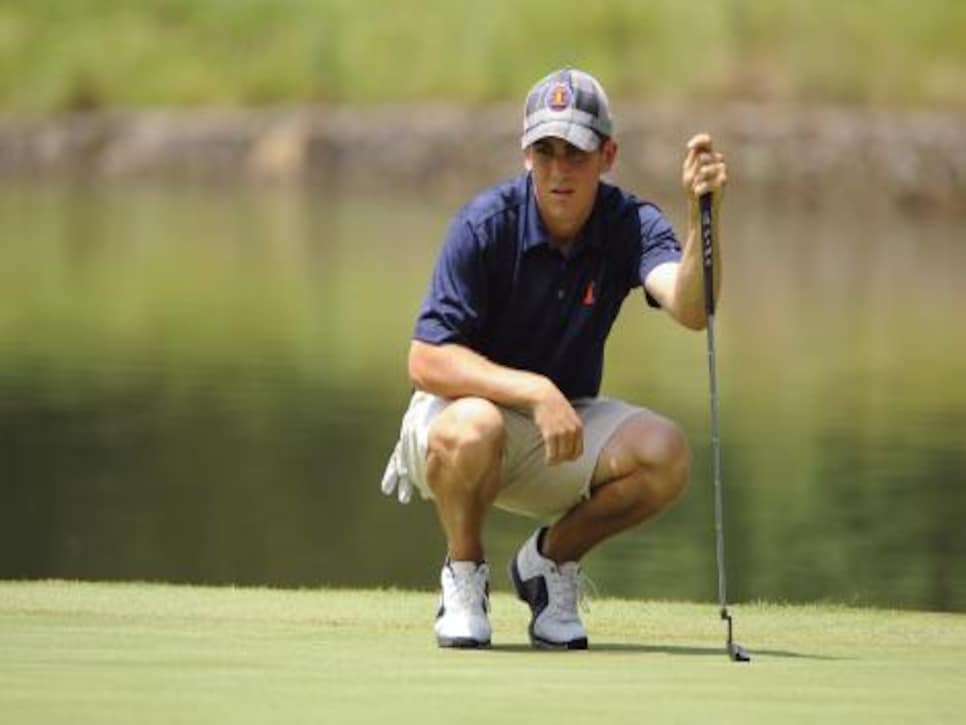 __OOLTEWAH, TENN.—Illinois junior__Scott Langley played a game of catch-me-if-you-can Thursday at The Honors Course. Teeing off in the morning wave during the third round of the NCAA Championship, the 21-year-old lefty from Manchester, Mo., posted a four-under 68 to get into the clubhouse at 10-under 206, they waited to see if it would hold up.
More than five hours later, the answer was yes.
Second-round leader Alex Ching of San Diego shot a 73 and Oklahoma State's Peter Uihlein finished with a 71, both coming two strokes shy as Langley became just the second player in school history to post a top-10 finish in the national championship and the first to win the individual title.
That Langley (above) would finish the day as the victor was a bit of a surprise considering how it got started. With his second round halted due to darkness with just one hole to play on Wednesday evening, Langley returned to the course early Thursday, only to make a bogey on the 18th hole to finished with a 68 and stand at six under after 36 holes.
"I was a little steamed about that," said Langley, who also bogeyed the 17th hole Wednesday evening just before play was suspended. "I think it helped to loosen me up a little more."
Indeed, three hours later, he started the third round off the 10th tee, making a birdie on the 14th hole and then an eagle on the par-5 17th, hitting his second shot to three feet. Birdies on the first and second hole vaulted him into the lead at 11 under. He dropped back to nine under with bogeys on the fifth and seventh holes before rolling in a 15-foot birdie on the par-3 eighth that eventually put him at four under on the day and 10 under for the championship.
"My ball-striking has been great all week," said Langley, who had a 71.58 average and five top-five finish to earn Big Ten player-of-the-year honors. "I didn't miss many shots and gave myself a lot of opportunities to make birdies. My putting has been a little streaky, but I kept the ball in good positions and before you knew it I was a few under every round."
When Langley completed his round, Ching was only on the third hole, hoping to avenge his fate from the 2009 NCAA Championship. A year earlier at Inverness Club, Ching was tied for the lead entering the final round, only to shoot a six-over 76 and finish T-13.
This time at The Honors Course, Ching experienced the proverbial roller-coaster round, making four birdies and five bogeys over his first 16 holes, leaving him two off Langley's mark with two holes to play. Ching then proceeded to birdie the par-5 17th, reaching the green in two when he pulled out a 3-wood and hit a cut shot from 255 yards to roughly 40 feet, and nearly holing the eagle putt.
While Ching needed a birdie on the last hole, a 470 yard par 4, he also needed to make at least a par to secure a spot for San Diego in the top eight and thus earn a berth in match play. After hitting his drive in the right rough, he knocked his second shot into the rough just left of the green. Getting too far underneath the day with his third ship, the chip came to rest 18 feet from the hole. He would miss the par putt to the right and make bogey, dropping San Diego into a three-way tie for eighth with Arizona State and Stanford and forcing a playoff Friday to determine the last team that will advance to match play.
"That's golf," Ching said of his wild round. "I just tried to go out and play my game, be aggressive."
As Ching's run at Langley came up short, Uihlein was also at eight under par for the tournament with two holes remaining. But pars on 17 and 18 gave him only a share of the runner-up spot.
"I really wasn't too concerned [with the individual title]," said Uihlein, whose 71 helped Oklahoma State earn the top seed in the match-play bracket. "It is what it is. I'm happy with how I played. It's all about the team this week."
Langley insisted he wasn't thinking about the individual title during the round, instead trying to take it one shot at a time. "I have learned that if you think about that stuff too much, it usually doesn't help," he said, explaining in part his disappointing T-24 finish at the Big Ten championship in April.
Indeed, getting ahead of himself this season is something Illinois coach Mike Small said was Langley's chief bugaboo.
"I think this is the year he learned how to handle expectations," Small said. "How to handle leads, how to handle being among the best players at a tournament. To play the way he did here this week, you can't help but be proud of him."