The Loop
If you're playing against Jim Herman and Donald Trump, you have no chance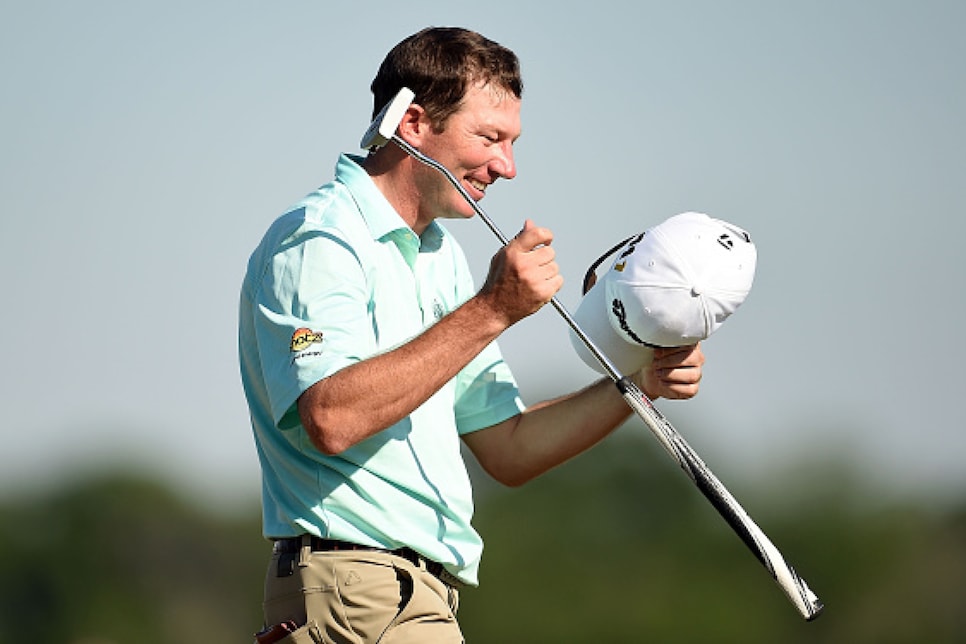 AUGUSTA, Ga. -- In less than 24 hours, Jim Herman went from unknown journeyman to fielding press conference questions about his friendship with a presidential candidate at golf's most glamorous event. The ensuing time since Herman picked up his first PGA Tour title in Houston have been so hectic, he's not even totally sure it happened yet.
"I feel like maybe I'm going to wake up and I'm going to be still on maybe Saturday night going into the final round again and I haven't done it yet," Herman said. "But I don't think that's happening. I think we're here."
It may have taken Herman awhile to get to Augusta National, but he is most certainly here and he was a media darling on the Monday of the Masters. Herman entertained with stories about his circuitous journey to being a first-time PGA Tour winner at 38, including years of toiling on mini-tours and a stint as an assistant pro.
If you were watching any of NBC's coverage on Sunday, you know by now that Herman worked at Donald Trump's course in Bedminster, N.J., and that he owes some of his success to the Republican presidential candidate. He elaborated about their relationship in his pre-tournament press conference.
"He's been a big supporter of mine," Herman said. He helped me early on in my years financially and maybe just a little shot in the arm of confidence."
Trump remains a big supporter of Herman, tweeting this on Sunday night:
And why not? It seems Herman has helped the Donald financially as well -- on the course, that is.
"I don't know what it is; when I play with him, I usually play pretty well . . . I was able to play with him just this past week right before Easter and had another really good round with him," Herman said. "We were victorious in our match."
Herman then described a funny scene before the round started. Trump had won a match while playing with Champions Tour player Dana Quiqley the day before, however, he subbed in his old assistant pro on the first tee.
"It's always funny, when we get to the tee, he's, 'Well, I think -- OK, I'll take Jim,'" Herman said drawing laughter. "So the games are usually won or lost on the first tee, but Dana didn't handle that very well. He's like, 'Donald, we just won, we won very convincingly yesterday and you dump me.' A couple holes later, he said, " Well, I see why you dumped me, Mr. Trump."
Now a PGA Tour winner and a Masters participant, we don't think Trump is changing teammates anytime soon.