News
"Idol's" Kara Dioguardi tees off with Lincicome
It's an off week for the LPGA Tour, and player Brittany Lincicome didn't have any golf planned for this weekend. Until she got an offer she couldn't refuse from *American Idol *judge Kara Dioguardi.
"My agent called me and asked if I'd come play in this event Kara was hosting and I agreed," Lincicome said. "She seems like an amazing woman and is somebody I've always wanted to meet. So it seemed like a win-win, to be able to meet her and donate my time for her charity."
Dioguardi, a Grammy award-winning songwriter and record producer who's in the middle of her second season as a judge on Idol, has partnered with the Phoenix House substance-abuse organization to build music-recording studios for teens and women in recovery from drugs and alcohol addiction. "Basically I have this idea that when you're going through something like addiction, and you're trying to figure out what you're feeling and battle those emotions, music is a great vehicle for letting them come to the surface," said Dioguardi. "I have seen the impact on kids who've had trouble divulging things in normal clinical therapy. When they go into the studio instead, it's the kind of safe haven that allows them to talk about things that they wouldn't otherwise talk about. It's very helpful to their recovery." So far, she has built recording studios in Phoenix House facilities in Los Angeles, Yorktown, N.Y. and Austin, Texas, and is planning on opening one at the organization's facility in Citra, Fla. To help raise funds for her latest endeavor, she hosted a fundraising golf event/gala Saturday at Golden Hills Golf and Turf Club in Ocala, and a few LPGA players (including Lincicome and Meredith Duncan) were there to help.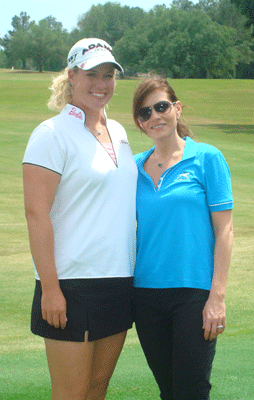 *"I'm not a good golfer," Dioguardi admitted to Golf Digest Woman before the event, "but if I have to make an ass of myself and hit a few balls today, I will. I can actually hit the ball pretty far, but as far as getting that ball in the hole, not so much. I'm more one of those people who likes to go to the range, hit some balls and get my aggression out. But I don't rule out becoming a real golfer one day. I'm hoping one of the LPGA players will give me a lesson. I'm so glad they came -- girl power and all that. I want some pointers. And I just put on these new golf clothes today, and I was, like, 'hmm... maybe I could be a serious golfer.' I've actually never seen myself in an aqua-colored pique shirt before. It's kind of cute."
Dioguardi sees a therapeutic side to the game as well. "What I like about golf is, it's a good kind of few hours to just reflect. When I'd walk from hole to hole, I kind of would just say 'where am I at right now, what am I thinking about..' you can almost meditate a little bit, think about your next move and think about life. It's a lot like music in that way."
Saturday's golf scramble was followed by a gala dinner, at which Dioguardi sang a few songs she's co-written about abuse, and two VIP tickets to the finale of American Idol's season 9 were auctioned off. Lincicome, for one, was really looking forward to that part. "The awards thing tonight is a really fancy, dressy event," she said Saturday morning. "We have our fancy dresses in the trunk and I brought my blanket and bear for the ride home. It's going to be a fun, late night." Asked if she was going to bid on the grand prize, Lincicome said "Maybe we [the LPGA players] will go in on it together and then fight it out for who gets to go."