The Loop
'I'd shift [Tiger Woods] into reverse as quickly as I could'
Stories of interest you might have missed…
Cameron McCormick, the only instructor Jordan Spieth has ever had, is an Australian who came to the U.S. to play college golf for Texas Tech and stayed on. In this first-person story in Australian Golf Digest, McCormick opines on a number of things, including Tiger Woods and Spieth: "I'd shift [Woods] into reverse as quickly as I could and take him back in his career as far as I could. I'd look to revisit the movement patterns he employed from his most successful times and, more importantly, his mindset and identity from his most successful times."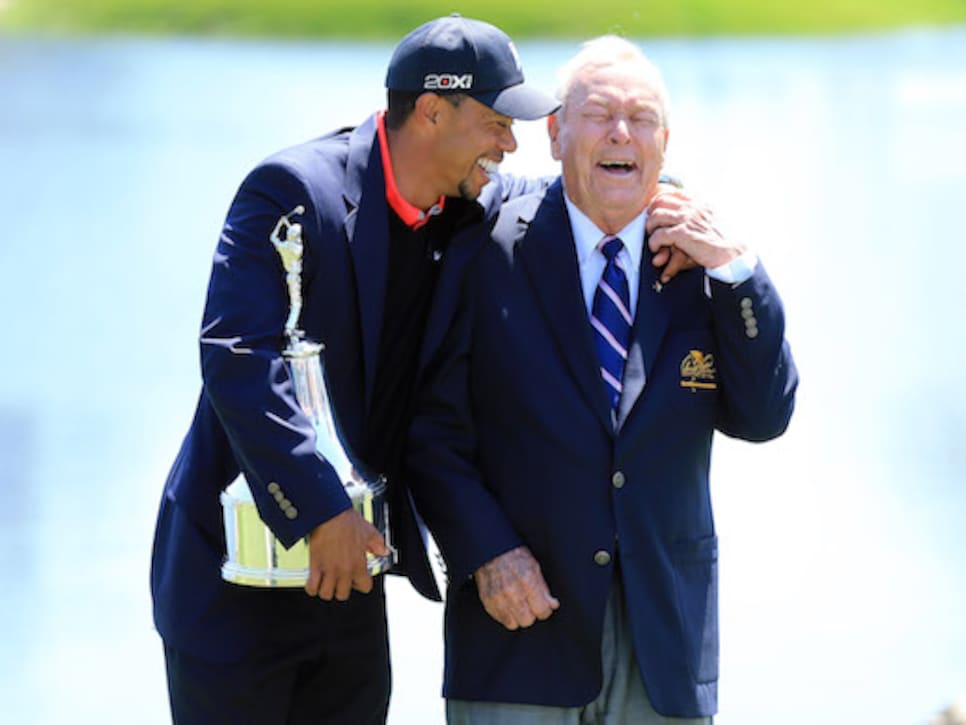 Tiger Woods in happier times (Getty Images)
"[Recently] Michael Bamberger of Sports Illustrated asked Dustin Johnson, a question: Have you ever flunked a Tour drug test?' The answer was short and emphatic. No.' We'll probably never know for sure," John Huggan of the Scotsman writes in this look at the PGA Tour's lack of transparency. "Like so much of what goes on inside the tour's headquarters at Ponte Vedra Beach in Florida, the truth is a mystery known only to commissioner Tim Finchem and his blazer-wearing henchmen."
Fairways for Warriors is a Florida nonprofit golf entity to help wounded warriors and their families, Al Tays of Golf Channel writes, and it soon might have its own golf facility — a nine-hole course, a three-hole practice area, a short-game area and a clubhouse. "Having our own place, we could have our guys going there every single day," Fairways for Warriors founder Tom Underdown said.
"There is a marble marker embedded in the right side of Bay Hill's 18th fairway that commemorates one of the most iconic shots in golf history," George Diaz writes in the Orlando Sentinel. "It is also a spot that commemorates choices. In golf. In life. Twenty-five years ago, Robert Gamez switched from a 6-iron to a 7-iron, and bounced a 176-foot eagle into the cup to win at Bay Hill. Good choice. He celebrated by going with his buddies in a limo and grabbing dinner at Taco Bell. Not so good." Gamez has not won since and last summer underwent quadruple-bypass surgery.
Rory McIlroy, as a popular No. 1 in the World Ranking, has influence, as Steven Beacom writes in the Belfast Telegram. "He's persuaded top names, including Rickie Fowler, Sergio Garcia and Ernie Els to play alongside local heroes Graeme McDowell and Darren Clarke in this year's Irish Open and yesterday at the Royal County Down Golf club it was revealed his influence has helped bag the tournament its first title sponsor [Dubai Duty Free] since 2010."