News
Ian Poulter's match-play genius can't be stopped by form or time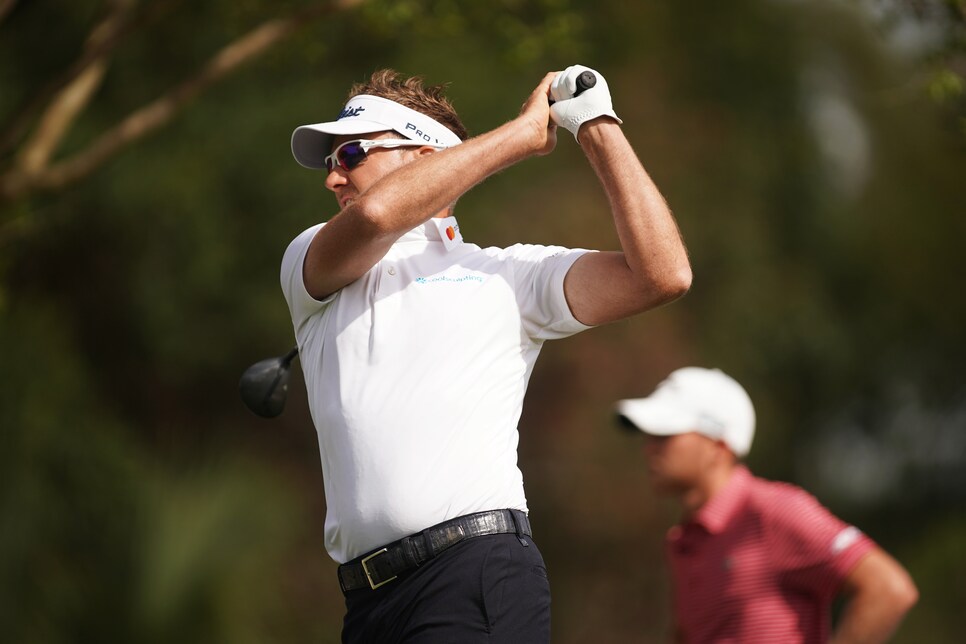 One of my favorite Internet golf resources is Adam Sarson's collection of match play records—helpfully sorted by singles and team play. There's a lot of fascinating and even counter-intuitive information there, such as the fact that Patrick Reed came into the WGC-Dell Match Play with a singles record of 10-8-2—good, but not quite as good as his reputation might indicate. (For a guy known as a lone wolf, to put it politely, it's pretty interesting that his team record is an excellent 8-3-3.) But there's one page that reads exactly as you'd expect, and that page belongs to Ian Poulter. With his wins the last two days against Tommy Fleetwood and Daniel Berger, his career singles record now stands at 38-16-5—proof not only of his own greatness, but proof also of the idea that match play skill is a real thing, that it's more than just an arbitrary format, and that the skill set is quite different from stroke play.
Even other contemporary European Ryder Cup legends can't touch Poulter's singles record for their careers. Not Lee Westwood (35-33-1), not Sergio Garcia (32-26-4), not Justin Rose (16-15-2). Put it this way—two of the only current players to have amassed anything like Poulter's record in match play singles are Tiger Woods (an astounding 50-16-2) and Rory McIlroy (28-13-3). Woods has 14 majors to his name, Rory has four and counting, and Poulter has none. That makes it pretty clear that something special happens when Poulter tees it up in match play. It's not that he hasn't had a good stroke play career—he's won 10 stroke play events on the European Tour, including a WGC event—it's just that it looks a little ordinary compared to his stunning match play record.
(Luke Donald, at 27-13 in his singles career and 7-3-1 in team play, comes the closest to matching Poulter's match play/stroke play disparity.)
All of which is to say that I shouldn't have been surprised to see Poulter blaze through two difficult opponents on the first two days of this year's WGC-Match Play. But then again, the rest of his season has been pretty ordinary—three missed cuts in six events, and only one top-10 finish in Dubai. He's also 42 years old. The temptation to think that he might be vulnerable was strong, and I fell for it.
Spoiler: He was not vulnerable. Wednesday, he made relatively easy work of Fleetwood, winning 3&2 and taking five holes to just two for his opponent. Fleetwood has been the toast of the town lately, both for his play and his personality, but he was stopped in his tracks by his countryman. Thursday, Poulter's opponent was Berger, one of the few professionals whose ornery demeanor and general intensity levels—or at least his scowling ability—can come close to matching Poulter.
By the 12th hole, Poulter had a 2-up lead, and I caught up with the group hoping to sneak a glimpse of the specific brilliance of the Englishman, even in miniature. And the most I can say over the last six holes is that Poulter only gave Berger two legitimate windows of opportunity. The second one came on the 17th and final hole, when they both made a mess of things and Berger had an 11-foot bogey putt to send the match to 18. He missed. But the more interesting brief glimpse of hope came on the 13th, when Berger hit his approach to 11 feet, and looked like he'd have a birdie putt to win the hole and reduce the deficit to 1-down. But Poulter, in what has become a trademark move, hit his own 20-foot birdie to deprive him of that opportunity. In a moment, the energy and momentum had flipped—now Berger had to hole his putt just to halve the hole, and a miss would be disastrous, putting him 3-down. To his credit, Berger made it, but there had to be something discouraging on a psychological level about being forced to play defense from a position of offense.
I asked Poulter about that moment after the match, and he began with something that sounded like a Buddhist koan: "The beauty of match play is the beauty of match play." He called it an enormous moment, and spoke generally of the importance of surviving holes like that one and 17, where he saved bogey from a plugged lie—"you're never out of it, and that's crazy."
The rest of the back nine, he showed his skill in more subtle ways, always keeping Berger on the defensive. Half the time, this was just a matter of playing intelligent, almost cautious golf after a mistake—when Berger found the fairway bunker off the tee on 12, Poulter hit his approach to the fringe, putted to gimme distance, and made Berger survive the pressure of a longer par putt. On 14, with the wind howling, he went conservative again after Berger's short approach left him a tough sidehill pitch, and though he missed a nine-footer to win the hole, he kept his margin. Ditto on 15 and 16, where his biggest weapon was time, and the dwindling number of holes remaining.
A great match play golfer can't rely on spectacular birdies alone, and against Berger, Poulter showed how someone without his best game can maintain a lead by essentially forcing his opponent to do something spectacular. Berger didn't have it, and Poulter won smart.
After halving on 16 and guaranteeing at least a half point, Poulter marched up the hill to the 17th tee. "Go Poults!" a few fans yelled, but he just glared ahead, blew a snot rocket into the dirt, and climbed on. Moments later, after his win—his 25th at this event, which puts him second all-time behind Tiger Woods—he was asked by the Sky Sports radio team to explain his special acumen in the format. He spoke of how he loved the adrenaline, and the nerves, and the feeling of one-on-one competition. But the best explanation may have been the simplest:
"I hate losing. I hate it. The thought of it makes me want to vomit."