The Loop
Ian Poulter reveals who he thinks the American team's Ian Poulter is
GLENEAGLES, Scotland -- Ian Poulter has been Europe's team leader in recent Ryder Cups, not just because of his ridiculous 12-3 record, but because of the passion with which he plays. So who is the Ian Poulter of the American squad?
Poulter was asked that question Thursday, and he instantly responded: "Keegan Bradley."
"Because it was his first Ryder Cup in Medinah, and for a day and a half, I think he was fist pumping like I was fist pumping," Poulter said. "You saw the adrenaline in his body. He loved playing with Phil, and they were on an incredible run. So I think, yeah, I think from that standpoint, it has to be Keegan. He's embraced it. He absolutely loved it."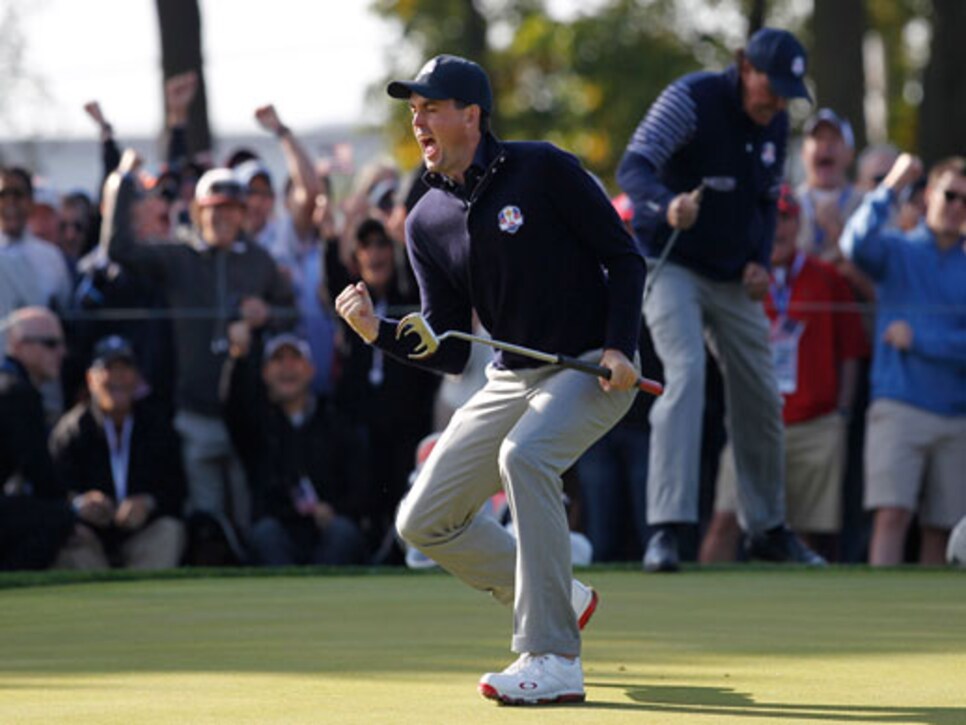 Later during his press conference, Poulter went into a deeper breakdown of the art of fist pumping.
"Obviously, everybody fist pumps differently, but there's always a lot of emotion to come out," Poulter said. "I don't think I've fist pumped any different from 2004 to what I have in 2012. I've seen the highlights and they are exactly the same. So everybody's got their own DNA and everybody fist pumps in their own way. It's not disrespectful in any way, shape or form. I feel that I've done it in a way that is natural to me, and I've been very respectful of that."
Some might argue that last point, but it's hard to contest Poulter's comparison of himself to fiery Bradley. We wouldn't mind seeing the two cross paths/fist pumps at a Ryder Cup for the first time this week.