The Loop
'I cannot remember a more in-your-face victory...than what we saw from Rickie Fowler'
A sampling of the reaction from the media, social and otherwise, to the Players Championship and Rickie Fowler's victory on Sunday, starting with Brandel Chamblee of the Golf Channel:
"I think it stretched the limits of what one imagines is possible and touched very near the limits of athleticism. Crazy, dynamic good golf swings. I think years from now when this becomes a major championship perhaps historians will look back on this and remember this day the same way they remember the 1935 Masters and the shot heard round the world, and they'll talk about the shots that were out of this world today. Mind-blowing number of shots on display.
"Of course given the fact that early on this week, by some of his peers, being called out as being overrated, I cannot remember a more in-your-face victory in any other endeavor, in any other sport, than what we saw this week from Rickie Fowler.
"How could golf get any better right now, with the likes of Jordan Spieth, Rory McIlroy and Rickie Fowler, Bubba Watson, all of these players that are coming up so big that are so popular and so dynamic with the crowd."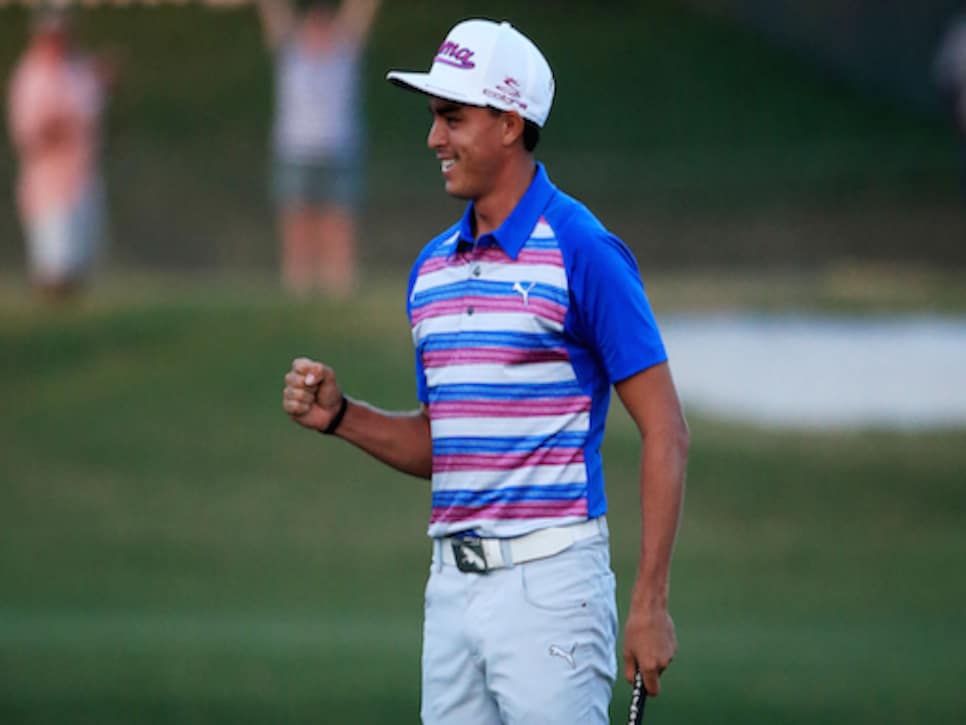 Fowler was trending for a time on Twitter. Here are some of the more interesting/amusing Tweets:
A great job by @RickieFowlerPGA in winning The Players yesterday. Finally, your jealous critics can go to hell! Good luck at The U.S. Open.
— Sergio Garcia (@TheSergioGarcia) May 11, 2015 Congrats @RickieFowlerPGA That should do it for the Sunday orange that hasn't worked for 3 years!! Great playing!!
— Mark Calcavecchia (@MarkCalc) May 11, 2015 Such a fitting response to that overrated poll by @RickieFowlerPGA. One of the classiest guys on Tour. Actions > words. Huge congrats buddy!
— Webb Simpson (@webbsimpson1) May 11, 2015 It appears what is really over-rated is the anonymous pro's survey! Congrats to @RickieFowlerPGA on your Players win.