The Loop
Husband and wife make back-to-back aces on the same hole (Yes, this really happened)
We've heard any number of entertaining hole-in-one stories over the years, and some are too good not to revisit from time to time. Including this one about a husband and wife making back-to-back aces.
The story of the Blundys surfaced in May 2015 thanks to an article from the Lansing State Journal. It came with a pair of witnesses who saw what went down on the 16th hole at Ledge Meadows Golf Course in Grand Ledge, Mich. Tony Blundy went first and one-hopped a 7-iron into the hole from 135 yards out.
It was Tony's first hole-in-one, which matched wife Janet's total. But apparently, Janet had no interest in staying tied with her husband. "You're going to be really mad when I put mine in," she said as she walked to the women's tee box. She then knocked in her pitching wedge from 110 yards.
In other words, Janet Blundy is the Babe Ruth of calling golf shots.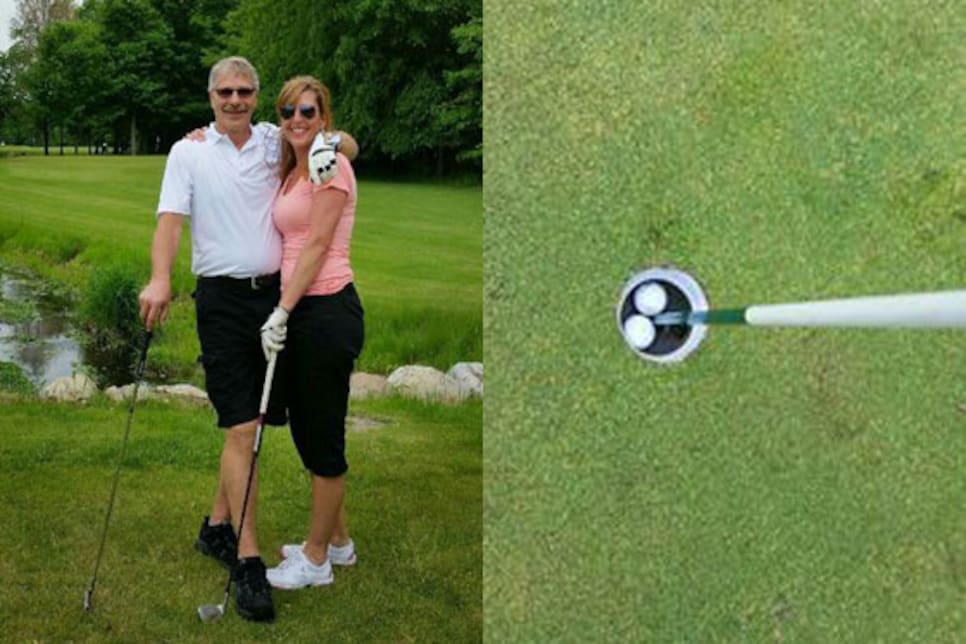 The National Hole In One Association puts the odds of two amateurs in the same foursome making an ace on the same hole at 26 million-to-1. Simple math would make the odds of both players in a twosome doing it on a consecutive shot at least twice that. And as far as a husband-wife combo to pull off the feat? Let's just say it's pretty unlikely considering there doesn't seem to be another recorded instance of it happening.
Amazingly, though, five years later the same thing happened at the Dye Course at PGA Golf Club in Port St. Lucie, Fla. Wisconsin natives Steve Howe and Carolyn Barnett-Howe made consecutive aces on the par-3 sixth hole.
"We would have thrown a real nice party afterward, but the clubhouse is closed for the coronavirus social distancing, so we couldn't do that," Steve told Golfweek. "But when everything gets back to normal, we'll put on a little bit of a party for everybody."