Driving
Hunter Mahan: My 3 Power Moves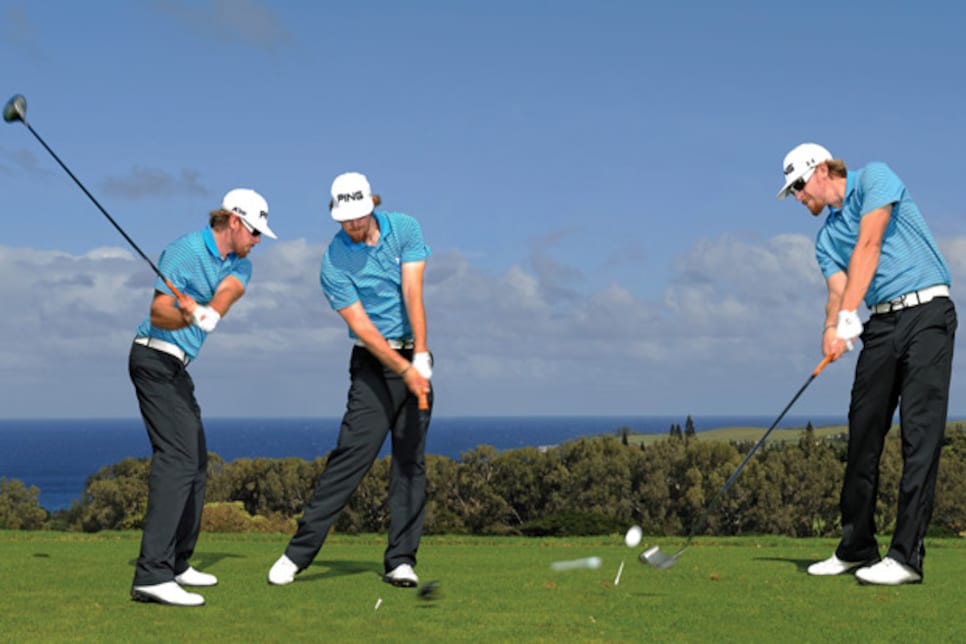 1. DROP THE CLUB TO THE INSIDE
A draw is definitely more powerful than a fade, and the easiest way to sling your drives right to left is by improving your path into the ball. When I start down from the top, I try to create a lot of room for the club to swing from inside the target line by getting my arms in as close to my body as possible. It's one of those subtle moves, but it feels as if I'm dropping the club straight down.
2. SHIFT FORWARD BEFORE YOU TURN
On the downswing, I want my legs and chest to shift laterally toward the target before I start rotating through the shot. Sometimes I turn too soon, and so do people who slice. You have to hit it solid to maximize distance, and an early rotation can produce a glancing blow. I feel like I shift all my weight to my left side, then rotate, letting my arms swing as fast as they can.
3. TRANSFER YOUR SPEED TO THE BALL
I try to put all my energy into the hit. I want to smash the ball and then let that energy dissipate as the club continues to the finish. This swing thought keeps me from overswinging and puts my focus on making center-face contact. A good tip is to pick out a spot on the back of the ball and give it a good thump, as if you were hammering a nail all the way into a board with one swing.
EDITOR'S NOTE: HUNTER'S SWING IS ENERGY EFFICIENT
In 2011 Mahan ranked second in an obscure stat called total driving efficiency (TDE), which is a combination of carry efficiency and total distance efficiency. In plain English, it means he gets a lot out of the power he creates. He ranked 111th in clubhead speed but turned that into 84th in driving distance (291.6 yards). He's not a bomber, but he turns speed into distance efficiently.