The Loop
Huggan: Royal Melbourne makes Internationals a decided favorite
MELBOURNE -- At first glance, the Presidents Cup right now bears a more than passing resemblance to the Ryder Cup circa 1977: Two teams meet up every two years and the one representing the United States invariably wins, sometimes narrowly, mostly comfortably. Closer inspection, however, reveals that, while the eight matches since 1994 have produced as many as six victories for the U.S. side, the International squad is unbeaten when the biennial encounter has been held outside North America.
So here we are in Melbourne, Australia, scene of the International's lopsided 20.5 - 11.5 lambasting of the US back in 1998. And the biggest reason why the so-called "home" side -- albeit less than half of the Internationals hail from the land Down Under and have English as their first language -- will win the Presidents Cup this week.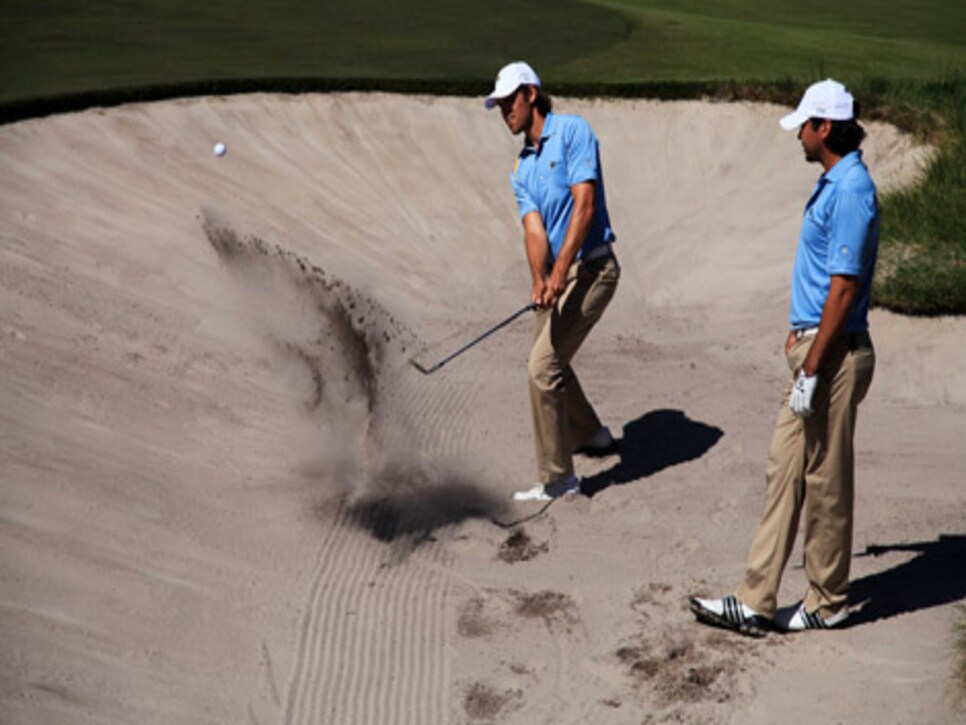 Local knowledge of Royal Melbourne is expected to be an asset for the International team this week. Photo by Getty Images.
There are two parts to that one reason, of course. Not only will the seemingly ragtag collection of five Aussies, three Springboks, three Koreans and one Japanese carry with them the raucous support of a sport-mad nation, collectively the "non-American" side has far more experience playing Royal Melbourne, the southern hemisphere's best course and one of the world's most interesting. Knowing where to be -- and, more importantly, where not to be -- is a potent asset on a track where thoughtful, strategic positioning is everything and mindless power is largely negated -- what a concept, eh?
Certainly, International skipper Greg Norman -- a longtime Royal Melbourne expert - was taking both aspects into consideration when he selected two Melburnians, Aaron Baddeley and Robert Allenby, as his wildcard selections.
"The course is unique," agrees International Geoff Ogilvy, who grew up caddying at Royal Melbourne and will be hosting a pre-match barbeque for his teammates at the home he owns less than half a mile from the course. "And knowing it is definitely a huge advantage for us.
"I'm sure local knowledge and the fact we are in Australia had much to do with the picks Greg made. Having guys playing at home has to be a plus. And knowing the course as well as Robert and Aaron do had to be considered a tiebreaker at least in the selection process. They will bring more people through the gate to watch, for one thing. And then those people are presumably going to be more vocal in support of our team."
The presence of Norman, the ultimate Aussie icon, is, according to Ogilvy, another reason why the discerning punter should favor the International side.
"Greg was really into it last time," continues the 2006 U.S. Open champion. "You could tell his competitive juices were flowing. He is a great motivator and got us all fired up in the mornings. He was very hands-on and communicated really well. We all knew exactly what was going on. The captain can just sit back and say, 'You play with him, off you go.' But there was none of that. He was really good and we all wanted to play well for him.
"This time he's been even more involved. Maybe because he knows a few more of the guys, the communication over the last 12 months has been first- class. We are all even more 'into it' just because he is so enthusiastic."
Norman's knowledge of the venue was also showing through at the captain's opening pre-match press conference.
"What matter on these greens is the last two feet of the putt, or the three feet of the putt where the ball wants to just keep trickling and trickling," he said. "That last two or three feet can turn a two-footer into a five-footer with a lot of break.  That makes the players think, a process that starts from the tee-shot.
"This is not a course where you just get up and just smash it anywhere. There's more to it than that. You can be six feet above every hole and somebody else 30 feet below every hole is probably going to beat you. Royal Melbourne depends that much on positioning."
So there you have it. The Internationals simply have too much going for them to lose this one: Local knowledge. Huge motivation. And Greg Norman. They'll win by at least six points.