The Loop
How'd Your Team Do, Twitter Edition: New York Giants lose on 61-yard field goal, fall to 0-3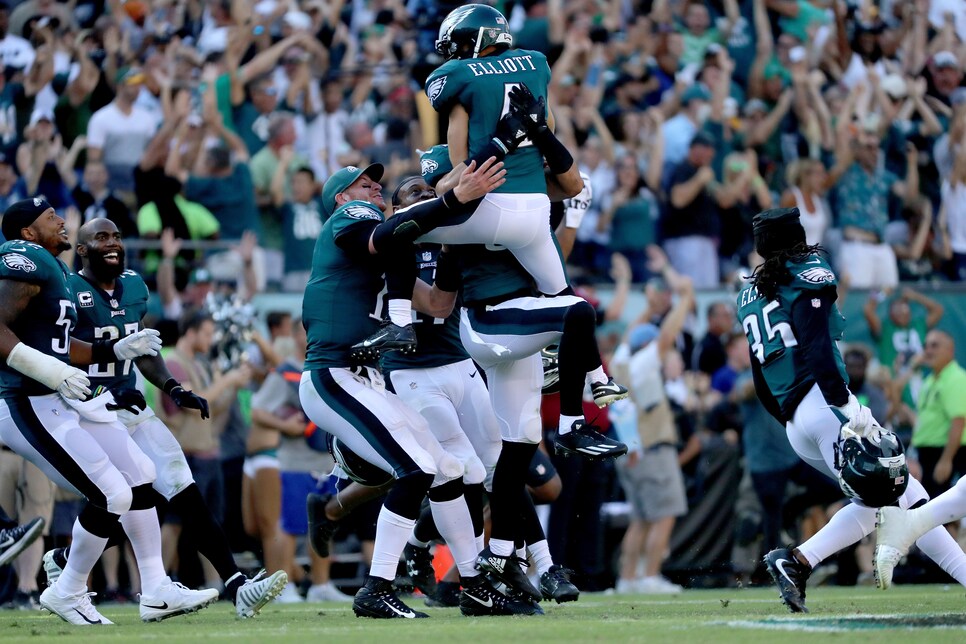 Just like that, we are a full three weeks into the NFL season. Enjoy it while it lasts.
And what a week it was, coming on the heels of some questionable comments from President Donald Trump regarding players protesting by kneeling during the National Anthem. Not only did teams respond with a unified message prior to kickoff, but they responded on the field, treating fans to the best day of pro football yet in 2017. There were upsets, overtime thrillers, fourth quarter comebacks, and a 61-yard game winning field goal.
Sorry New York Giant fans, but your squad is this week's star of "How'd your team do, Twitter edition," and something tells me you already know why. Let's jump right in...
Despite starting 0-2 with an absolutely anemic offense, Giants fans were still hopeful leading up to a big road game against the Philadelphia Eagles. And they got some great news before kickoff:
No. 1 corner Janoris Jenkins returning from injury, a very positive start. Also, Odell Beckham was looking like his normal self during warmups:
The Eagles received the opening kickoff but quickly punted it back to the Giants, who finally began to show some signs of life on offense. But then, facing a third and one on the Eagles 34-yard line, coach Ben McAdoo called a toss play that resulted in a four-yard loss and punt. Have at him y'all:
Hard to disagree with any of that.
Eagles would then strike first on a LeGarette Blount touchdown, giving them a 7-0 lead. Once again, the Giants started to move the ball on their next possession, before Eli Manning promptly threw a momentum crushing interception:
Thanks to some horrendous coaching from Philadelphia's Doug Pedersen, the Giants quickly got the ball back at midfield with a chance to tie it up before halftime:
New York took advantage, and appeared to score a touchdown on this Manning throw to Sterling Shepard:
When Shepard went to the turf, the ball popped free and it was called incomplete, which caused plenty of confusion:
Either way, Giants had to move on and try to punch it in on fourth and goal from the one yard line. They failed miserably on an Orleans Darkwa run that was stuffed three yards in the backfield:
This did not quiet the McAdoo hate club:
Things didn't get better in the third quarter, with the Giants punting, throwing another interception and turning it over on downs again on their next three possessions before heading to the final quarter down 14-0. Time for some #Stats:
Abysmal indeed. But just as everyone simultaneously wrote the Giants off, Eli & co. came storming back, with a five play 55-yard drive that ended with an Odell Beckham touchdown, and an interesting celebration:
On the Eagles next drive, Giants safety Landon Collins punched the ball out of tight end Zach Ertz's hands, leading to a turnover. Eli went to Beckham again, which usually goes well:
With all the momentum on their side, the Giants defense came out and made another stop, forcing the Eagles to punt. They wasted no time on the next drive, going 78 yards in two plays to take the lead:
Naturally, everyone jumped back on the bandwagon:
But if you've ever watched the New York Giants, a heartbreaking finish usually follows the euphoria of a huge comeback. After letting Philly drive down to tie it at 21-21 in the blink of an eye, the teams traded field goals to make it 24-24 with 51 seconds remaining. A last chance effort was squandered by Manning and the offense, and the Eagles took over with 13 seconds on the clock.
Eagles quarterback Carson Wentz found Alshon Jeffrey for a gain of 19 yards on what looked like the final play, but, somehow, Jeffrey was able to get out of bounds with one second to go. This set up a potential game-winning 61-yard field goal for rookie kicker Jake Elliot:
The longest field goal in Lincoln Financial Field history moved the Eagles to 2-1 on the season, while the Giants fall to 0-3, thus sending Giants Twitter through the seven stages of grief:
Worse than the Jets? No, it can't be...

No, please, not the Owen 3 joke....
Haven't Giants fans been through enough?
It can only get better from here, right?
There's always next year.