The Loop
How'd Your Team Do, Twitter Edition: Kansas City Chiefs lose to lowly Giants in overtime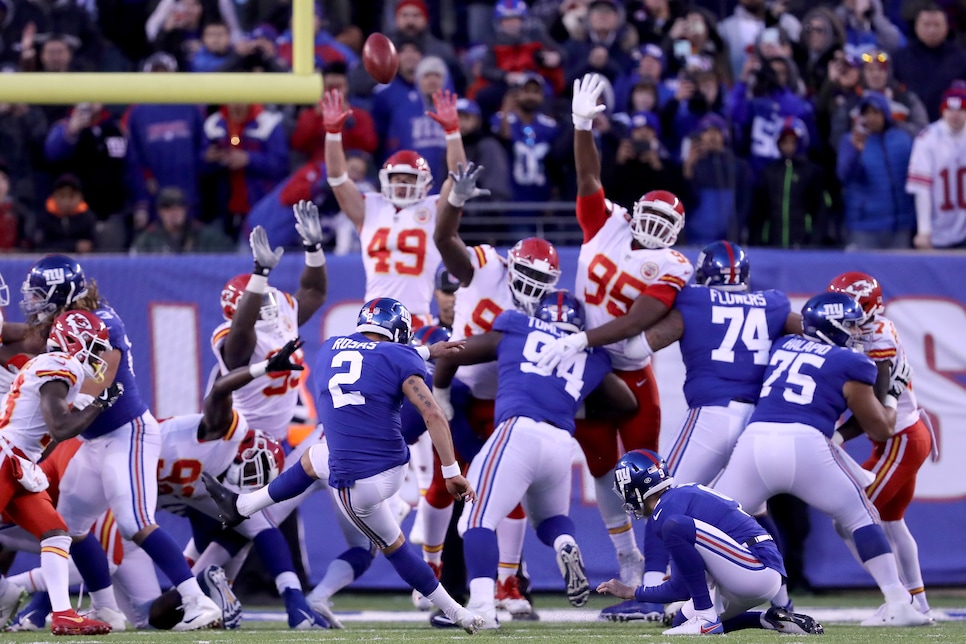 No team started the 2017 NFL season hotter than the Kansas City Chiefs. They dominated the defending Super Bowl champion New England Patriots 42-27 on opening night in Foxboro, then won their next four games, including a 27-20 victory over the now 8-1 Philadelphia Eagles. Heading into Week 6, the Chiefs were rolling, and had their eyes on bigger and better things, like a trip to the Super Bowl, somewhere the franchise hasn't been since 1970.
Fast forward to week 11 and that mindset has completely changed, with the Chiefs losing three of their last four games and falling to 6-3 going into their bye week. With extra time to prepare, and a matchup with the 1-8 New York Giants, surely Andy Reid and his squad would right the ship, get to 7-3 and start rolling once again as they head into the home stretch. No way they would overlook a trash, albeit desperate (aka trash), Giants team. No way.
Pretty much the last thing the Chiefs needed was this exact forecast, giving a slight advantage if any to the home team. But, some KC fans loved their chances no matter what:
No way those come back to haunt them.
The Chiefs received the opening kickoff and picked up one first down before punting to the Giants, who came out strong on offense, going 64 yards in 11 plays, including this successful fake punt:
Took a 1-8 start for coach Ben McAdoo to get aggressive. And he wasn't done! On the 12th play of the drive, he dialed up a half back pass and it went horribly:
With the momentum squarely on the Chiefs side, Alex Smith proceeded to give the ball right back to the Giants seven plays later, when Damon "Snacks" Harrison picked off his shovel pass. And by picked off I mean the ball fell into his lap. Big boys getting the ball will never not be awesome:
Chiefs fans, already restless from their recent four-game stretch, were not amused by the rumbling, bumbling and stumbling:
To make matters worse, the Giants capitalized, scoring six plays later to go up 6-0, where the score would stay after a missed extra point. The Chiefs answered with a 15-play 61-yard drive that ended with a field goal. Then, the teams traded punts until half time. Wild first 30 minutes of football:
It didn't get much better in the second half, which began with two more punts and the Giants turning it over on downs. Kansas City took advantage, going down the field and tying the game at six with another field goal. Three punts later, the Chiefs took over with just over seven minutes to play, quickly picking up a first down on a 12-yard Kareem Hunt run. That's when Andy Reid made one of the more perplexing play calls of the season:
That was an absolute laser beam for a tight end, but probably the wrong call:
This meant one thing - more proof Eli Manning is the GOAT:
With four minutes to play, the Giants punted the ball back to the Chiefs five plays later, and after getting one first down, Alex Smith threw a backbreaking interception:
Smith's haters were immediately out in full force:
And then there's this guy, whose life is dedicated to getting Smith benched:
Smith did get a shot a redemption though, thanks to the Giants only getting a field goal despite A+ field position to take a 9-6 lead. The Chiefs were able to dink and dunk their way down the field and tie it at nine as time expired. KC fans were THRILLED:
The Chiefs won the coin toss and elected to receive in OT, but went all of 16 yards before punting. Every KC fan's fear became reality when the Giants went for it on 4th and 6 with just over two minutes to play, and this happened:
Roger Lewis, doing his best Odell Beckham impression, hauled in this miraculous catch that set up the game-winning field goal, giving the giants their second win of the season:
G-Men as a big underdog? Never a doubt!
As for the Chiefs, its their fourth loss in the last five games. Things are spiraling out of control:
Calls for rookie quarterback Patrick Mahomes are only getting louder:
Aside from the four losses in five games, calls for the benching of Alex Smith and bad play-calling from Andy Reid, things are going GREAT for the Chiefs. The crazy part is, Kansas City will still likely win the garbage AFC West division:

Just got to get into the playoffs, and then who knows what could happen. Right?