The Loop
How'd Your Team Do, Twitter Edition: Green Bay Packers may have lost Aaron Rodgers for the season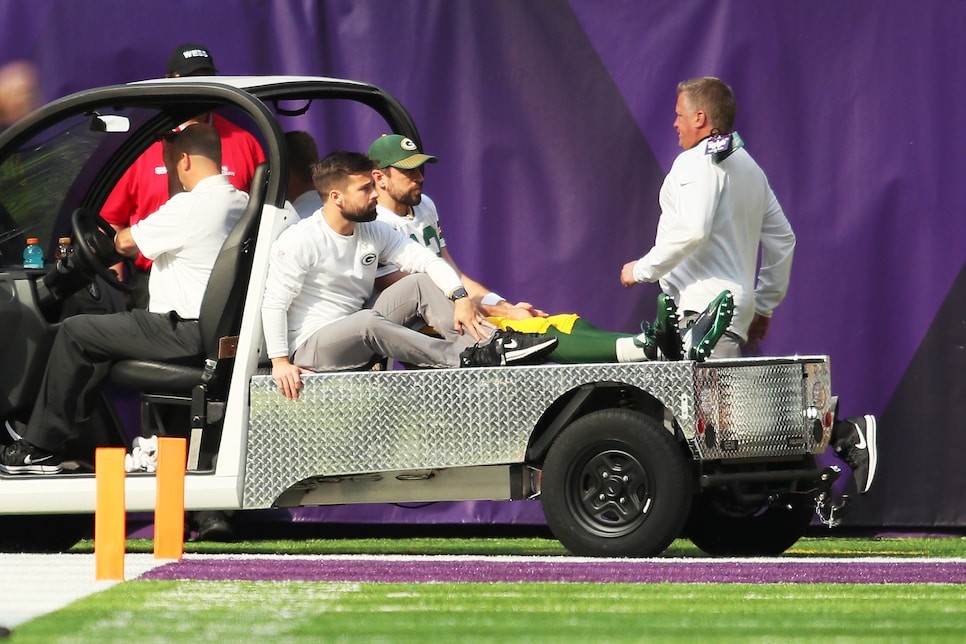 The days are getting shorter, the air is getting cooler and we're beginning to find out which teams are separating themselves from the pack through six weeks of the NFL season. Some teams, like the 5-1 Philadelphia Eagles, have emerged as Super Bowl contenders, while others appear destined for an early first round draft pick.
Aaron Rodgers and the Green Bay Packers looked like one of those teams that fell into the contender category, coming off an unbelievable, last-minute victory on the road against the Dallas Cowboys that got them to 4-1 on the season. They entered week six alone atop the NFC North division, facing a road matchup against the rival Minnesota Vikings, sitting one game back at 3-2. Not an easy game by any stretch, but the Pack were still a 3-point favorite, going up against Vikings backup quarterback Case Keenum. Gun to your head, or no gun to your head, the majority of NFL fans would write in Green Bay for a W in this one.
However, you would have changed your tune about eight minutes into the first quarter, when something happened that no NFL team can prepare for. I'm so..... so sorry Packer fans, but it's time to dive in.....
After the teams traded punts on their opening drives, Green Bay took over, and six plays later, their season pretty much ended:
Anytime you see that awkward, shoulder-to-the-turf first sack on the quarterback you hold your breath and hope for the best, or hyperventilate and contemplate just ending it all:
Unfortunately, soon after Rodgers was carted off to the locker room, the nightmare was confirmed:
Game over, season over in the blink of an eye. Of course, Packers fans reacted in a very calm, civil manner:
You're not going to believe this, but people quickly had a suggestion for who the Packers should go after to play QB while Rodgers is sidelined. Seriously, you'll never guess.. Go ahead, guess, I dare you:
If only someone could photoshop the Packers jersey onto Kaepe- OH SNAP NOW IT'S REAL!
Who knows, maybe Kaepernick could thrive in Green Bay, but there were some waaaay better suggestions from the fine folks on Twitter:
Favre!! This would be bigger than a certain someone's comeback, but it's very unlikely, especially considering noted Favre-stalker Ed Werder tweeted this out immediately:
Be more of a wet blanket Werder. There is another retired QB who could be persuaded though:
But wait, maybe ... no.. no ... is that Johnny Football's music!?
Kidding, kidding. Ok, no more jokes:
There was still a game to play, and the NFL is next-man-up league, which meant it was time for former UCLA quarterback Brett Hundley to enter the fray, whether Packer fans were ready for him or not:
Our thoughts exactly. We could break down the rest of the game, but there's not much to say about it. Hundley struggled, the Vikings won a 23-10 slugfest and the NFL lost its best quarterback, likely for the remainder of the season on Sunday. No Odell Beckham, no J.J. Watt, no David Johnson and now no Rodgers. Not good!