The Loop
How'd Your Team Do, Twitter Edition: Buffalo Bills get demolished at home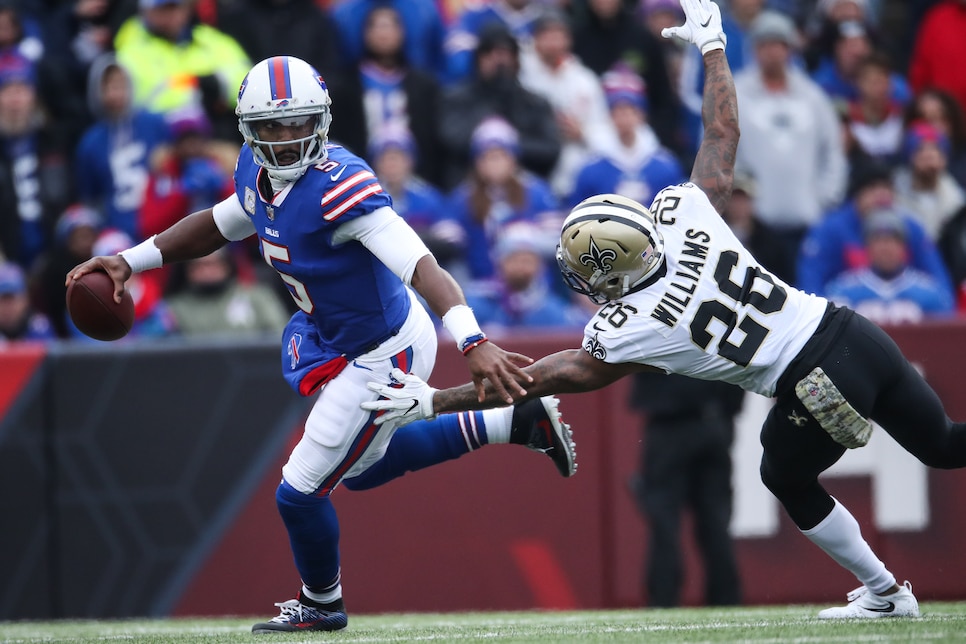 When it comes to franchise history, the Buffalo Bills are known for two things: losing four consecutive Super Bowls from 1990 to 1993, and having an absolutely rabid fanbase willing to go viral online at any cost. It's not an ideal history, but it's a history nonetheless.
Would they rather be known for winning one of those Super Bowls, and not their inebriated fans, also known as #BillsMafia, throwing each other through tables at the pregame tailgate? Maybe. But you can't always get what you want.
Although, through seven weeks of the season #BillsMafia was getting what they wanted and then some. Buffalo was off to a 5-2 start, quarterback Tyrod Taylor was playing great football, and new coach Sean McDermott was saying all the right things:
"Playing here is like heaven for a home team," McDermott said. "Our fans have tons of pride in this team. We play hard for a city that works hard. There's a lot of heart on this football team. This win personifies the city of Buffalo. Blue collar and passionate."
These comments came after the Bills' 30-27 victory over the Tampa Bay Buccaneers at home, which they followed up with a dismantling of the Oakland Raiders at New Era Field the following week. Things were looking up, this was the year! Then the Bills happened.
On a short week, the Bills were run out of MetLife Stadium in a 34-21 loss that was not nearly as close as the scoreboard indicated. OK, no big deal. Now Buffalo would get a long rest and welcome in the scorching hot New Orleans Saints into Orchard Park, where the Bills had yet to lose this season.
Let's see how it played out for them . . .
Sean McDermott, man of the people. The Buffalo people. Guy just loves the city! Weird how he was in such a subdued area of the tailgate though:
Bills Mafia was clearly ready, and so was the Bills offense, which marched down the field on their opening drive thanks to this big run from LeSean McCoy:
After stalling out, they were only able to get a field goal, and it was allllll downhill from there. The Saints promptly went on a nine play, 75-yard charge of their own, this one ending in a Mark Ingram touchdown. Ingram, who was not thinking clearly, decided to do a Lambeau Leap . . . at the Bills game:
Not the brightest idea, although Ingram continued to play inspired, scoring another TD in the first half, which ended with the Saints up 17-3. The Saints received the ball to start the second half, and went nine plays and 75 yards for a touchdown once again. Things were getting ugly quickly. Enter sad Bills fans:
Three plays into the Bills next drive, Tyrod Taylor threw an interception. Safe to say things got even uglier when Mark Ingram scored on the very next play to go up 31-3:
The Bills went on a majestic three play, NEGATIVE SIX YARD drive on their ensuing possession and punted back to the Saints, who went on a 94-yard drive that ended in a seven-yard rushing touchdown from Mike Vick Drew Brees:
But this utter dismantling was still not done. At 37-3, the Saints poured salt in the wound by kicking a field goal to go up 40-3, then finally trotted out the backups on their final drive. It took them two plays to score, thanks to a Trey Edmunds 41-yard touchdown run. 47-3:
One fan was still hilariously optimistic though:
So, what do you do as a fan when your team is down 47-3? Leave early? Stay until the end and torture yourself? Tell everyone in your row you're going to fire off a letter to the owner? Nah, you go streaking:
What's that? You want a much clearer, closeup shot of the streaker in question? Don't worry, I got you (Warning: NSFW).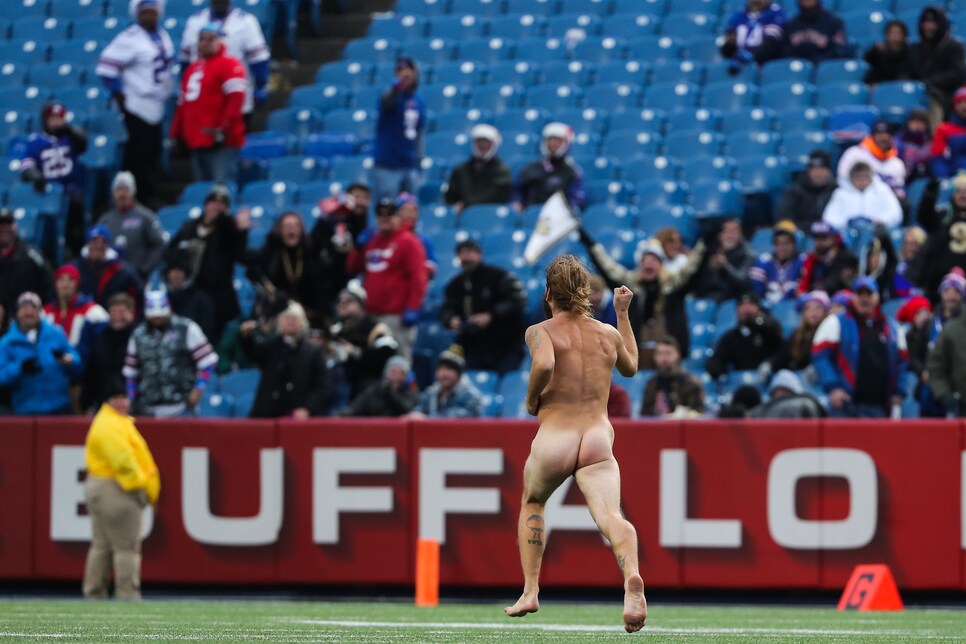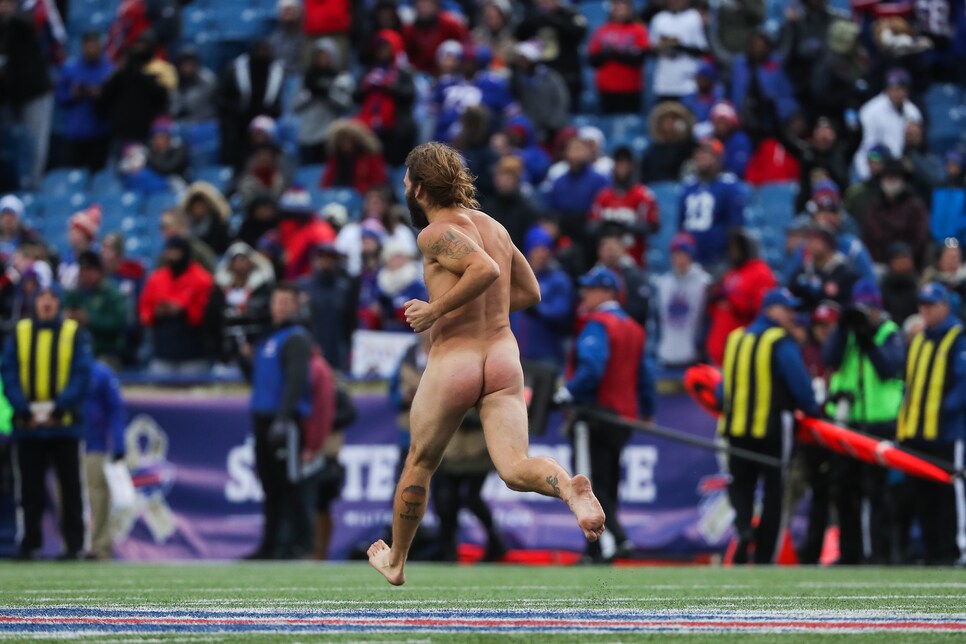 Bills fans. . . truly one of a kind. Not only did those that stuck around get to see a streaker, but they even saw a Bills touchdown too. Rookie quarterback Nathan Peterman connected with tight end Nick O'Leary to cut the Saints lead to just 37 points with just under two minutes to play:
There would be no miracle comeback, and the Saints closed it out 47-10 for their seventh straight victory. After a 5-2 start that had Bills fans thinking postseason, they've now lost two straight and head west to California next week to take on the L.A. Chargers:
The playoffs are beginning to feel quite far out of #BillsMafia's reach:
If (when) they don't make the postseason, that would extend the franchise's playoff drought to 18 seasons, the NFL's longest current streak. It will also mark the 22nd season the team hasn't had a playoff win. Anyone remember the last time they were in the playoffs? Yeah, me neither. . .