Driving
How To Take Advantage Of A Birdie Hole
The 14th hole on the Outlaw course at Desert Mountain in Scottsdale (illustrated), a course I designed in 2003, is a downhill par 4 with a big green that measures just 255 yards from the middle tees and 338 yards at the tips. It's what I call a relief hole, or one that's easy to par and fun to play. I bet your course has one or two holes likes this.
If you're serious about scoring, a par here should feel almost like a disappointment. This hole is set up to make birdie. If you've got the firepower to get on or near the green with the tee shot, don't just bash away. Study the hole location to figure out the best way for you to attack on that day. This is why we've cut away the tee boxes and the fairway from the drawing below. Your focus should be squarely on the green complex.
The hole's main protectors are four bunkers and a swale—or the large depression in the green. Especially in fast conditions, it can be tricky to judge the pace of a putt or chip across the swale, but this feature is also there to help. Like a catcher's mitt, it collects shots coming in hot from long range, so you can try for that eagle with a putter in your hand.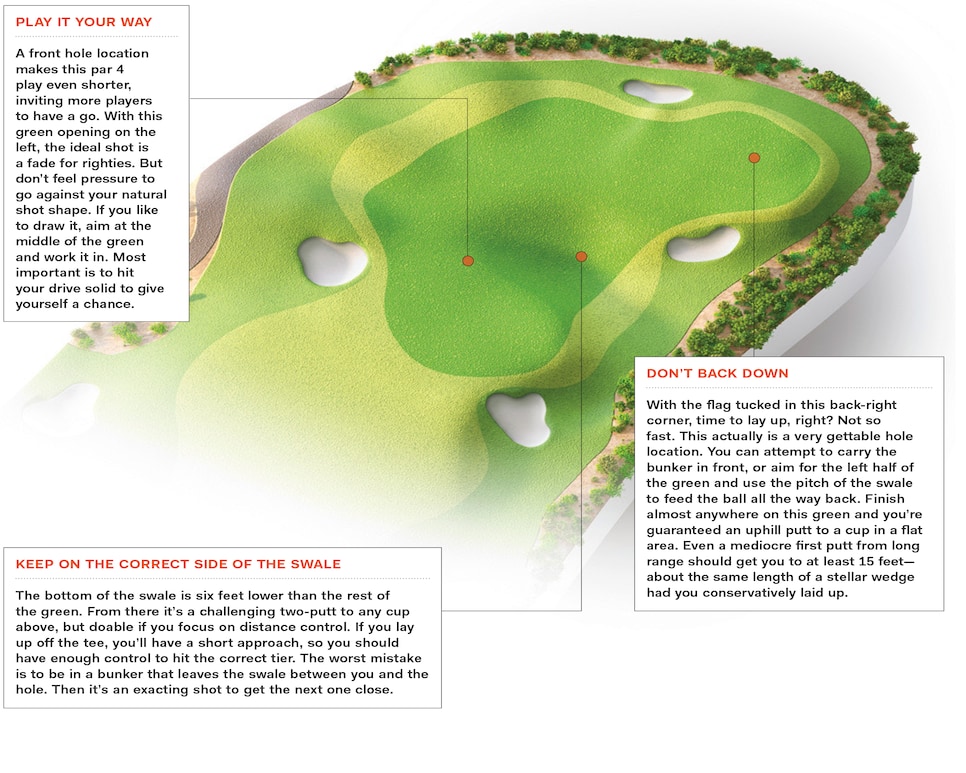 Illustration by Chris O'Riley
MY FINAL MAJOR MOMENT
The most famous swale in the game is the Valley of Sin, which is a deep depression that occupies the fairway and the front-left portion of the 18th green at the Old Course in St. Andrews, Scotland. In the 2005 Open Championship, playing the last hole of my last major, my drive settled there. The turf was firm and fast, and the cup was cut just over the swale. I sure wasn't going to leave it short, so I putted my ball about 15 feet past the cup and made the one coming back for birdie and an even-par round of 72. I got a round of applause I'll never forget.