The Loop
How to learn a thing or two from Moe Norman's unique swing
GolfDigest.com regularly highlights golf books we find of interest to readers. This week is:
The Single Plane Golf Swing: Play Better Golf the Moe Norman Way
By Todd Graves, with Tim O'Connor, Brown Books, $29.95, hardback, 196 pages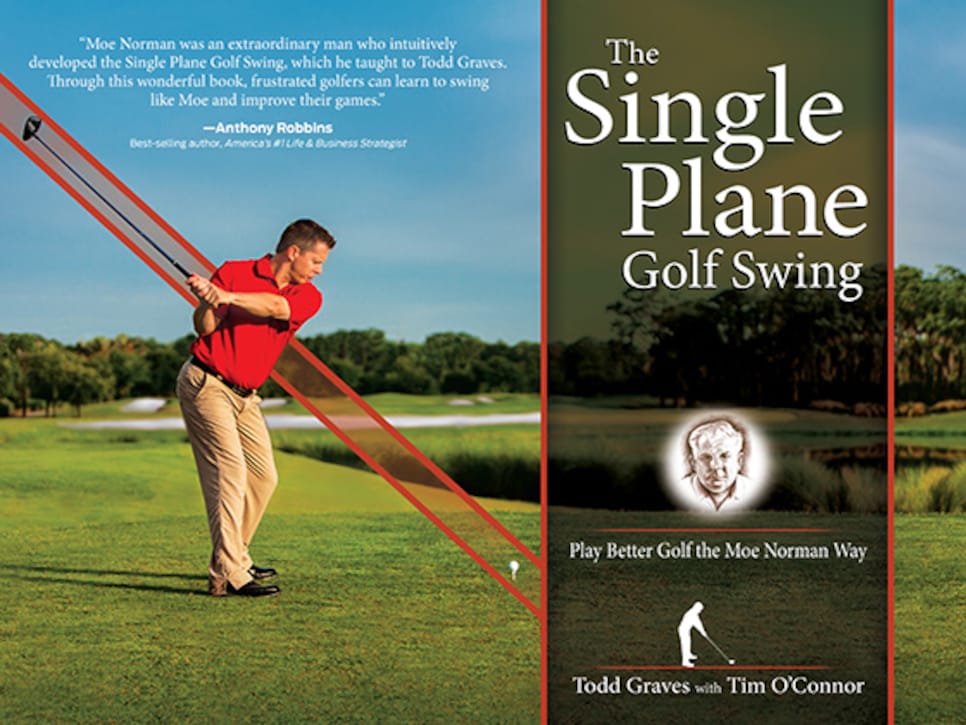 The limitless potential each golfer possesses, no matter the unique nature of his or her swing, was never more evident than in the distinctively individual style of Canadian legend Moe Norman. Before he died at age 75 in 2004, he had for decades been the greatest player the public didn't know. He won 55 times on the Canadian Tour, but his infrequent forays outside his native land made him virtually unknown. His record shows he played just two majors -- the 1956 and 1957 Masters, listed in its media guide by his given name Murray Norman -- and in those two he missed the cut. He made a minor attempt to play the PGA Tour in the late 1950s. He was shy and believed to be afflicted with a social disorder, displaying odd mannerisms on the course that, coupled with his unusual swing method, made him an eccentric curiosity, tended to be appreciated mostly by fellow players who often considered him one of the greatest strikers of the ball ever.
Among those who label Norman a genius are devoted authors Graves and O'Connor. This is their second joint effort on Norman, having flipped the author order from 1995's The Feeling of Greatness -- The Moe Norman Story. While that book was more biographical, this one is mainly instructional. Norman was a one-planer; his club swung on the same plane from start to finish. Graves and his brother, Tim, began the Graves Golf Academy in 2000, and there "Norman swing style" is taught exclusively, making Todd Graves one of the world's major experts on the one-plane swing.
For all the mystery around Norman, when his swing is broken down, there is brilliance and even beauty to the method. As Golf Digest first revealed in a revelatory Norman cover story in December 1995, the swing produces great accuracy in spite of the funny appearance. Norman stood with his legs spread wide and his arms and legs stiff, the clubhead soled about a foot behind the ball. He gripped the club in the palms of his hands rather than fingers, and he appeared to take half of a backswing and follow-through, somewhat like a punch shot. All in all, quite unconventional, and amusing to the gallery. But Norman's style allowed him to swing the same with every club in his bag and each shot was struck solidly and flew with deadly accuracy.
This is a great-looking book, part homage to Moe and the rest a well-illustrated explanation of his swing method under the "single-plane swing" moniker. Some swing experts would say that Norman was a quirk of nature, with as a unique swing as Jim Furyk has and you can't teach their method. In Norman's case you see great reason to swing the way he does as opposed to conventionally, and this book does a marvelous job of explaining both and helping you decide if you want to make the single-plane leap.
If you get hooked on the Moe Norman story, I'd also recommend you try Lorne Rubenstein's 2012 book Moe & Me: Encounters with Moe Norman, Golf's Mysterious Genius, and Natural Golf: A Lifetime of Better Golf, the latter written by Peter Fox and Golf Digest in 1998.
I particularly liked: The many biographical segments on Norman, along with the use of him from time to time in the instructional imagery demonstrating positions along with Graves. The color images are engaging and graphic elements pinpoint key instruction points quite well.