The Loop
An easy, step-by-step guide on organizing, hosting, managing and enjoying a golf outing
There are three types of circle-the-date holidays for golfers:
The final item might be the most cherished occasion, for not everyone gets the chance for a golf getaway, or is good enough to compete at their course's competitions. Outings are a one-day respite from work and responsibility, offer a group dynamic often foreign to the sport and bestow amenities and ancillary benefits that make celebrity gift baskets look like free floss from the dentist.
However, getting to that day is not a stroll in the park, as setting up a golf outing can be a production. This is especially the case for non-golfers, as many outings, particularly of the charity variety, are put together by folks not necessarily familiar with the sport.
Fear not. As one who logged six years of duty at golf courses growing up, I've had a hand in many an outing, from ventures as tedious as lining up carts to big-picture tasks like identifying sponsors and booking hotel accommodations for 160 players. Along with this work experience, I've co-hosted a tournament for the past three summers and volunteered at another outing the past four.
This intimate relationship with golf outings has conferred the secret recipe for a spectacular day at the course. And, perhaps just as importantly, I've seen what can sink the proverbial ship.
Here is my easy, step-by step guide to organize and execute the perfect golf outing.
Forewarning: The business of golf outings might seem overwhelming, specifically in the beginning phases. Many courses require a hefty deposit for reserving a legion of tee times, and as you are about to find out, there are a slew of other considerations that demand monetary service. Knowing what dollar amount you have to work with will turn this ostensible obstacle into a more manageable chore.
For charity events, the biggest revenue stream is through endorsements. Sign-ups and entrance fees also do their part, but if done properly, these receipts should be just a fraction of the event's earnings.
Hole patronage is the standard, with a company paying a certain amount to advertise on a tee box or near a green. It's also typical for entities to sponsor an entire tournament, with their business promoted near the clubhouse or stamped on any correspondence associated with the event. Donations of gifts or rewards from such benefactors is also common.
To secure this backing, try to target groups that have some connection or correlation with your cause. Make sure to invoke the community involvement of helping out with the invite, while also illustrating the promotional benefits of this effort. Also, allow a representative from said agency to play as a show of good faith.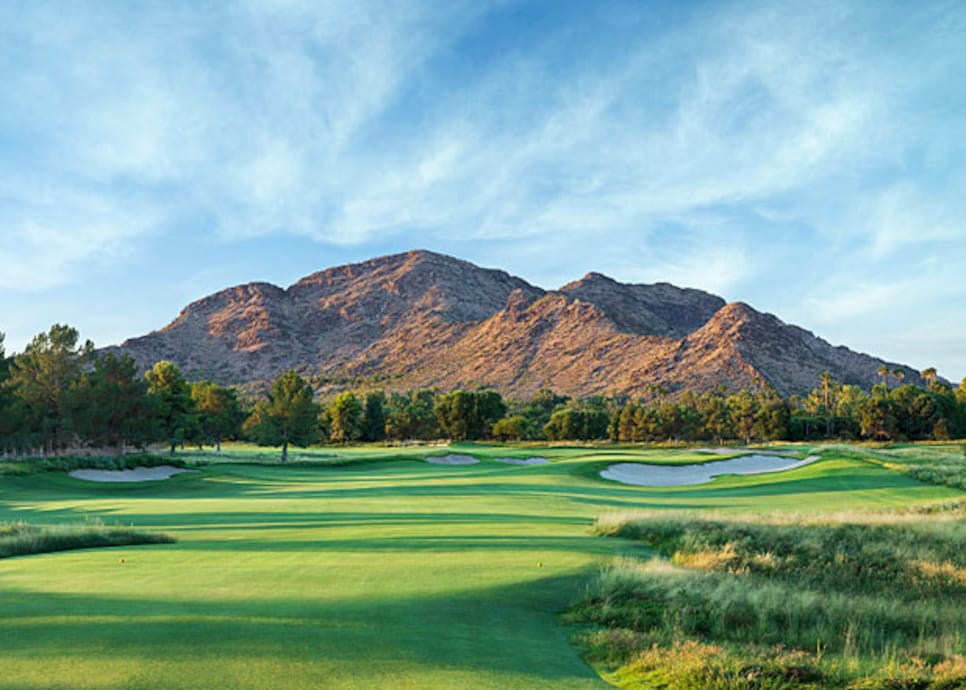 Photo: Camelback Golf Club
Pick the Right Golf Course
I've worked at three golf courses in my life, all varying in price, difficulty and remoteness. I've seen outings tank due to the course being the wrong match for that specific group because of one of the aforementioned three factors.
Course frustration is usually the main culprit of this trio, manifesting in players who have no right facing a layout so tough floundering, and thus, taking six or seven hours to traverse the property. That's not to say the other two should be ignored. As planner of the event, greens fees should be one of your chief concerns. Moreover, a centralized location might seem superficial, but most will not want to drive more than an hour to the course, and in the event someone is "overserved" at the event, you'd like to keep their cab ride at a reasonable cost.
Trying to find the course that fits all three of these requirements is easier than it sounds, yet it should be at the forefront during the preparation for the event. To help with this exercise, the next tip is imperative...
Know the Makeup and Skill Level of the Field
Would your group be categorized as casual or novice golfers? If so, a par-3 or executive course could be the right fit. While clubs with more reputable names are desired, they likely will be harder tests, and as mentioned above, that can ruin a round. Many of your entrants are participating for a cause or are there for the companionship; playing a prestigious course is low on the priority list.
If the majority of your field is comprised of a more skilled variety, feel free to play the course of your choosing.
Determine Who's Running the Show
It's been said "It takes a village to raise a child," so imagine what type of legwork is required to manage 50 kids for a day (because, let's face it, on the golf course, everyone acts, for better and worse, like a juvenile). No matter how much a Type-A social architect one consider themselves, coordinating a golf outing is not a solo endeavor.
At minimum, you should have two friends or co-workers assisting with the outing. For those not acquainted with the intricacies of golf, make sure to enlist three or four volunteers, with at least one owning knowledge of the sport.
This will come in handy at two phases: During the planning stages, as it helps divvy the tasks, thereby ensuring nothing falls through the cracks, and at check-in the day of the tournament. For the latter, most attendees will be arriving around the same time, and having two or three people direct traffic and completing the sign-up process will help things sail smoothly.
Give Thought to Tee Times and Scoring Formats
The first point is straightforward. I'm of the belief that, if your outing is more than six groups, use shotgun tee times. This means that, instead of going off one group at a time on the first hole, your party will start simultaneously on different parts of the course. The beauty of this setup ensures everyone finishes around the same juncture, compacting the event and facilitating time efficiency, rather than a stagnated closing, which could drag the tournament out longer than need be.
Regarding scoring, the most common outing format is scramble, which entails everyone in the group hitting from the same spot, proceeding to pick the best shot and going from there. Other popular variations involve a Shamble (a group picks the best drive, then hit their own balls for the rest of the hole), best ball (all members play their own ball, and the one or two lowest numbers count for the group's score) and Stableford (which rewards birdies and eagles without necessarily penalizing bad scores). In most instances, scramble is the preferred method, but if you have an elite group of golfers, consider implementing the other three to mix it up.
Make Sure There's Plenty Of Food and Drink
Historically, this has been provided by the course. Nevertheless, some courses allow for grill-outs or barbecues, especially if the money is going to charity. Additionally, outside catering is an oft-utilized option.
A universal mistake is bringing your own alcohol to a course. That's a big no-no, as it violates many city and state laws. Alcohol sales are the chief avenue for profit for courses, as green fees usually cover the cost of course maintenance, so this is one arena where you are at the course's whims.
Talk to a course representative about what you can and cannot do regarding concessions prior to the event.
Build In Some Comforts And Contests
Your attendees are investing their money and time to play in the event. Go out of your way to create an enjoyable environment, one that not only warrants said contribution, but spurs their involvement in future proceedings.
Here's a short list of easy offerings: Taking a group's picture before tee-off; having name plates on golf carts; mementos like a hat, marker or sleeve of balls; tickets for one or two free drinks; long-drive, closest to the pin, longest putt contests; team awards for first, second, third place; split-the-pot.
A more opulent echelon involves raffles or auctions for golf clubs, memorabilia or even trips; embroidered golf shirts as giveaways; the chance to buy mulligans for charity.
Optimally, most of these presents would be covered by donation or sponsorship. If this cannot be procured, factor in the cost of these provisions into the entrance fee.
Don't Let People Go Home Empty-Handed
Unless we're talking crystal or a pristine metal, trophies are somewhat vanilla. Personally, two routes to go on such medals: going above and beyond, with a trophy that looks like a genuine piece of art, or something so tacky that one can display in a facetious manner on a desk. In my experience, I've found success with the latter, not only from a cost perspective, but also in terms of participant appreciation.
Gift certificates to a restaurant, store or to the course' clubhouse are also a popular reward, and don't be afraid to get creative: The last event I was in, the winners received prime-time seats to a baseball game.
Many clubhouses offer a banquet or party room. If it's at a reasonable cost, it's an option to consider.
Conversely, a usually cheaper choice is renting out a nearby bar. The drinks are usually half the cost of the golf course's libations, and changing the climate often keeps your group engaged and spirited. If you consider this option, grabbing a location close to the course is crucial, as you don't want to lose attendees because of logistics.
But, as an outing planner, the most essential, substantial, foremost matter on your mind should be...
After all, this IS supposed to be a gratifying affair for all involved, and that includes your own experience. Constructing an outing may seem daunting, but follow these steps, and the day will be a relaxing, enjoyable, fulfilling adventure.