How To Deal With Hecklers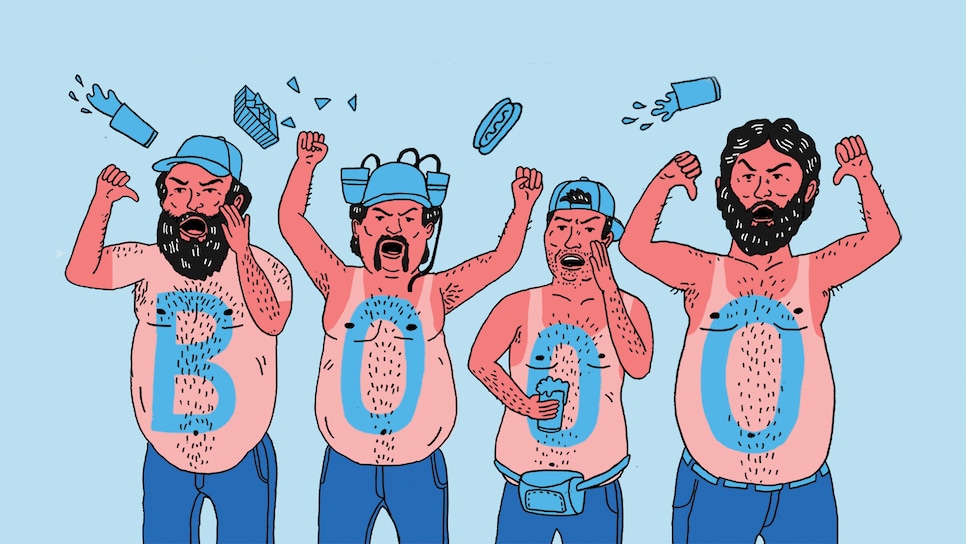 Illustration by Paul Windle
Hecklers—people who buy tickets to a show just to ruin it—are an occupational hazard of being a comedian. Pro golfers might be the only people who have it worse. As a comic known for dealing with hecklers, I thought I'd offer a few tips that will get golfers kicked off the tour if they think I'm serious.
During the trophy presentation at the 2012 U.S. Open, that dude making birdcalls interrupted Webb Simpson and Bob Costas. "That's impressive," Simpson should've said. "Do you know how much time spent home alone on weekends it takes to develop a skill like that?"
In the final round of the 2014 British Open, soon-to-be champion Rory McIlroy got a spectator ousted for coughing on purpose during his downswing. If you're going to toss someone, at least be a little self-deprecating. Maybe "Hey, I'm the only one allowed to choke around here."
When that idiot yelled "No love!" at Davis Love III in 2004, Love should've said, "That's not what your mom said last night." And to continue the classic "yo momma" retort, he could've added, "Yo momma so dirty, her nickname is the Waste Management Open."
Sergio Garcia got it particularly bad at the 2002 U.S. Open when he was struggling over the ball. As the crowd began counting his re-grips of his club and chanting "22 . . . 23 . . . 24," Garcia could've come back with, "Amazing. I didn't know the American education system taught you to count that high." Were I Garcia, I'd then politely remind the crowd that I was handsome, wealthy, talented and from a country where American women line up just to hear men say anything in an accent.
Kevin Na also plays extremely slowly—and when he gave in to hecklers trying to speed him up at the 2012 Players, it cost him the lead. Na should have had fun with it. "I'm sorry," Na could've said. "I can't hear you. You're saying you want me to go slower?" And then borrow a lawn chair from the gallery to have a rest. And when fans started singing the "Na na na na" lyrics from Steam, Na could've responded by singing "Slow Dancing in a Burning Room."
In 2013, some jerk yelled "Waffle House!" at Tiger Woods, an incorrect reference to where Tiger had dated a waitress. (The restaurant was Perkins.) Tiger couldn't make a joke about having sex with the heckler's mom, because it would've been too believable. However, he could've left the Waffle House goon scattered, smothered and covered with this line: "I'd love to hear more about where you work, but I'm in the middle of a golf game."