The Next One's Good
How To Be a Golfing Father, Part 2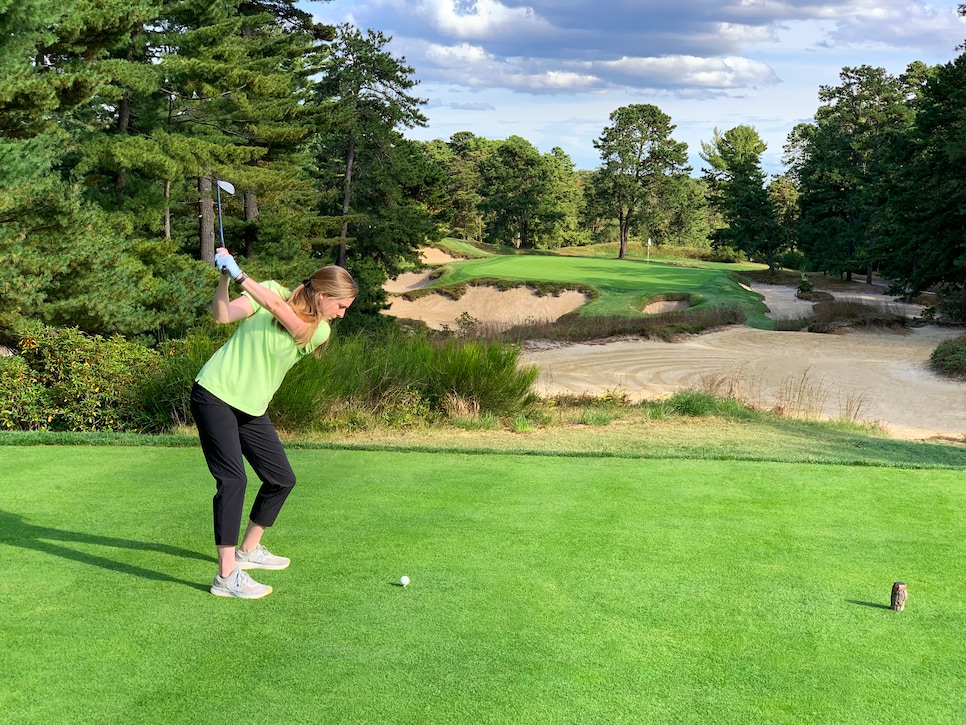 ALL GROWN UP Sam inherited her grandfather's game. Photograph courtesy of Jerry Tarde
Columns are like messages in a bottle tossed out to sea. I'm thinking of that churning ocean beside the seventh hole at Pebble Beach. Jimmy Demaret used to say the nearest drop was "Honolulu." Every once in a while, a bottle miraculously floats back home. I got one this month after 28 years.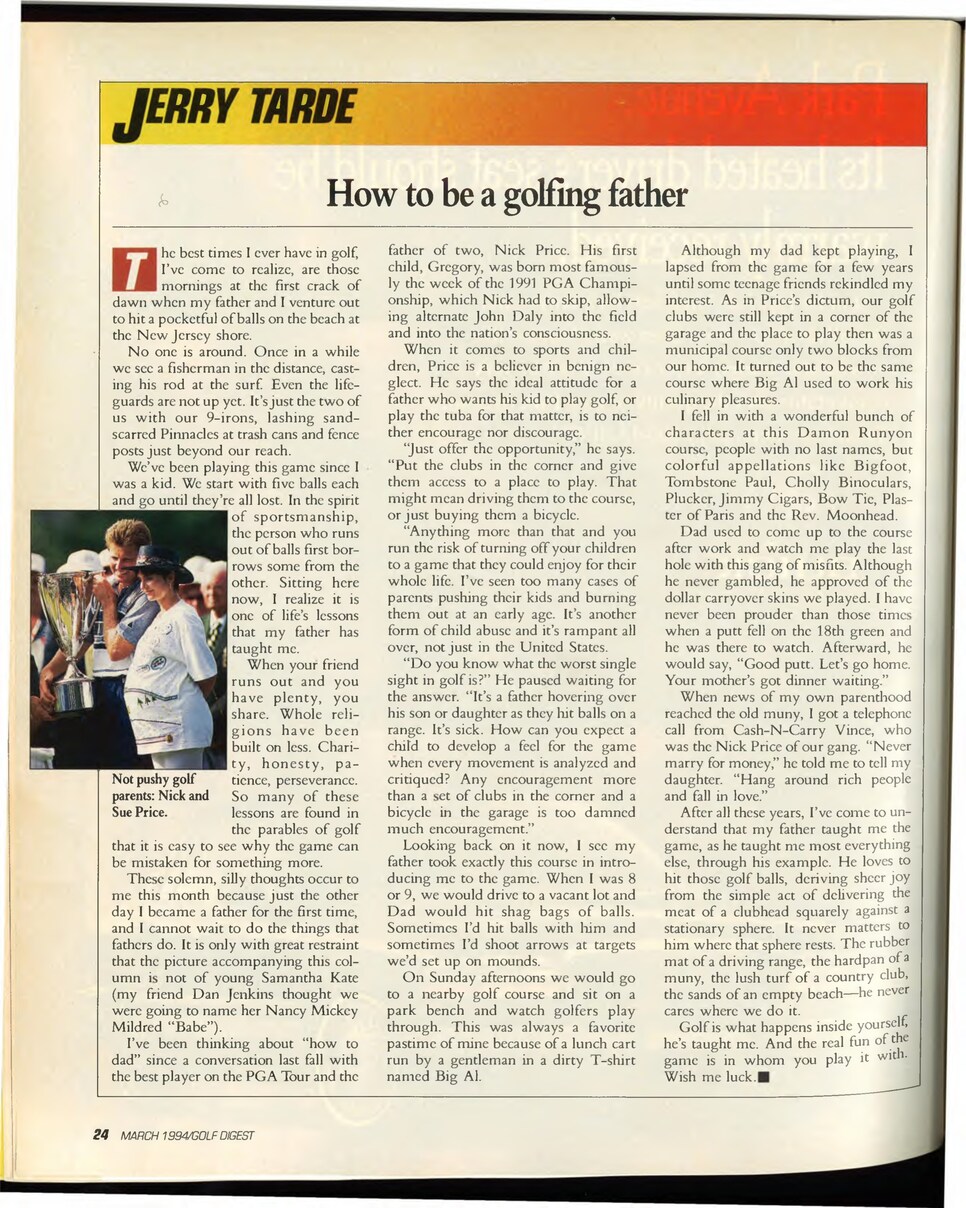 The original column was published in March 1994 right after the birth of my first daughter, Sam, reflecting on "How to Be a Golfing Father." The response came in an email from reader Jack Ringwood, who said he had torn out the column and "it has been sitting in the top drawer of my desk at work all that time, and I have re-read it and mentioned it in conversation many, many times over the years. Like you, I learned the game (and love for the game) from my father."
I had written about hitting balls with my dad early in the mornings on the beach at the New Jersey shore, lashing 9-irons at trash cans and fence posts beyond our reach. We'd start with a pocketful of balls each and went till they were lost, sharing as we ran out. "Whole religions have been built on less," I wrote then. "Charity, honesty, patience, perseverance: So many of these lessons are found in the parables of golf that it is easy to see why the game can be mistaken for something more."
Gone 20 years now, Dad was a quiet gentleman who taught by example more than declamation. He got only to 12th grade but never let schooling stand in the way of education. When the car broke down, he went to the public library, got out a book and fixed it himself. He papered walls, laid roofs, rewired televisions and installed plumbing for neighbors. He was a get-there-early, stay-late and outwork-everybody-in-between kind of Greatest Generation guy. When he had come home from his electrician's job on the railroad, covered in grease and dirt, with a story of how he had fallen off the back of a train platform, Mom would smile, and the two of them would start laughing together. How do you teach laughing at yourself? You hear some fellows say they're worried they're turning into their father; I'm worried I'm not.
Back then I quoted Nick Price in the column because his first child Gregory's birth caused him to miss the PGA Championship, allowing an unknown John Daly into the field as an alternate and ultimately the winner. "Just offer the opportunity," said Nick, who advised benign neglect when it came to parenting golf. "Put the clubs in the corner and give them access to a place to play. That means driving them to the course, or just buying them a bicycle. Anything more than that and you run the risk of turning off your children to a game they could enjoy for their whole life." (That's the way Dad fathered, too.)
All these years later, Nick and Gregory are regulars at the PNC Father/Son Challenge. "It's the most fun I have in golf," Nick says now. "My son didn't take up golf really until he was 21, but he loves it. I only wish I'd made the game more fun for him and my daughters as kids. Tee it up in the fairway. Put a bucket on the green, and play to it rather than the hole. Don't worry about the rules. Just have fun, and the other stuff can come later—that's the message we should pass along."
The line that Jack Ringwood (three sons) remembered from 28 years ago that still makes him laugh was the advice of an old muny pal I quoted: "Never marry for money," he said to tell your kids. "Hang around rich people and fall in love."
What golf taught me, and I've tried to pass on to my two golfing daughters— Lauren came 13 months after Sam—is that true wealth isn't about money; it's about family and friendship and the fun of spending time with people you love. It's no accident Father's Day always falls on U.S. Open Sunday.