The Loop
How Tiger Woods is moving forward by taking a look back
WINDERMERE, Fla. -- Tiger Woods is starting over. Again.
Only this time, he is going back to the beginning.
Having had four months off to rehabilitate his body and ruminate about his golf swing, Woods returns to competitive golf this week at his own event, the Hero World Challenge, feeling like a kid again. Well, at least he hopes to have some of those feelings.
When he tees off at 12:15 p.m. EDT Thursday with Jason Day at Isleworth Golf & Country Club, Woods will employ a golf swing reminiscent, he said, of his amateur days. It could be one of the most drastic changes he has made yet in a career filled with adjustments and overhauls.
"It is new, but it's old . . . because I haven't done it in a very long time," Woods said of the swing he is building -- or rebuilding -- with the help of Texas-based swing instructor Chris Como. "We looked at a lot of video from when I was in junior and amateur golf. And it was quite interesting to see where my swing was then and how much force I could generate with a very skinny frame. How did I do that? That's kind of what we are getting back to."
Looking 10-15 pounds lighter but still just as muscular in the arms and shoulders, Woods said he had no interest in reprising the golf game from his youth until he suffered a lower back injury earlier this year that scuttled most of his 2014 season. Woods made just seven starts that included two missed cuts and two withdrawals. He failed to post a top-10 finish for the first time in his career.
He underwent microdiscectomy surgery March 31, but returned too quickly in an attempt to compete in the year's final two major championships. After missing the cut at the PGA Championship at Valhalla Golf Club, only the fourth time he had failed to reach the weekend in a major, he shut down his game and removed himself from consideration for the U.S. Ryder Cup team.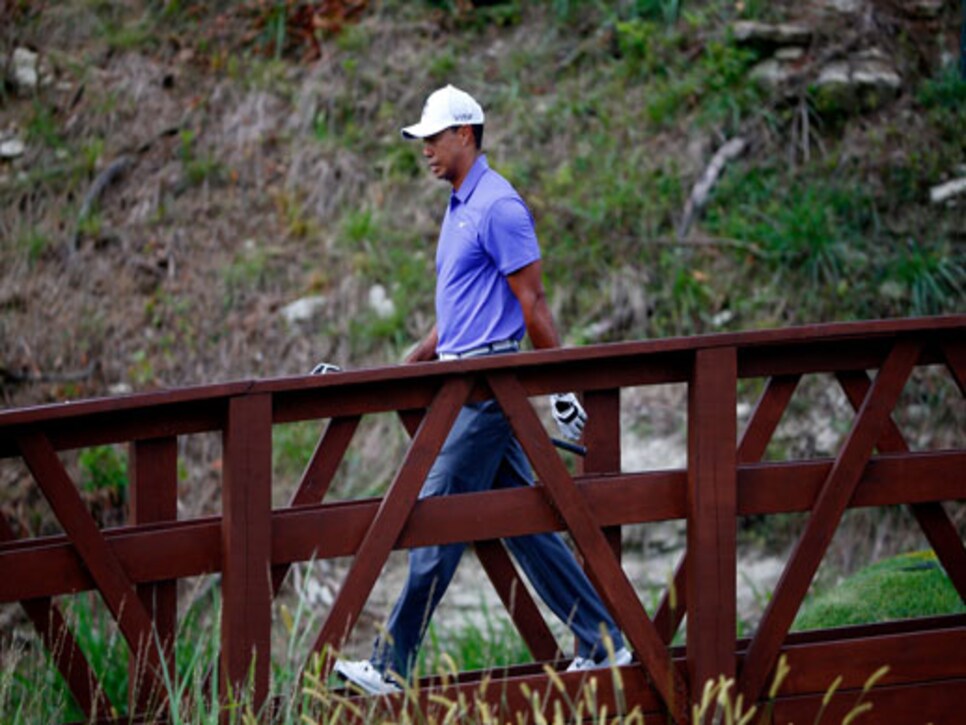 After the PGA, he decided to part ways with instructor Sean Foley after four years and eight PGA Tour victories -- but no additions to his 14 major titles. Como, hired as a consultant at the recommendation of former Stanford teammate Notah Begay, is the fourth teacher to work with Woods since he turned professional in 1996. Hank Haney and Butch Harmon preceded Foley.
Other than rehabbing, playing soccer with his two children and attending their games, Woods has had a lot of time on his hands. Thus, his foray into his archives. The biggest challenge was finding a VHS recorder to view older materials. "Fortunately, my mom is of age where she has that still in the house," he said, drawing laughs.
Not surprisingly, rebuilding a swing from his youth has given him a renewed outlook on his game. "I know my body feels excited about it, because it's an old motor pattern that I know. I'm able to generate speed, and I have the range of motion and it's interesting to see how . . . I don't feel like I'm hitting it very hard, but it's coming off the face faster. That part was exciting, to start feeling that again."
In addition to a new swing, Woods will be playing with a new Nike ball and new Nike woods and irons. He also comes equipped with a new four-year endorsement deal with Hero Motocorp, the largest motorcycle manufacturer in India. Hero also is title sponsor for the next four years of Woods' event, which moves to Albany, Bahamas, in 2015.
Woods couldn't say whether he was "game ready," but at least the venue is familiar; Isleworth was his home course until he moved to Jupiter, Fla., two years ago, and he holds the course record, 59, which he shot the week prior to winning the 1997 Masters.
Of course, not far from the club is the site where a little more than five years ago Woods crashed his SUV into a fire hydrant and a tree in the early morning hours after Thanksgiving, an event that led to damaging revelations about his personal life.
He has faced a series of adversities since then, ranging from divorce to loss of endorsements to injuries. But nothing has affected his game, he said, like simply getting older. "Father Time is undefeated," he noted.
True. But Woods, who will be 39 later this month, might be able to hold off that persistent and uncompromising Old Man if he can somehow remain healthy. After all, Jack Nicklaus rebuilt his swing at that same age. Nicklaus had won 15 of his record 18 major titles at the time.