The Loop
How this year's Super Bowl prop bets feature Tiger Woods and Jordan Spieth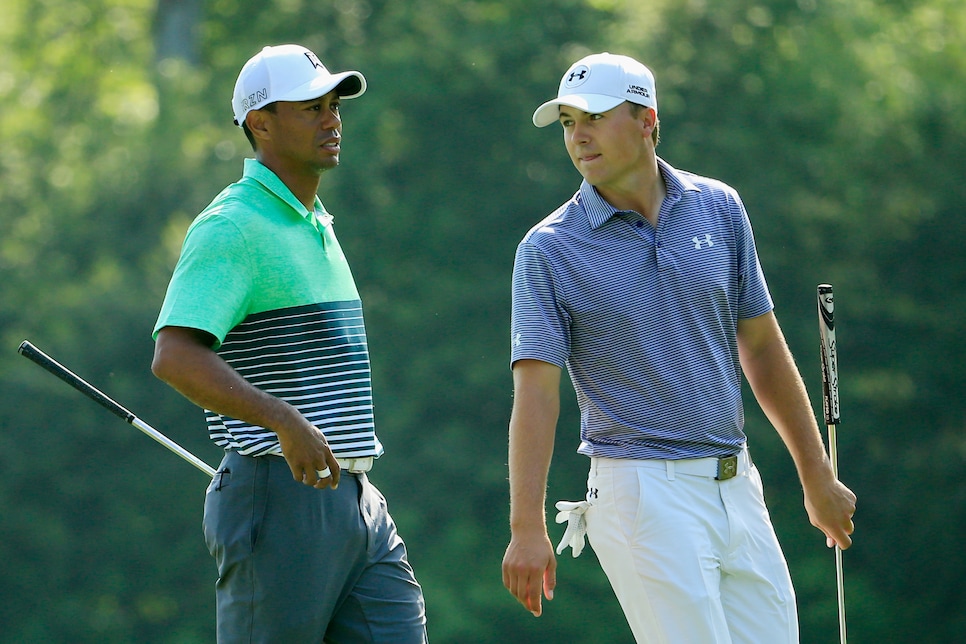 If you plan on wagering a few bucks on Super Bowl 50 (not that we condone such a thing), you're probably aware that the Carolina Panthers are now a solid six-point favorite over the Denver Broncos. But the beauty of the Super Bowl is you don't have to just bet on what the final score of the game will be. There's so much more to choose from with all the prop bets (Again, not that we condone such a thing).
This year, two prop bets being offered by Bovada stand out because they involve Jordan Spieth and Tiger Woods. You can bet on which total will be higher: The amount of receiving yards by Broncos wide receiver Demaryius Thomas or Spieth's first-round score at this year's Masters. For perspective, Thomas has averaged 75.22 yards receiving per game in the Broncos' 18 games this season.
The Woods bet is similar, involving Woods' opening score at the Masters vs. the receiving yards of another Broncos wide receiver, Emmanuel Sanders. For this bet to count, Woods would have to play in the Masters, something that seems in doubt at this point with the 14-time major champ currently recovering from two off-season back surgeries. Sanders has averaged 71.22 yards, but has been the Broncos' go-to receiver over Thomas in Denver's two playoff victories. Why do the Spieth/Woods bets involve different Denver wide receivers? Probably because Vegas is expecting each to have around 70 yards in the big game.
Of course, if you don't want to wait until April to find out if you've won your Super Bowl prop bet, there are plenty of other fun interesting bets. You can bet on if Peyton Manning will cry during the broadcast (+600 odds), if there will be an earthquake during the game (+1000), and what color Beyonce's footwear will be when she comes on stage for the halftime show (Black is a huge favorite at +150). Good luck. . .