The Loop
How They Hit That: Ryder Cuppers from the Fairway Bunker
*Editor's Note: Every Monday Kevin Hinton, Director of Instruction at Piping Rock Club in Locust Valley, N.Y. and one of Golf Digest's Best Young Teachers, tells you how a tour player hits a key shot. This week, Kevin describes how three players in Sunday's compelling Ryder Cup matches hit key shots from the fairway bunker on the 18th hole. Jim Furyk, Francesco Molinari and--most importantly--Martin Kaymer all made solid strikes under tremendous pressure. Here are two tips to improve your fairway bunker play.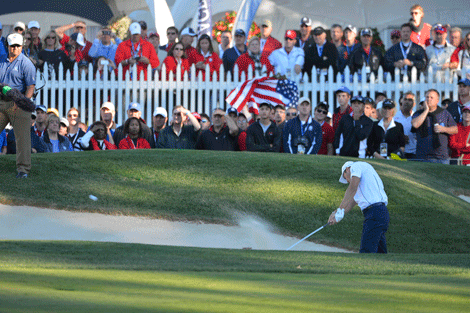 Martin Kaymer's lower body stays quiet as he propels the ball out of the 18th-hole fairway bunker onto the green. Photo by J.D. Cuban/Golf Digest
1. Protect against the left
It's extremely easy to over-hook fairway bunker shots. One reason is that it's difficult to keep your hips rotating through impact when you're standing in sand. Also, it's generally a good idea to purposely keep your lower body "quiet" to help ensure solid contact. However, the downside to a more passive lower body through impact is that your arms and hands can take over, causing the clubface to close and the ball to curve left. Knowing this, you might benefit by setting the face slightly open at address, or feeling as if you're hitting a small fade. If the lie is uphill or above your feet--it was both for Molinari--this will also encourage the ball to go left. Managing these variables, as well as the pressure, made the shots of Martin Kaymer, Molinari and Furyk on No. 18 very impressive.
In the downswing, it's important  to create a "shallow" angle of attack into the ball. Your chances of creating solid contact are greatly reduced if you hit down too sharply into the sand. It's much better to err on the side of picking the ball out of the bunker. A slightly thin shot will work fine unless you have a steep lip to hit over. If you imagine the letters "V" and "U," try to make the bottom of your swing look more like a "U." That will encourage a shallow approach into the ball. Notice how tour players don't take that much sand from fairway bunkers. It also can be helpful to analyze your divot after your shot. Ideally, the sand at the bottom of your divot will have similar coloring to that of the rest of the sand in the bunker. If the bottom of your divot is considerably darker, that means you have created too deep a divot and your club is approaching the bottom of the bunker.