The Loop
How the U.S. Women's Open came to Long Island
The U.S. Women's Open at Sebonack GC in Southampton, N.Y., this week marks the first USGA championship at the young course, a rare fact given the USGA's propensity for hosting Opens on classic, battle-tested designs.
"The day Sebonack opened, it looked and played as if it had been there for decades," said Jack Nicklaus.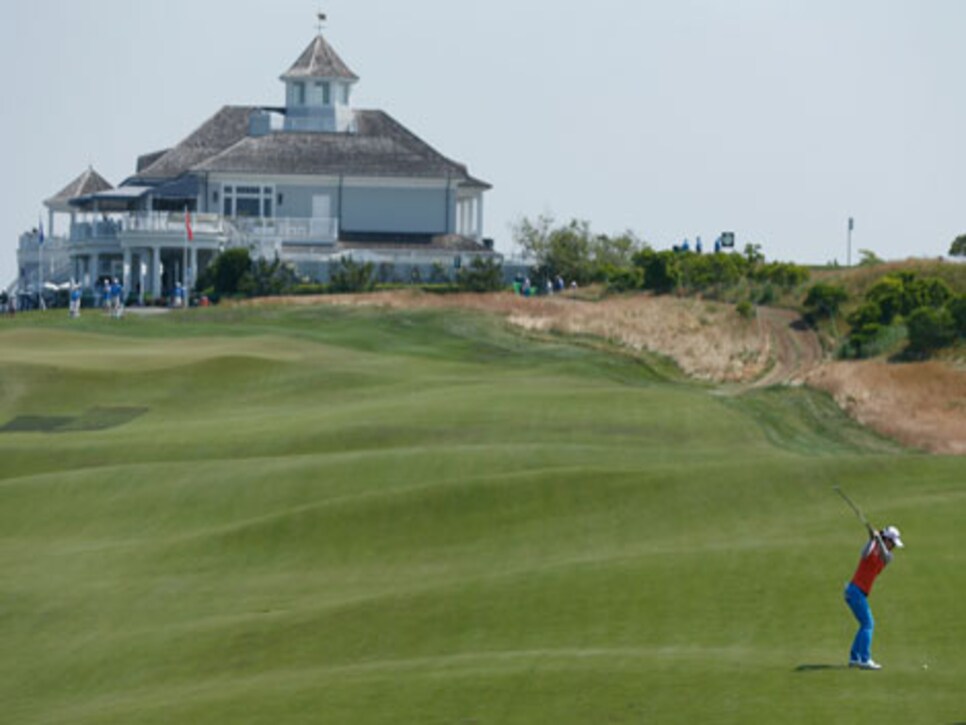 Just how did Sebonack GC, which opened for play in 2006, come to exist? That's a story worth telling.
Long Island native Michael Pascucci, the owner and developer of Sebonack GC, grew up in nearby Manhasset and played high school football alongside future NFL Hall of Famer Jim Brown. A graduate of Bucknell University, Pascucci received his business degree from NYU then pioneered the idea of long-term car leasing, formed the auto-leasing giant Oxford Resources, took the overwhelmingly successful company public and sold it to Barnett Bank in 1997 for roughly $650 million. Upon realizing that more than three million people lived on Long Island without a local television network, Pascucci created WLNY-TV, which he owns to this day.
Like his prior business ventures, the purchase of 300 acres of land on Long Island's East End -- right between Shinnecock Hills GC and National Golf Links of America, currently Nos. 4 and 10 on Golf Digest's ranking of America's Top 100 Golf Courses list -- came with some risk. Donald Trump had originally bought the land from the International Brotherhood of Electrical Workers, but reneged on the deal before its completion, allowing Pascucci to step in and pay $46 million (the same price Trump negotiated) for the deed. Wanting to cooperate with and please the locals, Pascucci donated 54 acres of the land (including a beach) to the town of Southampton. The land that would become Sebonack GC was once the summer estate of Charles H. Sabin, one of the founding members of National Golf Links and a close friend of the course's designer, C.B. MacDonald.
A worshipper of St. Andrews, Pascucci wanted to create an environmentally sensitive 18-hole routing with zero chemical runoff. He hired Jack Nicklaus to design the course, but didn't want to drastically alter the landscape, and thus was displeased with Nicklaus' original plan for the layout. After a visit to the Tom Doak-designed Pacific Dunes Golf Links on the coast of Oregon, Pascucci fell in love with the work of Doak, who, like Nicklaus, learned under the tutelage of Pete Dye.
As is common of course architects, Nicklaus and Doak were initially reluctant to work together, Doak having publicly criticized Nicklaus in the past for putting sightlines and perfect turf ahead of natural features. However, the pair eventually cooperated effectively, as Golf Digest Senior Architecture Editor Ron Whitten noted in a December 2005 article: "Skeptics predicted the twosome would never achieve harmony. But during more than a year of construction visits, there was never a thundering clash of wills. . . . Nicklaus and Doak found they had fewer disagreements with each other than they did with the owner."
Having invested at least $115 million in the formation of the club, Pascucci's demands with respect to course design were not easily ignored. One of those desires was for the course to end on a par 5, which Doak and Nicklaus eventually agreed to after Pascucci spoke of Nicklaus' other courses (The Bear's Club, Valhalla, and Desert Highlands) that ended in such a way. The 570-yard par-5 18th has become one of Sebonack's signature holes, and will surely provide excitement to this week's event, as will the other 17.
"We know there's going to be wind," said USGA Executive Director Mike Davis, "that the course is going to be fast because it's built on sand, and that there's a lot of undulations to the greens. Sometimes you have a wait-and-see attitude. But [Doak and Nicklaus] did such a good job of designing it, we know it will be a marvelous test."