News
How the Travelers landed an impressive field, the man behind Brooks and DJ, and the call for shorter par 4s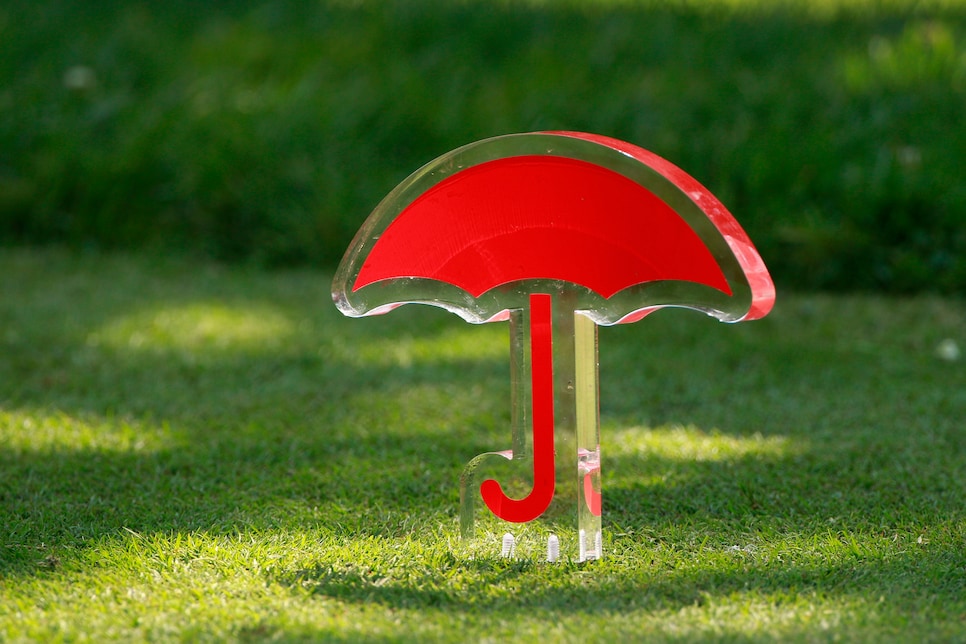 CROMWELL, Conn. -- How did the Travelers Championship, the week after a major (and back in its usual spot after an August date last year because of the Olympics) land such an impressive field that includes Rory McIlroy, Jordan Spieth and Jason Day?
There were a few factors in play: One, the PGA Tour's rule requiring players to go to a new tournament once every four years; two, the tournament made it easy for the players, flying them via charter Sunday night from the U.S. Open in Wisconsin; three, relationships with tournament director Nathan Grube and Travelers executive vice president and chief administrative officer Andy Bessette, both of whom hit the road a handful of times a year to get in players' ears.
The conversation with McIlroy began two years ago when McIlroy told Bessette during the Players Championship he would try to make it work for this year. In February, he committed.
"We sold $10,000 worth of tickets the day he announced," Bessette said.
Word of mouth also helped. Spieth heard from other players how well they were treated at the event, so he decided to add the tournament to his schedule, too. Like McIlroy, he had never played at TPC River Highlands.
Day, meanwhile, was scheduled to play Travelers in 2015 but withdrew following a bout of vertigo the week before. Bessette told him he understood, to get healthy and come back another year. Day's father-in-law is also an insurance agent, and Day had been here twice before, so it was an easy sell.
"It's all about the relationships," Bessette said. "We're not fly by night. All of our relationships with all of our players are important."
"It's nice," McIlroy said. "The U.S. Open is such a grind. Maybe not as much this year as in previous years. But if you want to play a round of golf, there is no better place to come than here where you can make birdies."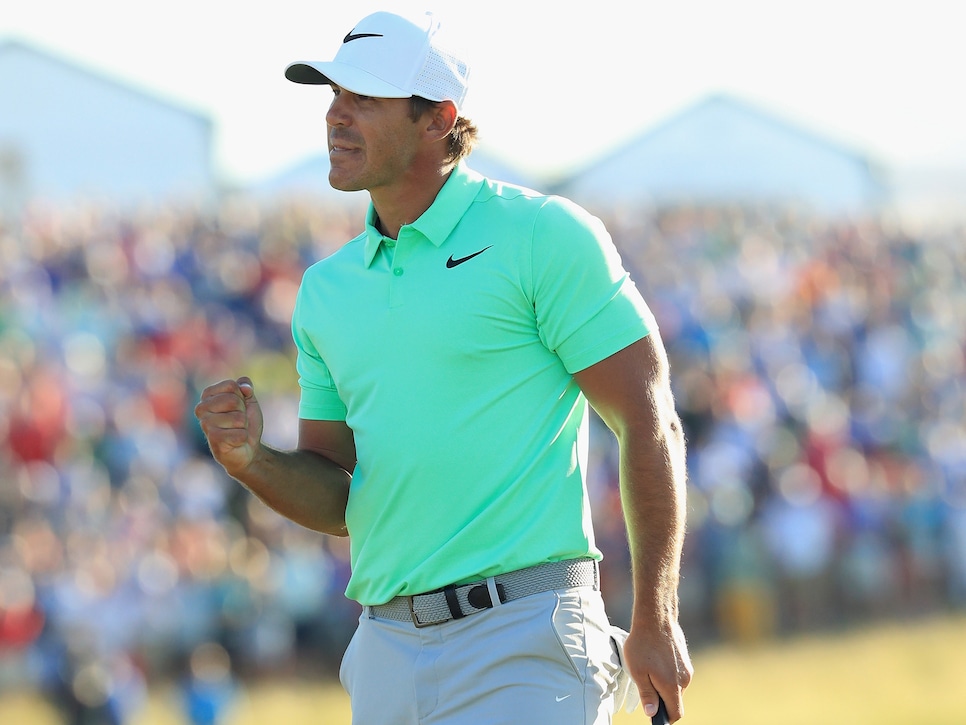 The man behind DJ and Brooks
There's a lot of Dustin Johnson in Brooks Koepka. They both hit it miles, don't overthink when it comes to their approach and are workout junkies, often hitting the gym together.
The man in between is Joey Diovisalvi, who trains them both.
"He's the new special forces conqueror," Diovisalvi said with a bit of hyperbole earlier this week. "He owns his training like he owns a course."
Here's a peek into their relationship and what was a typical gym session between the two recently.
Koepka walked into the gym and yelled, "Yo bro, throw some weight on that bench press." Johnson fired back with a degree of smugness, saying, "You need a spot?"
During a leg workout, Johnson told Koepka to take off his training pants and Koepka responded by pushing himself so hard spit started flying out of his mouth.
"He's a heckler," Diovisalvi says of Koepka. "He loves to wind DJ up. And DJ is an assassin and knows Brooks doesn't have that gear when it comes to legs.
"To say that DJ called him the night before the final round of the U.S. Open speaks volumes about their relationship."
It's one bro to another, all the time between the two.
Last week at Erin Hills featured a drivable par 4 -- I saw eventual winner Brooks Koepka hit it to 15 feet during his practice round with Dustin Johnson on Tuesday.
This week's venue, TPC River Highlands, has one as well with the reachable 15th. It's one of the more fun holes in golf with water left, sand and rough right and at a critical point on the course.
It's also something players wouldn't mind seeing more of.
"One of the pin locations will probably make it the easiest hole on the course that day, but there are a couple of them where it will be in the middle of the pack as a drivable hole and scored a par, and that's pretty cool," Spieth said. "I think guys would love to see [more of those]. And you can do it on courses that are difficult, and you can do it on ones that are more gettable."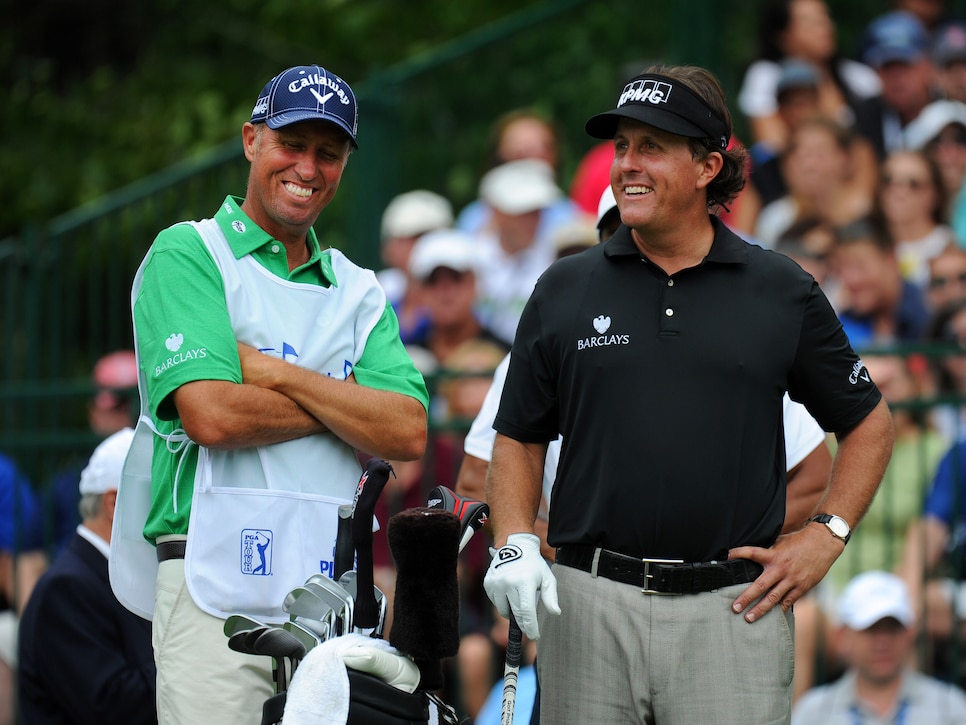 Immediately following the news of the Phil Mickelson-Jim "Bones" Mackay split, there was speculation over whose bag the caddie would land on. Many mentioned Jon Rahm, which Rahm quickly dismissed. Never mind that Rahm's agent is Phil's brother Tim. That would be awkward to say the least. Mackay has been mum about what's next, but if I was guessing, and it's just that, a guess, I could see him on the bag of a good 20-something with star potential. He'd also be great on television. Whatever happens, the split was surprising to many players. One player he won't be going to is Spieth. "I never thought Bones would be back on the market," Spieth joked. "I tease Michael about that." …
In scheduling news, McIlroy is already so impressed with the Travelers Championship that he said on Wednesday he might be back again next year. Another stop he'd like to add: the winners-only event at Kapalua. He just has to win this season first. …
Speaking of McIlroy, his workout routine has ben oft criticized. This year, though, he hasn't lifted a weight more than 15 pounds because of the rib injury he's been dealing with. "I'm nowhere near as strong as I used to be," he said. "But I don't need to be. I feel like physically if I'm stable and I'm strong in the right areas. As for the injury, it has limited him some in practice but he said he's feeling better every week. "I think I'm managing it the right way now and concentrating on playing, concentrating on my short game, not hitting as many balls," he said. "I'll hit balls maybe 30, 40 minutes max, and that's really it."
Most years, the Travelers Championship has wider fairways than the U.S. Open. Not so much this year. The winning score at TPC River Highlands could actually be higher than at Erin Hills. That said, it usually takes a lot of birdies to win here and given the conditions and forecast that should be the case again this year. With that in mind, I like Justin Thomas' chances. He shot 63 last week, 62 on his way to a tie for third last year and leads the tour in birdie or better percentage.