News
How the Tournament of Champions keeps frostbite golfers warm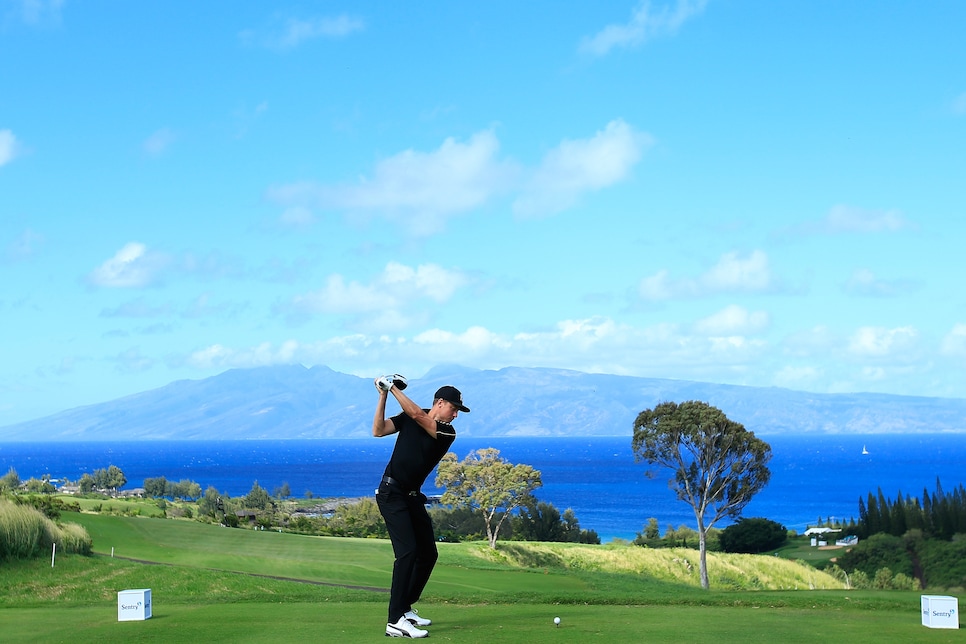 Outside my front window here in New England there's an infinity of white. It's something called a "bomb cyclone," which sounds like a wrestler's finishing move or R-rated Urban Dictionary phrase. On the radio, weathermen are trying their damnedest to convey its severity, and with such a name, I'm sure it's unusually noteworthy. Despite their pleas, though, my attention is elsewhere.
Through another window, the digital one mounted on my wall, a Hawaiian paradise explodes into my living room. The Pacific appears, framed by a series of waves gently abating upon landfall. There's grass that's far from pristine, but no matter: it's green, which is a decidedly more uplighting color than the sea of snow surrounding my apartment. Of greater importance is the activity on the grass, a golf tournament. The game I saw just weeks back but, at least in the moment, feels like a lifetime ago.
A glance down at another window, my computer, reminds me what's transpiring outside. Twitter is populated with scary graphics and radar shots. Facebook is inundated with photos of audacious souls who bundled up to brave the elements. If you were seeking harbor from the weather, it is not here.
A safe heaven is back on the TV, where, judging by the shirt sleeves of the golfers and the gallery that watches, the temperature is balmy incarnate. One of the competitors is even wearing a Hawaiian shirt, which seems like a weird ensemble for an athlete but, truth be told, looks cool.
And fitting. Yes, though their work is play, it is work, and a title in Maui—a win amongst winners—carries some weight. Conversely, for an official tour event, it's a relaxed affair. The accommodations are grand, a paycheck guaranteed. They're giving it their all—an opinion testified by the day's scores and highlights—yet the players are noticeably looser than usual, their strides more casual, their shoulders insouciant. A vibe symbiotic with the island scenery.
On the opposite end of the exertion spectrum resides my neighbor, who earlier ventured out to dig his car from the parking lot. After a few minutes, he relinquished his shovel in dazed resignation, realizing whatever progress made had been undone by the unrelenting gusts. Before I can get up to help, he brokenly trotted back inside.
Speaking of wind, it's blowing so hard against the walls that it sounds like a locomotive is passing by. There is a breeze on TV as well, although the flagsticks seem to be dancing in step with the currents, rather than holding on for dear life.
My phone rings. A friend a few miles north tells me that today's cold might not be an aberration, and that, while meteorologists originally pictured a moderate winter, they now forecast one of the coldest this decade. The Golf Channel broadcast is also talking about forecasts, how—thanks to a bounty of vigor, youth and depth—the coming season could be one of the brightest ever.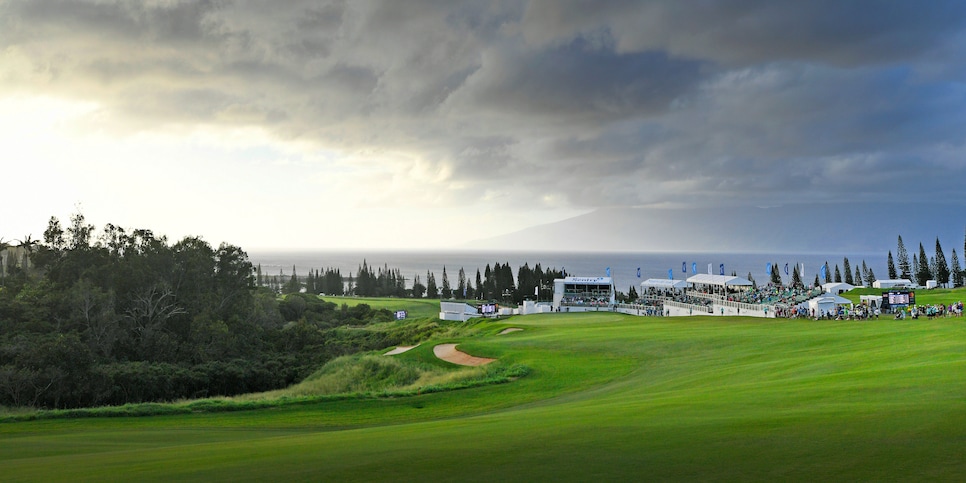 Writers are contractually obligated to wax poetic on the Masters. Ditto to St. Andrews, or the bloodlust of a USGA set-up. Miles down on the totem pole resides the Tournament of Champions.
Some, both media and fans, dismiss its small field as a glorified exhibition. Kapalua's easy conditions—the winning score usually hovers around 23 under—does it no favors, nor does its first week of January date. (Hell, there's a large sect of followers that don't pay any attention to the game until after the Super Bowl.) In the grand scheme of the sport's narrative, the TOC is just a blip on the radar.
Yet, winter wonderland or not, for viewers at home the tournament is a yearly "Welcome back" party, golf's de facto Opening Day. Yes, the new campaign technically began in October, stopping for a four-week holiday. There's also a counter that, with stars like Jordan Spieth, Rickie Fowler and Dustin Johnson logging a combined two official appearances, how much of a real season is the fall schedule? To hell with formality, Maui is the tour's true start.
It's also a necessary reset. At times we get caught up in a year's storylines—Can Thomas run it back? Will Rory return to his normal, dominant self? Does Tiger have anything left in the tank?—and miss the simple joys of the game, like the grace of a Spieth iron shot or the jaw-dropping force of a Dustin Johnson or Jon Rahm drive. Because there's no gravitas associated with this time of the calendar, the golf does all the talking. Reminders on full display in Hawaii.
And we'd be remiss in stating its power to those souls stranded in the depths of winter. When temperatures dive below zero, there's a stark reality attached: golf is far from imminent. So to Northerners, seeing the Hawaiian events and ensuing West Coast swing is sustainment in our time of need, that, even if it's only in our minds, a trip to the links is just on the horizon.
I messaged a veteran writer his thoughts on the TOC, its standing and what merit it holds in the game's tapestry.
"On multiple levels, underrated," he replied. "Don't take this as a slight: It's a nice distraction."
With half of America draped in a white blanket, a welcomed one at that.