Don't look now, but the Solheim Cup has become the Ryder Cup. This women's version of the team matches between the United States and Europe once teetered on the brink of irrelevancy for the same reason the men's competition fell into obscurity: The Yanks simply won too much. There was no drama.
As Davis Love III, the captain of the 2012 and 2016 U.S. Ryder Cup teams, once said: "It used to be that we'd show up, have a couple of cocktail parties, kick their butt and go home."
But that all changed in 1987, when Europe backed up a home win two years earlier with its first triumph on American soil, at Muirfield Village in Ohio. Since 1985, Europe has gone 10-4-1, and the Ryder Cup has become the most intense competition in golf.
"When we lost," Love says, "it was like when the U.S. lost the America's Cup [in sailing]. People asked, 'What is it, and why did we lose it?' It made it a big deal."
Pivot to the women, and you'll see some similarities. The European Solheim Cup team rides into St. Leon-Rot Golf Club in Baden-Wurttemberg, Germany, this week on a wave of emotion, confidence and—as the European men always manage to have—with healthy chips on their shoulders.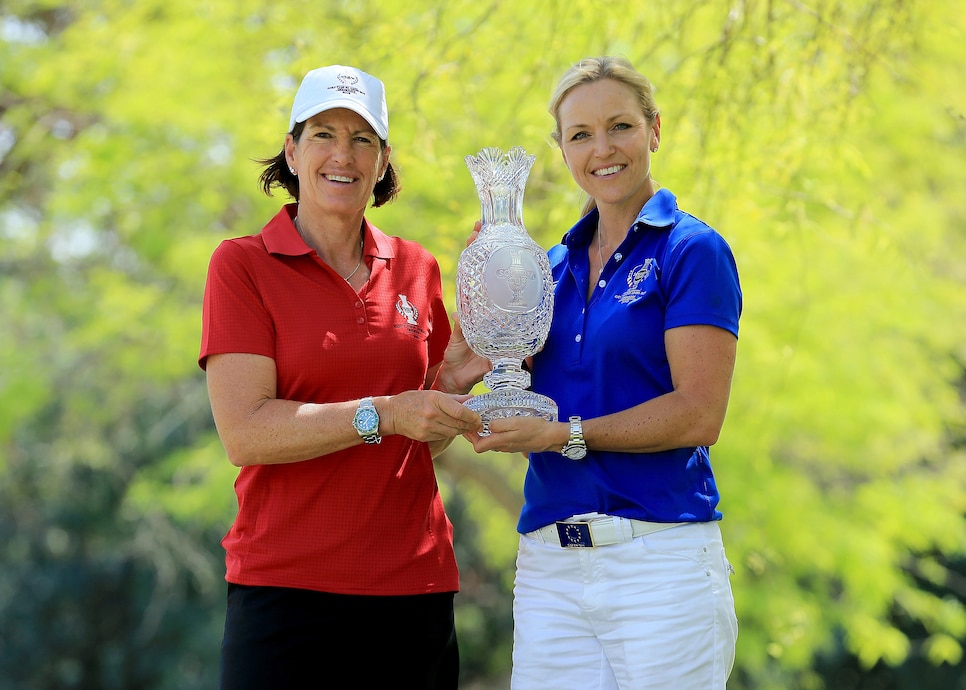 It could well be that the European women had their Muirfield moment at Colorado Golf Club in 2013, when they routed the American squad, 18-10, for their first victory in the United States since the competition started in 1990. It followed Europe's win in 2011 at Killeen Castle in Ireland, an outcome that might literally have saved the Solheim Cup.
Going into Killeen Castle, the American women had won three in a row and held a commanding 8-3 record in the overall standings. There was talk of changing the format to add the rest of the world to create a more competitive International rival for the Americans.
But in a stunning final hour, Europe won 4½ of the final five points for a 15-13 victory. The ending was so intense it was clear the Solheim Cup needed to remain what it was: the United States versus Europe. So the LPGA went another direction and created the International Crown, a biennial, eight-nation team event that in 2014 included Australia, Japan, South Korea, Taiwan and Thailand along with the United States, Sweden and eventual winner Spain.
Because of that astonishing Killeen comeback, women's golf ended up with two compelling team events.
The first talk of doom-and-gloom for the Solheim Cup came after the first contest in 1990, when an American squad loaded with five eventual Hall of Fame members—Pat Bradley, Beth Daniel, Betsy King, Nancy Lopez and Patty Sheehan—rolled over Europe, 11½-4½, at Orlando's Lake Nona. A good idea appeared to be dead on arrival.
But Europe nixed that notion in 1992 with a stunning 11½-6½ victory at Dalmahoy C.C. in Edinburgh, Scotland. That only served as a wake-up call for the Americans. "When I got to The Greenbrier [for the 1994 Solheim Cup] and ran across Dottie Pepper early in the week, the look in her eye let me know we were in trouble," says Mickey Walker, who was captain of the first four European Solheim Cup teams. "There was a fire in her eyes that screamed, 'We will not lose!' "
That started a run of three straight American routs, although along the way, the competitive pot began to boil.
During an American win at Muirfield Village in 1998, the European team grew so annoyed with Pepper's intensity that the normally reserved Annika Sorenstam and Laura Davies put Dottie's name on a punching bag that took a pounding in the team room.
In 2000, at Loch Lomond, Scotland, Europe ended the three-match U.S. winning steak, but only after Sorenstam, who was partnered with Janice Moodie, was forced by Kelly Robbins and Pat Hurst to re-hit after playing out of turn while chipping in for birdie on the 13th hole of their four-ball match. That turned up the heat.
Sorenstam got revenge, on Robbins at least, in 2003, when Europe won at Barseback, Sweden. In the last four-ball match on Saturday, with a crucial point at stake, Sorenstam and Suzann Pettersen played one of the great matches ever, against Robbins and Laura Diaz.
Through 15 holes, they were all-square. The 16th and 17th holes were halved with birdies. (When Sorenstam rolled in a 16-footer on top of Diaz on 17, it even triggered a rare, club-tossing celebration by the Swede.)
Pettersen won the final hole (and the match) with the 15th birdie of the day by the foursome, and Europe went on to a bizarre 17½-10½ rout that included players inexplicably walking off the course and conceding matches after it became clear Europe had won.
In the 2013 matches, at Colorado G.C., there were two heated rules arguments that lasted nearly 30 minutes each. In another match, tempers flared when Sorenstam, an assistant captain, yelled to a European player in violation of the rules that she should concede a putt to Paula Creamer rather than let Lexi Thompson get a read off it.
This week in Germany, Europe will try for the first time to win its third straight Cup, a streak the Americans have accomplished twice. And the intensity of the matches will be enhanced by the fact there are so many familiar faces.
Of the 24 players, only American Alison Lee is a Solheim Cup rookie. Europe has the experience of Pettersen (with a 14-9-6 record) and Catriona Matthew (12-9-8), as well as surprise weapons who seem to save their best golf for the Solheim Cup, much in the way Colin Montgomerie, Sergio Garcia and Ian Poulter always seem to make the big putts in the Ryder Cup that they fail to convert in the major championships.
Caroline Hedwall is 7-1-1, including the Solheim Cup's first perfect 5-0-0 mark, at Colorado G.C. Gwladys Nocera is 5-3-2, Carlota Ciganda is 3-0-0, Charley Hull is 2-1-0 and Caroline Masson is 2-1-1.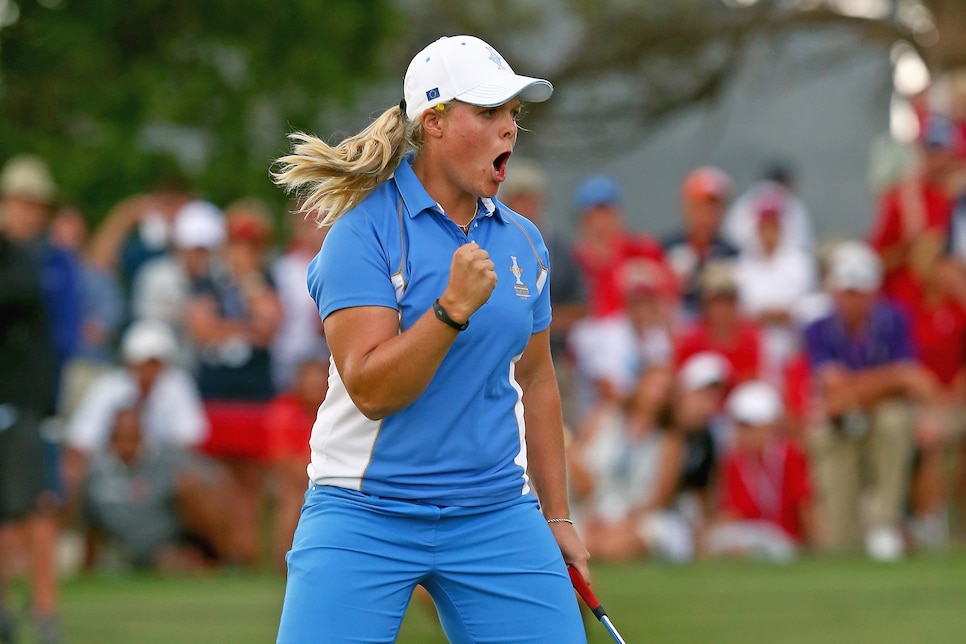 Creamer is the leading point-winner for the Americans at 12-6-5, but she remains a controversial captain's pick for Juli Inkster, who has been her mentor and inspiration since Creamer's rookie season in 2005. Inkster passed over several players higher on the points list when she chose Creamer, who has won only once in five years and has struggled with her putter.
Cristie Kerr is 12-14-4 overall and only 1-4-2 in singles. In fact, the only players on the 12-woman U.S. squad with winning records are Creamer, Michelle Wie (6-5-1), Morgan Pressel (8-5-2) and Brittany Lang (5-4-2), Inkster's other captain's pick.
With the cumulative records of both rosters in singles being quite close (14-16-6 for the U.S. and 11-12-8 for Europe), there's a good chance the competition could be decided the first two days. And that bodes well for Europe, whose players have cumulative records of 25-13-5 in four-ball and 23-15-9 in foursomes. (The Americans are 23-25-9 and 17-21-8.)
No doubt the Solheim Cup is in the midst of an era marked by fierce intensity and compelling competition. The prelude is a shared history of punching bags, re-chips and rules arguments in which familiarity has bred contempt. And these two teams are very familiar with each other.