How Soren Kjeldsen has overcome more than just being a short hitter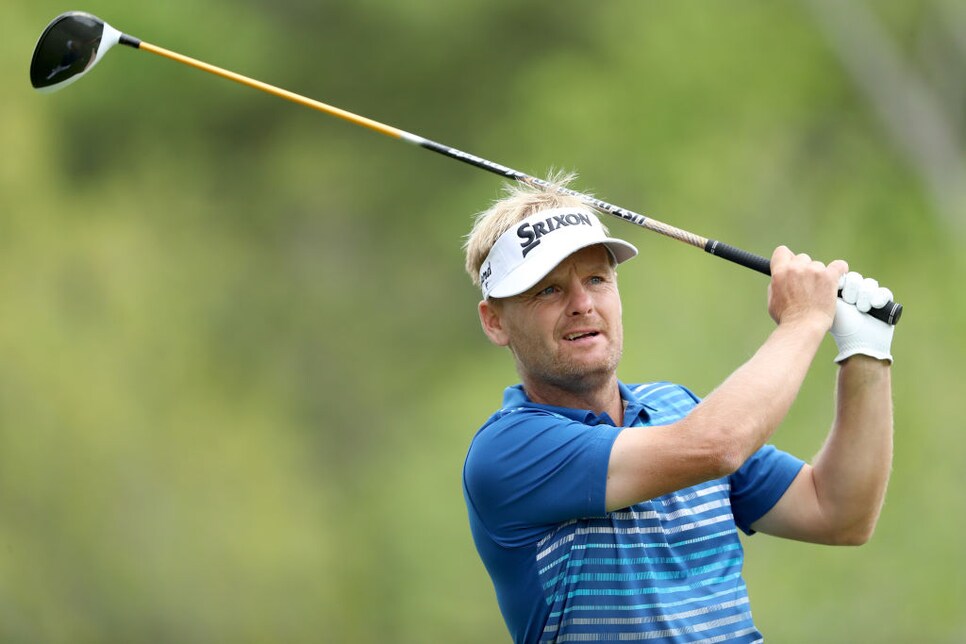 Last year at the Irish Open, Paul McGinley sat down for lunch with Soren Kjeldsen at the K Club for one of those moments that define the close-knit fabric of the European Tour.
The triumphant European Ryder Cup captain wanted to express how much admiration he had for Kjeldsen, in his 19th year on the European Tour, climbing back into the top-50 in the world at 41 years of age, doing it as one of the shorter hitters in world golf—all of this after overcoming a financial crisis in 2010.
"Paul just wanted to say it was brilliant what I was doing and it was a great inspiration with my kind of game, still competing against the guys that play a different game," Kjeldsen said during our conversation in the Muirfield Village locker room on Wednesday. "He knew how hard I worked and the troubles I have faced so it was a huge compliment."
As Kjeldsen went through his life's journey, Rory McIlroy walked by as a reminder of the distance gap between the player that won the 2015 Irish Open in howling winds at Royal County Down and the European Tour's best player that won the next year by overpowering the K Club. That Kjeldsen celebrated his biggest victory ranked 303 in the world—on a week when McIlroy missed the cut as tournament host—is one of those competitive ironies that make the story even better. And one that surfaced again when Kjeldsen took down McIlroy on Day 1 at the 2017 WGC-Dell Match Play.
"It told me that no problem that you ever face in the game of golf can't be solved," Kjeldsen went on to tell me. "I had a few years when I was very much in doubt if I could get up on a tee and trust my swing, trust my ability, and just let it go. I didn't think that was possible. I thought there was too much scar tissue to ever do that again. In Ireland I realized that's not the case."
That win at County Down in 2015 and three subsequent second-place finishes put Kjeldsen on the road to the Summer Olympics in Rio, tournaments like The Memorial, and exemptions to all the majors in 2016.
At Augusta National last year, Kjeldsen realized he also has the game to compete on the big courses. More of that scar tissue was scraped away after witnessing his 10-year-old son Mads hole a putt and celebrate Happy Gilmore-style during the Par 3 Contest. Kjeldsen responded with a T-7 to culminate a run of 21-straight majors where he either did not play or missed the cut.
"He reacted to it that way and the people loved it. He just had the best time." Kjeldsen said. "I do think it sort of set the tone for the whole week. It was a great experience."
The worst experience of Kjeldsen's lifetime occurred when his former business manager took funds from Kjeldsen's earnings to "fill some of the holes" in the wake of the global recession. Kjeldsen told me it was less than the reported $3 million in losses, "but it was a big chunk of what I had."
Kjeldsen was working with sports psychologist Bob Rotella through this period, but as McGinley pointed out, it's not like he had the power to come back and win the FedEx Cup the way Henrik Stenson did after losing a fortune in the Stanford Financial crisis.
On Saturday at last year's Memorial, Kjeldsen hit all 14 fairways and had his best round (64) on the PGA Tour before fading in the final round.
"Trying to compete when the odds are against you and you're under financial pressure at that stage of your career is an incredible achievement," McGinley said when I reached him in Ireland. "I would think the story is he's found something inside of him he didn't have before."