The Loop
How She Played That: Brittany tames a par 5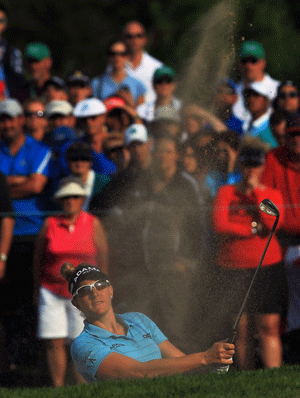 *Editor's Note: Every Monday Kevin Hinton, Director of Instruction at Piping Rock Club in Locust Valley, N.Y. and one of Golf Digest's Best Young Teachers, tells you how a tour player hits a key shot. This week, Kevin notes that Brittany Lang birdied the par-5 18th hole three times en-route to her sudden-death playoff victory Sunday in the Manulife Financial LPGA Classic. (At left she's getting up and down from the bunker for her third birdie.) Hinton gives you some par-5 strategies to help you lower your scores on these holes.
To make the most of the par 5s, it's essential to know two things: (1) exactly how far your wedges fly, and (2) your most comfortable distance.  Practice your wedges to specific distances; don't just hit them into a target-less driving range having no idea the distance they are flying. Use a range-finder to confirm your wedge distances. From quality practice, you'll find your ideal layup distance. I hit my sand wedge most accurately from 85 yards. So every time I lay up on a par 5, I try to leave myself this distance for my third shot.
If you are contemplating going for a par 5 in two, do a quick risk/reward analysis. Imagine you've hit your 3-wood 220 yards, and you now have 250 yards left for your second shot. In this scenario you have HIGH risk (hitting 3-wood isn't easy) and ZERO reward (you can't get the ball on the green). You should always lay up in this situation...ideally to your best wedge distance. Even if you do pull off the 3-wood and manage to miss all the trouble, most people are worse from 30 yards than they are from 80 or 100.
If you're at a yardage from which you can reach the green, we can now have a conversation about going for it. First, try to honestly assess how many times out of 10 you'll get the ball on the green. If it's less than five out of 10, it should be an automatic layup. If it's more than five, then you should think about going for it. You also have to evaluate how penalizing the miss is. If you're going for an island green, the miss is extremely severe. If your miss leaves you in a bunker or some other manageable situation, going for it is likely a prudent move.
Short game is the key to par-5 birdies
For Brittany Lang to birdie the par-5 18th three straight times is an extremely impressive feat. Her last birdie is evidence of how important a great short game is to birdieing par 5s. Practice everything from greenside pitches and bunker shots, to more challenging situations like handling deep rough conditions, and even flop shots. If you like going for par 5s in two, these are the shots you'll often encounter.*
*To see Brittany's swing, *see below:
Photograph by Getty Images