News
How Ryan Armour demoted Tiger Woods to a footnote to his career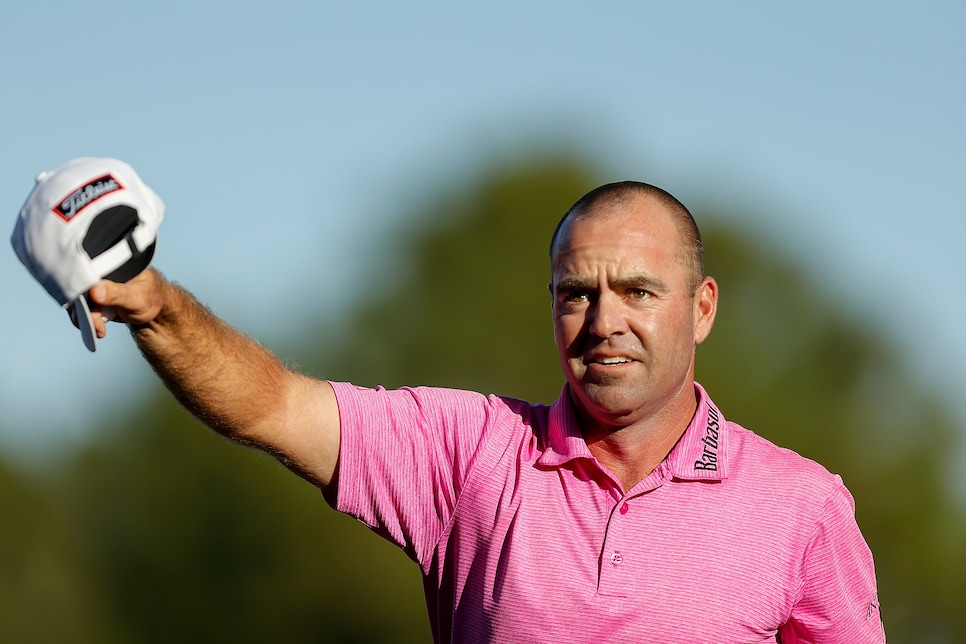 A professional golfer is not likely to be enthused with having his career defined by a loss, notably one that occurred when he was 17. Yet for 24 years that was Ryan Armour's burden and its name was Tiger.
In 1993, Armour was on the brink of derailing Tiger Woods' historic USGA run when he had him 2 down with two holes to play in the U.S. Junior Amateur final at Waverley Country Club in Portland.
"Seventeen and 18 were the two hardest holes on the course all week," Armour said on Wednesday. "I told my caddie that if I make two pars I win."
Pars don't topple immortals.
Armour, 41, was reminded of this—once more—on Wednesday, three days after rerouting the narrative of a career journeyman heretofore uncertain where the journey was taking him.
"It's career changing," he said from Las Vegas, where he'll play the Shriners Hospitals for Children Open this week. "I've never really had that much job security out there. Now through 2020 I'll be out here [on the PGA Tour] and not have to worry. It's a great feeling. There are a lot of people who had a piece in this, first and foremost my wife and kids. They never wavered in support of what I do."
Armour, however, did waver, even once considering quitting. "I don't know how close it got, but it wasn't pretty, like in 2011, '12 and '13," he said. "I dreaded playing golf. I didn't have a plan in place to succeed, and finally in 2013 I realized I wasn't getting into any tournaments. I thought maybe it's time. My wife was like, 'No, you're going to play.' We made some changes, committed to being a more active family, to getting to bed early and getting up early. It was more of a lifestyle commitment."
After spending most of his career on the Web.com Tour, he returned to the PGA Tour in 2014-'15, again in 2016-'17, and retained his PGA Tour card via the Web.Com Tour Finals in September. His victory on Sunday came in his 105th start on the PGA Tour.
As for Tiger and the 1993 Junior Amateur, it will remain an important part of his biography, if only for what it foretold about Woods' transcendent talent.
Woods won the 17th hole with a birdie, but at the par-5 18th hole hit his second shot into a fairway bunker that might have spelled doom for mere lesser players.
"A 55-yard bunker shot over another bunker to a tucked pin," Armour said. "That's the hardest shot we ever deal with. I just thought, 'OK, there's no way he's winning this hole.'"
Yet Woods hit his third shot to eight feet from the hole. "Under any circumstances, a $2 Nassau on Saturday afternoon, it would have been a great shot," Jay Brunza, Woods' caddie and sport psychologist, said then. "With the pressure of his third Junior Amateur at stake, it was unbelievable."
Woods, of course, made the birdie putt, won on the first extra hole, and followed three straight Junior Amateur championships with three straight U.S. Amateur titles. USGA championships in six consecutive years is second only to Bobby Jones' record of eight.
Armour, incidentally, conceded that this was how he was being remembered. "The media brings it up a lot, I'm not going to lie," he said. "How can you not? It's Tiger."
Perhaps it's always good, whatever the circumstances, to share space with Woods in a sentence or story, better yet, no doubt, to have rendered Woods' a footnote to your own story, as Armour has done by joining the ranks of PGA Tour winners.