The Loop
How Matt Every is honoring the site of his first PGA Tour win
SHANGHAI, China -- She is due around Thanksgiving, and already it's been decided that her name will be Quinn Palmer Every.
Now, where do you suppose Matt Every got the inspiration for the middle name?
"Yeah, it's something that we really wanted to do," Every said proudly as he stood outside the clubhouse at Sheshan International Golf Club following his second round in the World Golf Championships-HSBC Champions. "Pretty cool, huh?"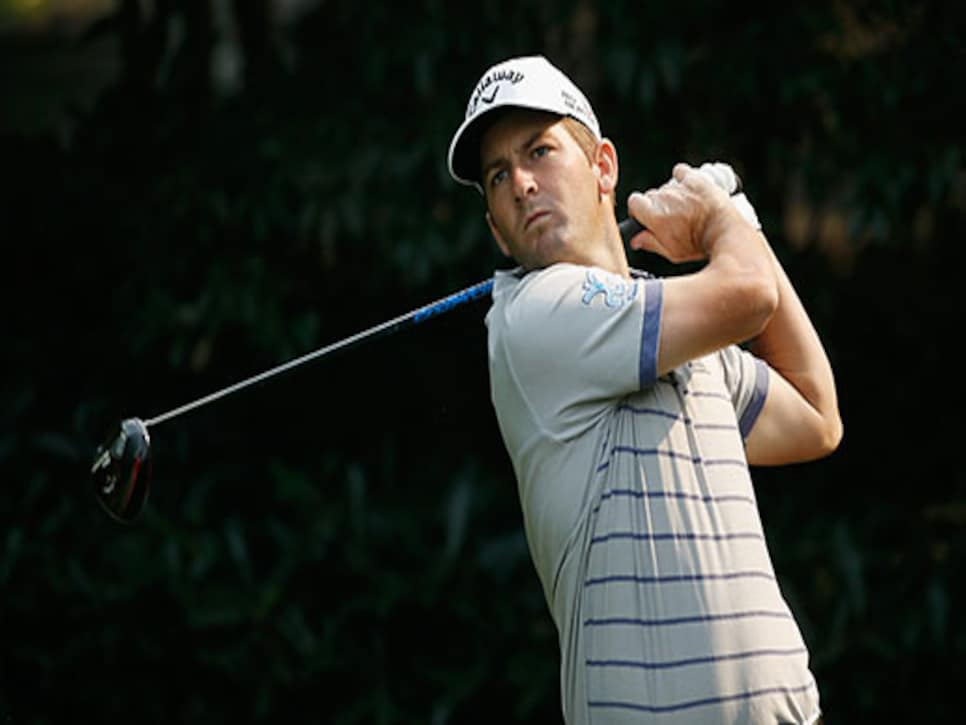 Well, yes it is. By virtue of his breakthrough victory in March at the Arnold Palmer Invitational presented by MasterCard, Every is competing in this week's WGC event, the second of his career. So the inclination to acknowledge his first PGA Tour title in a special manner is understandable.
And the fact that it was Arnold Palmer's tournament that he won was extra special, given that Every grew up in nearby Daytona Beach, Fla., about an hour from Palmer's Bay Hill Club in Orlando. And, well, let's face it: if a golfer is going to name a kid after a tournament he's won, few are better than the tournament that carries the name of a legend.
OK, Masters Every would have a nice ring, but that's for the next child.
The problem is that the Masters or any other tournament isn't quite within reach with the game Every currently is putting on display.
"Right now, I don't know what the heck is going on, but this is not me," Every said following a second-round 72, which left him at three-over 147, 13 shots behind leader Graeme McDowell. "You know, that win feels like forever ago. I guess in some ways it was. But I'll figure this out. I feel like I'm on the right path, but I'm moving slow."
Every has struggled significantly since he fired a final-round 70 and overcame a four-stroke deficit to Adam Scott at Bay Hill. He has missed the cut in seven of his 16 starts and withdrew from another while going through swing changes he felt he needed to make to be more consistent.
In the last two months he has been working with Orlando-based teacher Sean Foley, whose pupils include Justin Rose and Hunter Mahan, but whose calendar also was cleared when former world No. 1 Tiger Woods informed him that his services were no longer needed. Together, Foley and Every are working to shallow out Every's swing to improve his driving accuracy.
"I was always a poor driver and a good iron player, so I'm fighting it," Every admitted. "I've gotten better with the driver and I'm struggling with the irons, and I can't seem to match it up. I was always steep, which was great with irons. I've tried to shallow out my swing and it's creeped into my irons, and there's this constant tug between the two. There's too much going on in my head.
"On range I can get out there and stripe it all day, but I get out on the course and I'm not used to doing this move in competition so I have a checklist over the ball, and that's not who I am. I just [used to] get to the shot and go with it, and now I'm too methodical."
Every's goal for 2015 is simply to be a more consistent ball-striker. "Wins will come. But if I win once or four times or not at all, the important thing is to improve," he said.
In the meantime, Quinn Palmer will be getting a fair amount of his attention, as she joins Every's growing family that includes his wife, Danielle, and his son, Liam, 2.
"It's going to be a great off-season," Every said, looking forward to his daughter's birth. "We are very excited. I'm going to take some time off and just enjoy my family for a while.
"And then I'm going to get back to work."