The Loop
How Jordan Spieth's grandfather has been on the ride of his life, too
Bob Julius describes the hug behind the 18th green at Augusta National as being surreal. "I got so emotional after he picked up his ball and started walking up," said the 82-year-old grandfather of the 21-year-old Masters champion, Jordan Spieth. "I kind of lost it a little bit. I was, you might call it, teary-eyed."
Julius is the father of Jordan's mother, Chris, and the oldest member of Team Spieth. He lives in Hampstead, N.C., and drives his compact SUV to tournaments on the East Coast. For the Masters, that meant a couple of round trips from North Carolina because one of his 11 grandchildren was getting an Eagle Scout Award on the Saturday of Augusta.
Gramps returned at 5 a.m. of the Sunday Jordan would win the Masters, driving five hours back to Augusta before entering the gates and unloading his motorized scooter for the ride of his life. Afterward, he and his artificial knee happily limped through the champion's reception at the club. Julius had only a couple of bites of lobster and drank only half of his champagne but stayed up until 2 a.m. celebrating at the Spieths' rented home.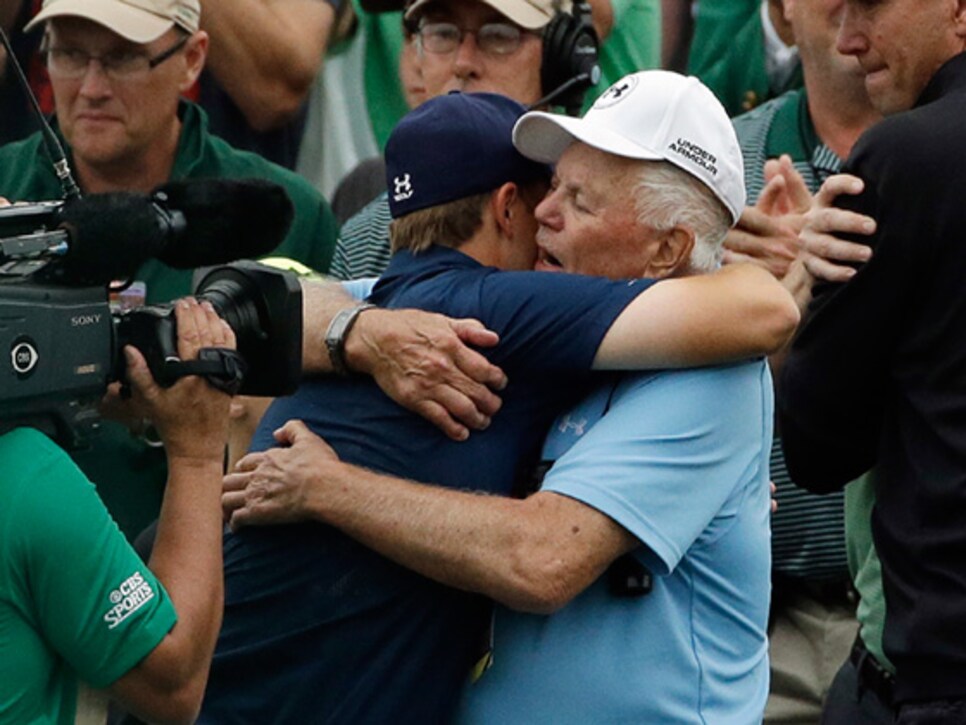 "It was really special to have him there," Jordan said after shooting 62 to make the cut on Friday at the RBC Heritage. "Like my parents, he had never seen me win a pro event, so I'm glad he could be there and enjoy it with me."
Julius is a retired electrical engineer at Bethlehem Steel who wishes his wife, Ginny, could have enjoyed it, too. She survived a brain aneurysm when Chris was 4. Bob took care of her for 44 more years while raising six children. All of them played high school sports at Saucon Valley (Pa.) High School, and four played college sports, Chris making the basketball team at Moravian College.
"I've had so many great experiences, it's too bad my wife was not around for them," Julius said. "I know she's having a ball up there, but it would have been nice for her to see this."
Last Monday, Julius sent out emails to members of the Olde Point G.C. Men's Golf Association, updating them as he always does via email and Facebook, before driving to Hilton Head on Tuesday. These were many of the same guys Jordan would play against during summer visits. Julius still talks about the day 12-year-old Jordan shot 76 to beat all of them.
"He doesn't get any of that from me," Julius said of Jordan's talents.
Jordan says he inherited his grandfather's personality, his sense of humor and his drive. That is evident when the two sit down to play gin rummy. Julius likes to say that for every time he beats Jordan, Jordan beats him five times. And Jordan denies ever letting him win. "No, he beats me fair and square," Jordan says. "Experience plays a major role in that game, but I've tried my best."
Spieth did the same at the RBC, finishing in a tie for 11th after an opening-round 74. Bob was there for 72 holes and is already planning his next road trip, to Ponte Vedra, Fla., for the Players. Bob will turn 83 that week and has already asked for an entire cake, not just creme brulee—like he got in the TPC Sawgrass locker room last year, when Jordan finished T-4.
"It's a bucket list that keeps going," said Gramps.