The Loop
How Jordan Spieth has become the voice of his generation on the PGA Tour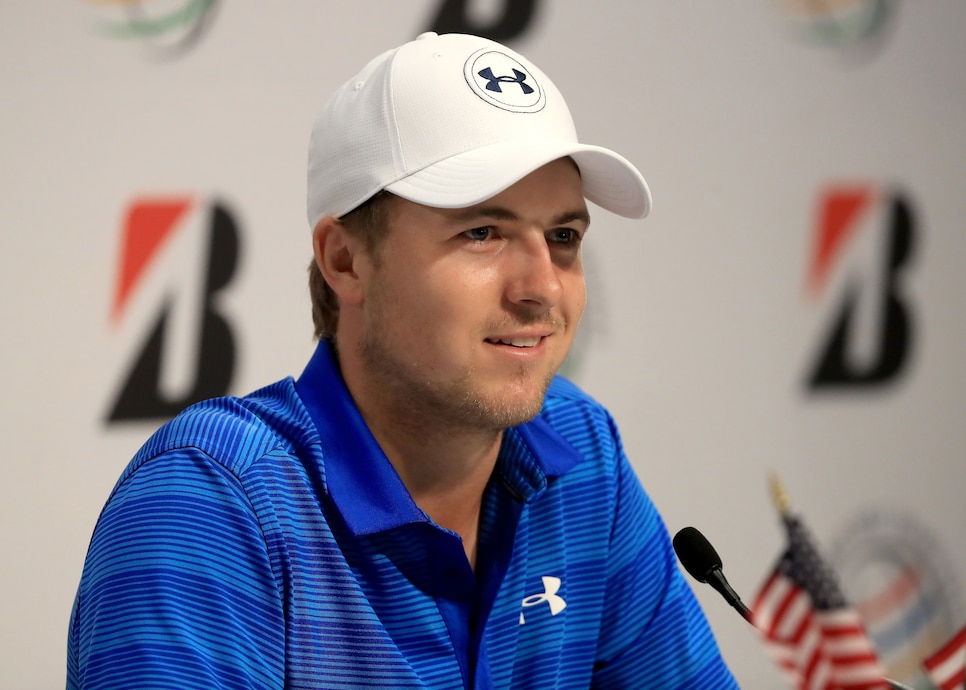 Over time, golf has generally been well served when the game's best players are able to offer informed opinion and commentary on subjects of interest, including—and often especially—the state of their own games.
However, having to be the go-to spokesman as well as a sharer of internal thoughts can be a burden. There's loss of time, energy and focus, as well as increased opportunity for public missteps. With time, the answers from such marquee figures tend to get shorter and safer, with social media only expected to accelerate that process.
Somehow, and perhaps because he's still not yet 23, it hasn't happened to Jordan Spieth.
As emotional as he can appear on the course, Spieth is invariably level-headed and logical once he comes off. Confident in his own mind, he answers questions with a refreshing thoroughness that never appears particularly calculated. If you happen to be a person who is interested in the way the greatest players think about game, Spieth is never boring and often fascinating.
In his sessions with the media at last week's WGC-Bridgestone Invitational, the young Texan was a one-man clearinghouse on the golf issues of the day.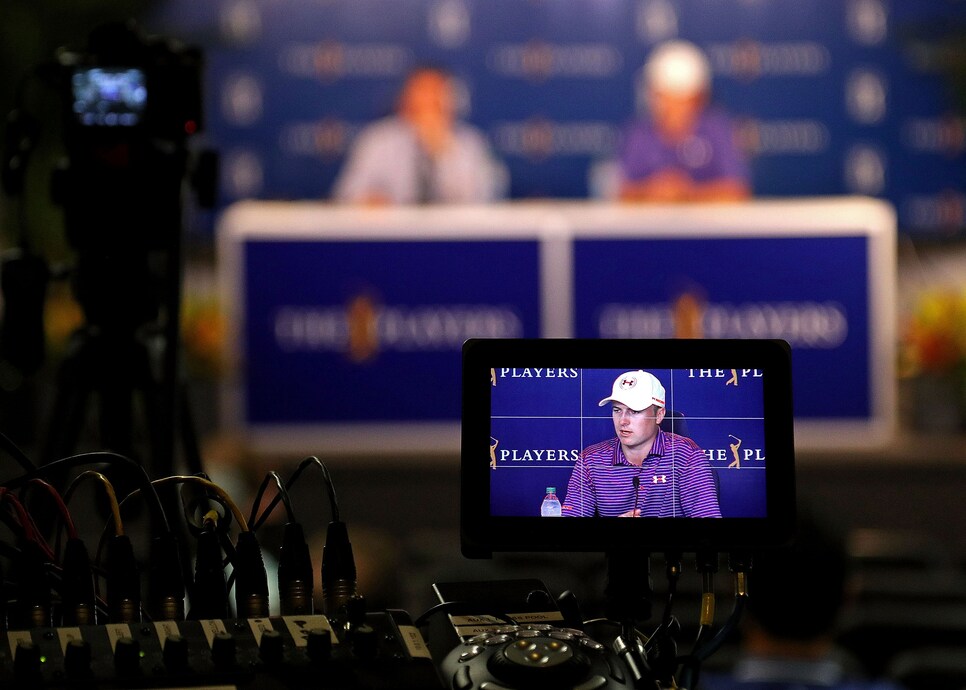 Spieth's first order of business was defending why he is currently vacillating on participating in the upcoming Olympics in Rio. Knowing that if he doesn't play he will be accused in some quarters for entitlement, selfishness and even lacking patriotism, Spieth laid out his still unresolved concerns about security, Zika and his playing schedule with unvarnished candor.
"I feel like if there's any significant threat, then is it worth it? Probably not," he said. "I don't train my whole life to play in the Olympics like some of those athletes. But now that it has presented itself, it is something very significant I'd love to be a part of."
Spieth was equally honest about whether so many top golfers missing Rio will have a negative effect on the IOC vote to keep golf in the Olympics beyond 2020. "Yeah, I think it will," Spieth said. "Pending some crazy, great finish or whatever, I think there's a significantly lower likelihood now of it staying in the Olympics than there was six months ago."
He was then asked about the Dustin Johnson ruling at Oakmont, for which Spieth criticized the USGA on Twitter as the final round was unfolding. At Firestone, he backed up his stance.
"I've had quite a few occasions where something else caused the ball to move even though I had taken my practice strokes just like Dustin did but had not put my putter behind the ball," he said in reconstructing the Johnson scenario, "and I've never seen it called a penalty. I believe there was enough time between when his putter was there to when the ball actually moved to be confident in saying he didn't cause it to move."
Spieth then showed how strongly he felt through a hypothetical. "I think that what Dustin did was extremely special given that circumstance," he said. "I promise you, I would have thrown a fit. I wouldn't have hit another shot. I would have sat there like, This is not the way this goes. Let's figure this out right now. You can't have a potential penalty or not. You've got to know in that case."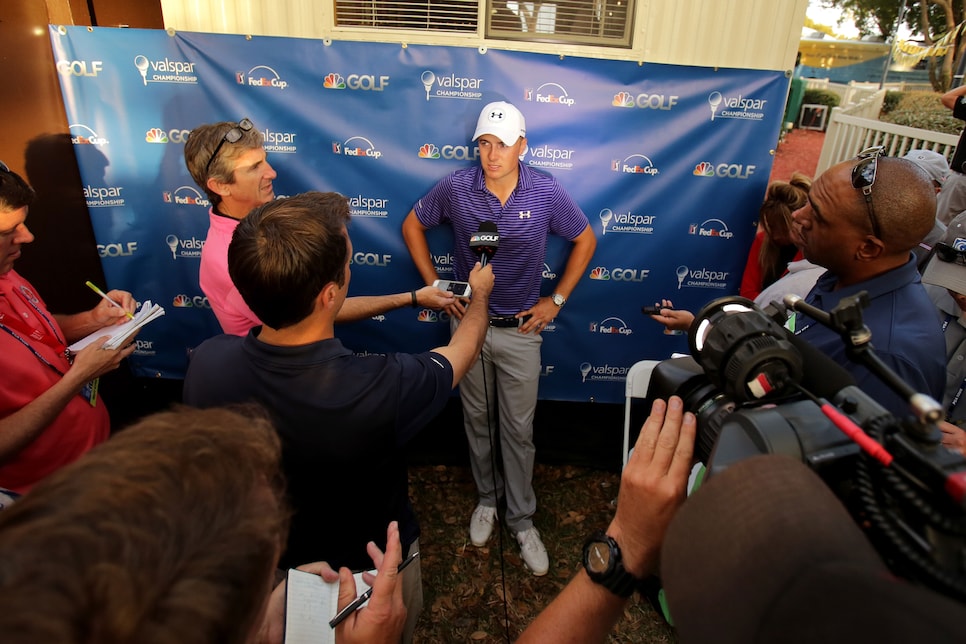 What Spieth does best is talk about his own game. How does he rate this year so far? Not great.
"Yeah, what's interesting is every year from when I was about 12 years old, I had a more significant accomplishment than the year before. I felt like I was a better player than the year before, and this is the first year where I don't have, to this point, an amount of significant accomplishments that I can say, Hey, that was a stronger year than last year."
In reference to his iron play in particular not being as strong, Spieth got specific to a degree that is rare for any player, but particularly for one who is under constant scrutiny.
"I think I'm still taking my full backswing with almost a decel downswing and not timing it instead of more of a half swing on the in-betweeners, instead of kind of shortening the backswing and staying aggressive through," he offered in a jargony, stream-of-consciousness explanation that was deeply personal but nonetheless made sense.
After opening with a 68 on Thursday at Firestone, Spieth self-effacingly took on the criticism that he employs too much post-shot self-talk, and how he hopes to do less.
"It's tough to do because you think of the whole round and process as a goal and a challenge, so you get caught up sometimes in your whole goal for the day and how your shot has affected that," said Spieth, offering a window into the obsession that can make his reactions involuntary. "I told [caddie Michael Greller] before the round, I'm going to start the rest of this year to be a lot stronger mentally than I have been and just not dwell in conversation on each shot."
Nor did Spieth duck the fact that his pace of play this year has gotten slower. "I noticed and I'd get plenty of comments on it from other people—'Hit the ball,' 'You're taking forever,' 'It's too boring.' You'd hear it from even the crowd sometimes. You hear everything, though." Even from other players? "No. No. Well, I mean, I'll joke with them about [it] maybe, and they'll say, 'Yeah, you are.' But that's fine."
Here Spieth earnestly tried to break down the awkwardness of trying to expedite a feeling of comfort over the ball. "The quicker part actually helps me because then I just get up there and fire away. The more I can do that, actually, I think I'm better off with kind of a gun-slinging mentality, just to go up and hit the way I always have played. I certainly want to improve the way I am feeling over the ball, but at the same time, recognizing where we're at and how tough it is. Any time you feel a little bit uncomfortable over the ball, it's obviously not ideal, but we're working towards it."
Spieth's triple-bogey 8 on the 16th hole during Saturday's third round made winning a long shot, but he was pleased with a closing 67 in which he improved his approaches and pace of play and earned a T-3.
"I think I was pretty gun-slinger here," he said. "Even Kuch and Kis [weekend playing partners Matt Kucher and Kevin Kisner] both said, 'Man, when did you start playing fast?' "
Well, when he decided it would help him play better. It's telling that Spieth has no plans to change his putting routine. "I take my time on the greens, and I believe I'm the best putter in the world," he said with unforced confidence. "So whatever I'm doing on the greens, I'm going to keep doing."
Hopefully, the same philosophy will apply to his sessions with the media.